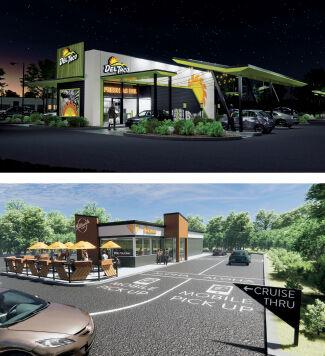 Restaurant franchises are rolling out new prototypes at a dizzying pace, some with double drive-thrus, others with digital lockers but all aimed at accommodating customers whose expectations of convenience were amplified by the COVID-19 pandemic. Slimmed down footprints and the incorporation of more technology are also meant to benefit operators as brands look to cut back on construction costs and drive sales to digital channels.
Here's a look at how five brands designed their restaurants to serve customers in 2021 and beyond.
Del Taco flexes drive-thru lanes
Del Taco's existing prototype was "good but not great," said Jeff Little, senior vice president of development, so when the franchisor sought to update its look, it did so to offer "something more than the standard QSR box." That meant emphasizing functionality as much as aesthetics in its Fresh Flex design that Little said also opens up new real estate opportunities thanks to buildout options ranging from 1,200 to 2,400 square feet.
"We build the box around the kitchen," said Little. "In most QSRs, the kitchen is in the back. We actually turned the kitchen to run the length of the building and pick up some flow in the drive-thru. We picked up a car and a half in our stack."
Del Taco adjusted station spacing to improve the kitchen flow and reflect how staff are being deployed at non-peak times, such as providing counter visibility to the employee running the drive-thru, who switches to cashier as needed.
Operators can modify other elements of the buildout with third-party delivery pickup stations and, while some brands are jumping to add second drive-thrus for traditional orders, Del Taco's prototype offers double drive-thru lanes dedicated to mobile orders or delivery driver pickups. Digital sales, said Little, are a moving target and make up a small but growing percentage of Del Taco's sales. The new prototype "provides some opportunity to accelerate that," he said.
Little declined to provide details on construction costs for the various prototype options—Del Taco's 2020 franchise disclosure document lists a total estimated initial investment range of $859,700 to $2,116,500—but he did say by shrinking the square footage and simplifying the construction the brand was able to lower the net investment costs.
Del Taco, which has about 300 company-owned restaurants and a similar number of franchise units primarily in western states, is opening the first Fresh Flex restaurant in Orlando, Florida, this summer and is in the midst of a corporate remodel initiative. It will roll out the new prototype options to franchisees in late 2021, said Little, as part of a similar remodel initiative and aim to seed new markets as it pushes east.
Pokéworks looks to pickup windows
"We can operate out of a closet," quipped Peter Yang, chief development officer and co-founder of 60-unit Pokéworks, as he referenced the brand's typical 500- to 1,500-square-foot restaurant. Unlike other brands motivated by a desire to shrink the size of their units or push more traffic to the drive-thru, Pokéworks' prototype is squarely aimed at serving mobile orders as the brand works to increase its share of digital sales.
With its new Cruise-Thru Lane featuring a pickup window for mobile and delivery orders only, not traditional on-site drive-thru orders, Pokéworks is betting the uptick in demand for off-premises dining will continue even after the pandemic. Usage of the brand's white label rewards app quadrupled in 2020, said Yang, and "last year digital sales more than doubled." Pokéworks is expanding the second make line in its restaurants to handle the volume of digital orders, he noted.
In addition to being more convenient for customers, who skip the store line and don't have to leave their vehicle to pick up a mobile order, the Cruise-Thru Lane will also serve third-party delivery drivers, said Yang, who "won't be waiting in the queue inside the restaurant," thus allowing employees to focus on diners who do choose to order at the restaurant.
A broad rollout will come later this year and hinges in part on available real estate. So far operating primarily inline restaurants, Pokéworks needs to identify sites for endcap and freestanding locations, such as the remodeled Dunkin' store with drive-thru in Knoxville, Tennessee, where franchisees Shawn and April Comerford are opening the first Cruise-Thru location. "It's a real estate opportunity that we need to find more of," said Yang.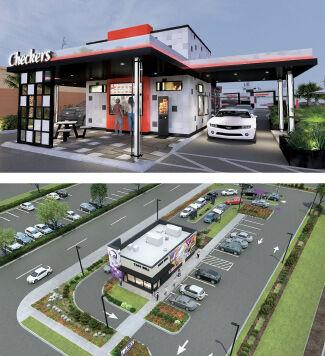 Checkers and Rally's revamps kitchen
A $20 million investment from Oak Hill Capital Partners IV is helping fund a five-year growth plan at Checkers and Rally's that includes remodeling restaurants with the brand's "restaurant of the future" design. Kitchen upgrades are at the core of the new model.
"When we were looking at, 'what should our new restaurant of the future look like?' we recognized that the heart of any restaurant is the kitchen, and our kitchen has not been updated in some time," CEO Francis Allen said. "So that is a big opportunity for us to provide our guests with what they're looking for, and to enable that, we need to provide them with a consistently high-quality product very quickly."
The upgraded kitchen will feature six new pieces of equipment, including a display system to make it easier for crew members to run the line, keep orders on track and increase speed. Checkers will also replace all flat-top grills with clamshell grills.
"A flat-top grill is not very crew-friendly and leaves room for a lot of human error, plus it takes a long time to recognize when food needs to be flipped," Allen said. "Changing that to a clamshell grill will be much easier to learn and operate, plus it eliminates that human error. Products cooked on the new grill will come out much more consistent."
The brand is making kitchen upgrades to several corporate restaurants first to prove out the concept before rolling it out to franchisees, who operate 572 of the system's nearly 900 restaurants, later this year.
Taco Bell pushes digital orders
The new, futuristic Taco Bell prototype is smaller, more digitally focused and primed for off-premises efficiency.
The most visible change in the Go Mobile format is a new drive-thru specifically for digital order pickup. Similar to a new Chipotle drive-thru dubbed the "Chipotlane," the second drive-thru will cater just to digital customers, getting them out of the traditional line while easing slowdowns for standard drive-thru customers.
The second notable change is the size. At as small as 1,325 square feet, the prototype is mostly a kitchen. In renderings, the dining area amounts to a small, outward facing bar. That sheds more than 1,000 square feet from the traditional 2,500-square-foot location.
Mike Grams, global COO at Taco Bell, said this version is on the small end and there will be flexibility in the design for markets that have a good portion of dine-in traffic. He said the new format is a continuation of the trend toward off-premises and digital ordering.
Also in the mix is a robust curbside option and a new, decluttered menu board. All of this was part of Taco Bell's roadmap, said Grams, but things accelerated during the COVID-19 pandemic.
"The roadmap was established as customers converted to digital," said Grams. "As digital opened up and dining rooms closed, we leaned in a little faster. COVID definitely accelerated it."
Perhaps the most important part of the new prototype is not the new outlets or the more efficient footprint, but how everything is connected at the heart of the Go Mobile facility. That starts with a tech-enabled kitchen that routes between the three production lines (two traditional lines and a speed-focused line for peak periods).
"It's not hard to add extra drive-thru lanes or build access. I think the challenge is how do you do that in a way that creates a really good kitchen experience," said Grams. "We added capacity to the kitchen, added a third speed line. We wanted to make sure the team experience in the kitchen was manageable."
In the new model, when a digital order comes in, that customer can be directed either by the app or a new "bellhop" position in the company that directs customers at peak times to the best option for fulfilling their order. For a third-party delivery driver with a big order, maybe that's curbside pickup or parking and coming in. For the small-order digital consumer, that's probably the digital drive-thru. But at off-peak times without a lot of traffic, maybe it's the standard drive-thru. Just like the food is routed to the right station to keep things manageable for the staff, customers are routed to the right experience for them.
Grams said the prototype marks the next step in more efficient drive-thru operations, which accounts for about 70 percent of Taco Bell's business. The company did $700 million out the window in 2019 and if the COVID-era run rate continues, the company is on track to crest $1 billion in drive-thru sales. Getting more orders through quickly and catering to consumers across the in-person, digital and delivery spectrum just means more volume for the location and better margins.
"I'm excited because the brand is healthy, our franchisees are incredibly healthy and there's so much pull to go faster from our franchisees. When you take on big initiatives, there's this element of testing for a long time, but this to me is a no-brainer and our franchisees agree," said Grams. "When you have that partnership, it makes it so much easier to apply the template so much faster."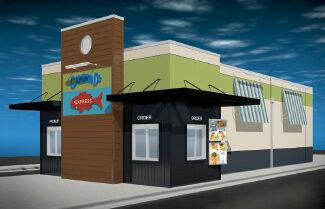 Captain D's slims down
A pickup window and drive-thru are the focal points for a new Express prototype from Captain D's, which forgoes indoor dining and fits on parcels as small as 0.35 of an acre. The key for the Express model is high density and a mobile customer base, and the company said it can reduce start-up costs for franchisees by as much as 32 percent.
It also comes with some caveats: the menu is focused on just seven or eight top-selling items to keep customer wait times down, which also means there's no grilled-fish menu, an important offering in many markets. Recognizing this limited menu, no-seating model wouldn't work in many trade areas, Captain D's also created a midsize model with 22 seats.
"Before the pandemic even was a thing, we had actually started working on taking our typical 44-seat building and scaling it down a little bit," said Phil Russo, VP of real estate. "For us it's all about lowering the investment, so the franchisees are able to make more money." Three midsize restaurants are already in development this year and Russo said in his conversations with franchisees, "90 percent want to talk about the 22-seat building."
Additional reporting by Callie Evergreen and Nicholas Upton.