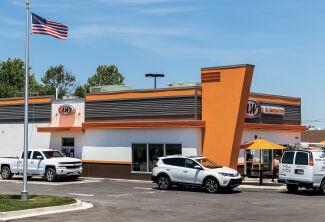 Restaurant operators with drive-thru concepts fared better than most in 2020 as the massive shift in business accelerated by COVID-19 favored the limited contact inherent in the model.
Jack in the Box reported 12.2 percent same-store sales growth in its latest quarter and A&W said it would finish 2020 with a double-digit sales bump. Taco Bell was up 3 percent in its latest quarter. The year was especially strong for those on the chicken end of the quick-service spectrum as Popeyes reported a surge of 19.7 percent same-store sales in the third quarter of 2020 and KFC was up 9.9 percent. Like many in the industry, Checkers and Rally's reported traffic was down more than 15 percent but sales were up nearly 10 percent at franchised locations as customers spent more per visit.
Multi-concept franchisee Wahid Karas is pushing growth in Checkers and Rally's and summed it up well: "It's been a very good year for drive-thru."
All those trends have continued since spring of 2020, and franchisees are looking to extend that surprising momentum into long-term success.
Dennis Ekstrom is the CEO and president of Diamondback, a multi-brand operation with mostly Del Taco restaurants who had the exceptional timing of selling 94 Denny's locations in 2019 when operator WKS acquired them from his former company, QK Holdings. He said the pandemic proved positive for his 11 Del Taco drive-thru locations, which have become the new focal point after the Denny's sale.
"It kindled some new comp sales from which I'm really taking advantage. I'm taking every penny of that boost and rolling it forward. It started some momentum and we're pushing it and accelerating it," said Ekstrom. "We're the beneficiary of some of this horrible news; it has really helped us get this momentum going. It's hard to say, but sometimes someone's loss is someone else's gain, and we can't waste it."
Between the renewed focus and the surge of drive-thru sales, Ekstrom is hesitant to even say how well he's doing—especially when he's talking to friends in the restaurant industry.
"Our comps are just amazing. Not just COVID, but we've made some great operational improvements, too," said Ekstrom of setting records in drive-thru speed at 45 to 50 seconds. "I hate to jinx them. When my friend's ask, I won't even tell them what exactly they are."
Suffice to say, the tacos are on Ekstrom for the moment. He's growing every which way and signed on for three more Del Tacos, essentially locking down the New Mexico market. He also signed a deal to get into the Slim Chickens restaurant concept.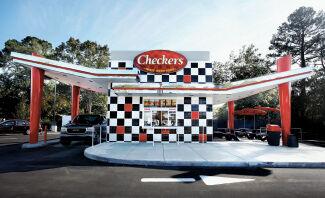 An evolving model
Many restaurant brands have unveiled a smaller footprint and larger drive-thru model. A handful of brands, including Del Taco, are even looking at drive-thru only formats, but Ekstrom said he'll be happy with a double drive-thru for now.
"I'm very excited about the drive-thru only model. I wanted to do that myself a year ago. But what I have done is take the standard prototype—2,440 square feet—and I had them reshape it to 2,000 square feet and add a double drive-thru," he said. "I think that's the wave of our future, to keep drive-thru and dining but reduce the footprint."
He's far from alone there. Franchisees across the industry are putting 2020 cashflow into their locations, with a special push for more efficient drive-thru operations.
Husband-and-wife franchisees Philip and Brittany Welch have a single A&W location in Racine, Wisconsin, where sales are up 30 percent from last year, said Philip Welch. Ninety percent of that is going through the drive-thru, which made the single lane they had at the beginning of 2020 feel pretty busy.
"I had talked about a second drive-thru a couple years ago because we get seven or eight cars at a time off the highway," said Welch. "If you're number eight, it feels like it might be a while before you get your order. But we probably wouldn't have done this without COVID."
Despite a full update in 2014, the Welches made a significant investment, adding a second drive-thru lane and fully revamped the menu boards.
"We updated the digital menu boards inside and out. We were already doing the double drive-thru but, we wanted to freshen up the look," said Brittany Welch. "People are used to seeing those and they're really eye catching and visually grabbing."
They also invested in a canopy over the new boards to shield customers from rain or snow and give tablet-wielding employees a place to stand. That was a need the Welches saw during the summer when they redeployed some of those dining room employees in the parking lot to help with the drive-thru business. And to shed a few more seconds off service times, the Welches updated their communication system.
"That was the first thing we updated in summer, our headsets. The newest ones are high definition, which makes it easier to hear. It does seem to filter out background noise better, too. So, your communication between the staff and customer is much better," said Philip Welch, cutting down on questions. "Those seconds add up to minutes and on up."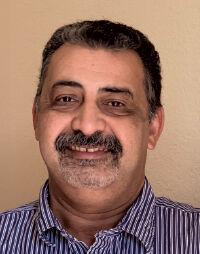 Technology designed to speed up service (and increase tickets) was a big focus for Atlanta-based franchisee GPS Hospitality, too.
Michael Lippert, who took over as president in February 2020, said they're investing aggressively across the company's Burger King locations. New digital menu boards are in the first phase.
"For all of our drive-thrus, we'll have double drive-thrus with outdoor digital menu boards and tech beyond that," said Lippert. "The outdoor digital menu boards, we'll be upgrading over 50 percent of our restaurants this year and the remainder will be done in the first half of 2022. They're very helpful with check—the guest can maneuver through the menu boards more quickly, so they help with check."
That will unlock the next phase of updates: software. He said Burger King is testing AI-powered menu boards that will help make suggestions and refresh the menu boards to drive ticket averages even higher throughout the day.
Lippert said if anything, COVID slowed down an aggressive update schedule at GPS. The family office-backed operator had capital to invest already, but 2020 demonstrated how important such upgrades were.
Even though Burger King, Del Taco, Taco Bell and others are polishing the design on drive thru-only locations, a lot of operators are waiting to see how the real estate market shakes out. Many such prototypes are great for fitting into small areas and odd spots, but if there's an ample market for conversions as other restaurants close, new builds might be less capital efficient and a new prototype might not work everywhere.
To Karas, the Checkers and Rally's drive-thru-focused model is already proven and he's ready to accelerate his development.
"Checkers and Rally's were ahead of the game—they're focused only on the drive-thru already. Nowadays that is just rocking. Most of our locations are new, but we're taking all the cash we earned to open more locations and to find quality employees and managers to help out," said Karas, who added sales are up in the range of 40 percent and he's going to move fast on his eight restaurants in development, looking for conversions where possible.