Freedom Boat Club
The concept: In 2019, Cecil Cohn led Brunswick Corp.'s acquisition of Freedom Boat Club, a membership-based marine club requiring monthly dues in exchange for access to boats at any of its locations. "It's an on-trend business model, as subscriptions in general are more socially acceptable than ever, and it's a lower-level commitment to get out on the water and experience boating," said Cohn, company president.
The stats: Founded in 1989 and headquartered in Venice, Florida, Freedom Boat Club has about 250 locations in 30 states, Canada and Europe. The total investment ranges from $140,000 to $240,000, including the initial franchise fee of $38,000.
The competition: "Reciprocity is a huge selling point, and we're by far the largest player in the space," Cohn said. "A large portion of revenues are recurring in nature, which is the benefit of the subscription model. Once you build up your membership, you can put money to the bottom line and continue to reinvest in additional locations. The business self-funds a lot of the growth."
The challenge: As Cohn continues to build Freedom Boat Club's footprint in North America, putting checks and balances into the system will be important, he said, to "continue growing at an accelerated rate but in a responsible way that never jeopardizes the member experience." This includes analyzing member satisfaction levels, measuring member referrals over time and adding other analytics tools.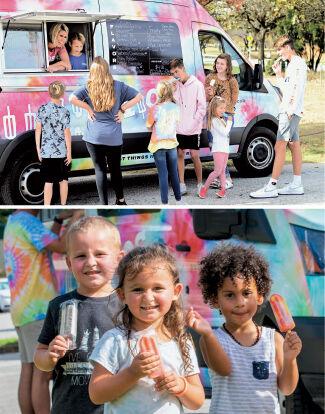 Frios Gourmet Pops
The concept: CEO Cliff Kennedy touts Frios as the "easiest and simplest franchising company I can imagine out there." The brand started as a brick-and-mortar concept, but transitioned to a mobile, tie-dye wrapped popsicle truck when COVID-19 hit. "If you look at it, it screams fun, and that's what we are. We sell happiness for a living," Kennedy said. "You don't have machines to clean up, you just have to unplug a freezer to unthaw it sometimes. There are no complicated systems to learn, which is what people are attracted to."
The stats: Founded in 2013, Frios started franchising in 2018. There are more than 40 franchise locations in the U.S., including seven vans and four more on the way. Though focused on pushing mobile, a brick-and-mortar store is 1,500 square feet. The total investment costs $35,000 to $40,000 for a mobile franchise.
The competition: "We compete with the ice cream man and shaved ice companies out there," Kennedy said. "We also have added revenue streams. I give my franchisees a bunker freezer, what you see at a gas station, to set up wholesale accounts. You can't do that with a shaved ice company—sell in bulk and not actually have to be there."
The challenge: As it expands, Frios will need to separate itself in the food category, as its products are made in a manufacturing facility and prepackaged. "The franchisee never touches it, they're shipped out to franchisees on a weekly basis with a variety of flavors that rotate seasonally," Kennedy said. "You're not really in the food business, you sell a popsicle."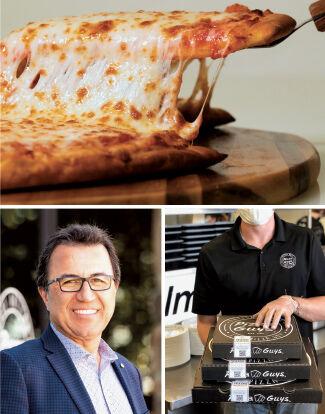 Pizza Guys
The concept: Pizza Guys is designed for people who want high-quality pizzas in a delivery and takeout format, said Shahpour Nejad, president and CEO of the brand. "We're not just your run-of-the-mill fast food, we're home of the gourmet specialty pizza, that's the niche we have in the market. Otherwise, people need to go to a sit-down bistro to get a high-quality pizza." The no dine-in model has served the brand well as consumer trends shift more to delivery and takeout.
The stats: Nejad co-founded Pizza Guys in 1986, opened seven stores in northern California and started franchising in 1994. Now up to 71 stores in three states with about 40 franchisees, a store is typically 1,000 to 1,200 square feet. The initial investment range is $75,000 to $300,000.
The competition: While up against Domino's and Pizza Hut, Nejad said Pizza Guys is more accessible to franchisees and doesn't require large multi-unit deals. Unlike big chains, "we don't lock them into a territory," he said. "We have flexibility because we're still young and growing."
The challenge: Hiring and retaining employees is always difficult, especially in California where costs and minimum wage are higher, Nejad said. "We've found that when you have a location where all employees are happy working there, the team and management is good and they get along, they don't have as much turnover." Creating the best environment for employees is an ongoing effort for the brand.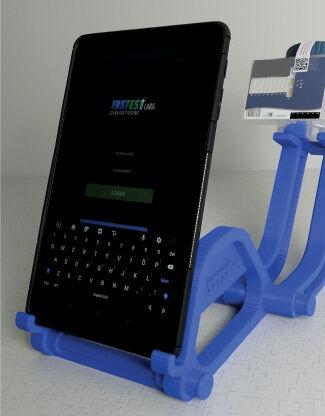 Fastest Labs
The concept: At 24, Dave Claflin was among the youngest franchisees of Merry Maids before creating Fastest Labs, a nonmedical testing company providing drug and alcohol screenings, DNA paternity tests and background checks. Long wait times at typical medical facilities inspired the concept. "We realized, what if we just do drug testing, nothing medical?" Customers will get "in and out within five to 10 minutes," Claflin said. "You won't wait behind someone needing a blood draw or triage. We take you back, test you and have you on your way."
The stats: Claflin and his wife LeDona founded Fastest Labs in San Antonio in 2000 and started franchising in 2010, growing to 60 offices across 20 states. A typical lab ranges from 600 to 800 square feet. The total initial investment is $89,000 to $116,000.
The competition: "We can meet or beat competitor pricing, and our model is based on short wait times and sending test results immediately," Claflin said. A high-tech approach also sets them apart. A tablet allows employees to scan government IDs, which auto-populates info such as the type of test and company name into their computer system.
The challenge: With the legalization of marijuana in a growing number of states, Claflin's had to educate companies that "you can still test for it, because it's not legal on a federal level…the challenge is also letting the consumers know, you still can't smoke marijuana and come on the job, just like you can't come on the job with alcohol in your system."