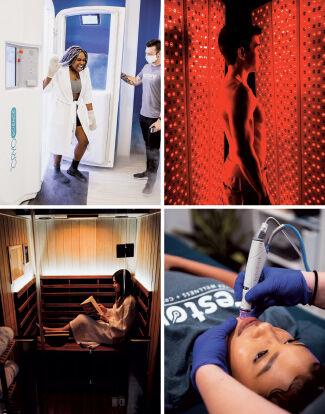 Restore
The concept: Jim Donnelly co-founded Restore Hyper Wellness + Cryotherapy in Austin, Texas, in 2015, with services running the gamut from allergy and micronutrient testing to cryotherapy, hyperbaric oxygen therapy and IV drip therapy. The brand seeks to help prevent health issues with its science-backed therapies, focusing on helping customers "feel better now." It offers single-service appointments along with monthly memberships ranging from $69 to $299.
The stats: Restore attracted an $8 million investment from Level 5 Capital Partners in June 2020, which helped it go from 50 locations to 81 open, 70 of which are franchisee-owned. The average store is approximately 2,000 square feet, but new locations are trending upwards to enable new services, Donnelly said. The investment range for a franchise is between $477,603 and $998,729.
The competition: "Our competitors tend to be small mom-and-pop operators," Donnelly said. "They have a limited number of services and a limited number of locations. They tend to lack any type of scale or medical infrastructure, and they also tend to lack any level of sophisticated marketing support system. Restore has a support system that addresses all of the key issues faced by a franchise."
The challenge: It's difficult to navigate the medical infrastructure and corporate practices. "There is a reason there are very few brands that include a national medical infrastructure," Donnelly added. The brand has a compliance team and a legal team to make sure it's following all state rules and regulations.
---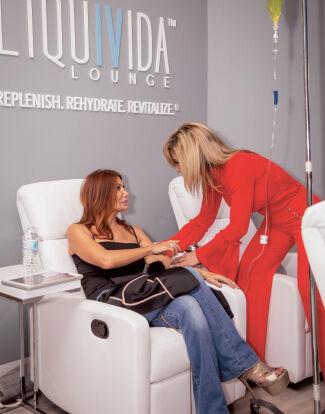 Liquivida Lounge
The concept: Samael Tejada founded Liquivida Lounge in 2013 before opening its flagship location in Coconut Creek, Florida, the following year. The alternative medicine franchise offers IV drip therapies—including one to beat a hangover—in addition to a large range of services from aesthetics and weight loss to lab testing and hormone optimization. "We have newer, innovative treatments and modalities we're offerings, with lots of science being developed from it," Tejada said, such as amino acids and a drip for sexual health.
The stats: The brand has 11 locations in four states and another four in development. The typical square footage is around 1,500, and the total investment ranges from $365,000 to $550,000. Liquivida is focused on building out its home state of Florida, though it has a few in development in Connecticut, New Jersey, Arizona and southern California.
The competition: Tejada said most competitors may have some services Liquivida offers, such as Botox and regenerative medicine, but they don't have other components such as hormone replacement therapy or medical weight loss. "Rather than going to another competitor for a service we don't offer, we're offering them all under one umbrella," he said.
The challenge: Being early to the space presented benefits and difficulties, including educating consumers on the safety of the products and building trust. "Ten years ago, you say you inject this stuff, people freak out and think it's drug use," Tejada said. Now, they've "created a brand where people trust you to inject something directly into their veins."
---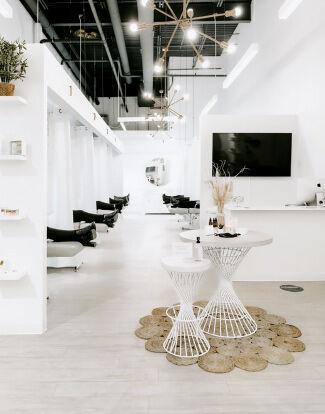 Face Foundrie
The concept: CEO Michele Henry created Face Foundrie, which offers 40-minute facials with names such as "Cryo Queen" for about $65. Memberships are available, and Face Foundrie sells proprietary products in store and online.
The stats: Henry founded Minneapolis-based Face Foundrie in 2019 and began franchising this year. It has three corporate locations open, plus units sold in Minnesota, Wisconsin, the Dakotas and Colorado. The smallest location is about 1,250 square feet; the largest is upwards of 2,300. "We don't necessarily have the cookie-cutter approach. We love eclectic locations in high-traffic areas, unlike traditional spas," Henry said. The investment range is $149,000 to $278,000.
The competition: "You'll notice it's a fragmented industry within beauty itself. You've got really focused salons for hair, with a facial component as an afterthought," Henry said. "For us, we haven't found competitors that combine all the services we offer that is truly facial-focused, but our competition lies in local salons and spas that maybe have an aesthetic facial component."
The challenge: From inception, Henry committed to growing her company 100 percent debt-free. "Growth without taking on outside capital, loans, or any sort of debt is a challenge in itself, but one I welcomed," she said, calling it "a delicate dance of pacing yourself. People are very excited to buy into our brand, and we really want to make sure we're taking on the right strategic franchisees."
---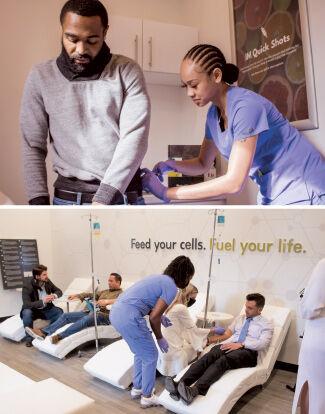 Dripbar
The concept: Dripbar offers intravenous vitamin drips, including the "High C," a high-dosage Vitamin C drip, which its website says "can also reduce the side effects of chemotherapy"—quite the claim. "People are starting to recognize the power of IV therapies to maintain their best health, or to fight cancer, heart disease and other illnesses," said CEO Shannon Petteruti, a board-certified nurse practitioner. Client-driven, cash-based intravenous treatments, she said, "are a durable change in the healthcare landscape that will only grow in the future."
The stats: Founded in 2016 and franchising since late 2019, Dripbar has one corporate location open in Warwick, Rhode Island, and three franchise units in Atlanta, Newport, Rhode Island, and Fort Collins, Colorado. Sites range from 1,000 to 1,500 square feet, and the investment is between $131,700 and $278,300.
The competition: Liquivida Lounge, The Hydration Room and Vidaflo are some of Dripbar's competitors, Petteruti said. "None offer health support drips for cancer and chelation," she continued, and Dripbar is compliant with United States Pharmacopeial Convention guidelines, something that's taken years and hundreds of thousands of dollars to achieve.
The challenge: "IV vitamin infusions are still relatively new to the industry and franchising something in the medical arena has rarely been done before," Petteruti said. "New spaces always have new challenges, but we feel we have the right team in place to handle what comes next."