Sole Leano was a stay-at-home mom and former model in the Philippines. Sunny Grover worked for his father's business in India and later handled marketing for an insurance company after coming to the United States. Sarah Yee is a retired McDonald's executive.
Now all franchisees of L&L Hawaiian Barbecue, the three exemplify the many diverse backgrounds within the fast-casual brand's system, while their varying operations illustrate the flexibility L&L affords its owners—flexibility CEO Elisia Flores said is a hallmark of the company she wants to preserve even as she boosts standardization, introduces new technology and accelerates expansion.
Flores, who spent eight years in senior finance roles with General Electric before joining L&L in 2014 as its chief financial officer, was named CEO in August 2019, succeeding her father and L&L co-founder Eddie Flores Jr.
With her corporate background, she admitted the environment of fewer rules and uniform processes cultivated by her entrepreneurial dad has taken some getting used to, but noted the sense of agency it affords franchisees is essential. Leano serves breakfast at one of her restaurants, for example, while Grover has a full sushi menu—neither of which appears on L&L's company menu.
"There was a lot of flexibility with the franchisees, even more than I would have expected," said Flores of what she found after joining the executive team. "My initial thought was we need more guardrails, but I soon found out the flexibility was core to our culture. It's actually a strength of ours versus a weakness like I originally thought."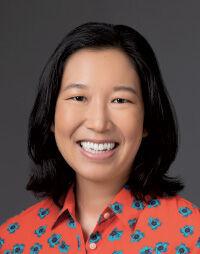 Based in Honolulu and with 64 restaurants in Hawaii, mainly on Oahu, and the other 140 on the U.S. mainland in 15 states (plus two in Japan), L&L Hawaiian's roots date back to 1952 and its start as a chain of drive-in restaurants serving plate lunches. L&L began introducing its concept and plate lunches—two scoops of rice, a scoop of macaroni salad and an entrée—to the mainland in 1999, expanding with owner-operator franchisees as its preferred growth vehicle. Today about 120 franchisees are single-unit operators.
Allowed to run their restaurants without the usual franchisor oversight, those franchisees helped ingrain the "ohana, or family aspect" of Hawaiian culture in the system, said Flores. While ohana is still essential to the franchise, "I did want to make sure they knew there would be some new ideas and innovation," she said.
"My perspective, and hopefully franchisees feel the same, is it's not business as usual," explained Flores of her message to franchisees as CEO. Technology adaptations in the stores and a new digital focus for L&L's marketing and branding strategies were among the efforts Flores launched last year and are ongoing.
L&L Hawaiian opened 13 franchise locations last year and systemwide sales hit $141 million in 2019, a 10 percent increase that pushed the brand to No. 298 on the Franchise Times Top 200+ ranking. While this year the COVID-19 crisis has impacted sales, Flores said their restaurants are proving resilient and previously nascent channels such as delivery are providing a lift.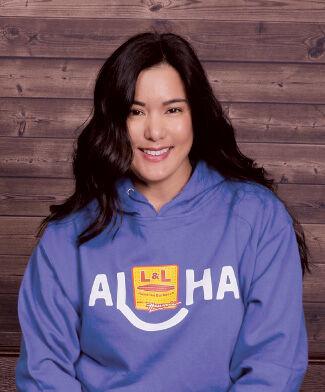 Nearly all of L&L restaurants now offer delivery, versus about 40 percent before the pandemic. "That, for us, was a really huge step forward," said Flores, as she noted some franchisees previously didn't even have WiFi in their restaurants. L&L is capitalizing on operator interest in and customer demand for more tech-enabled platforms, investing $100,000-plus to launch and test its own mobile app with digital ordering and loyalty program capabilities.
Other digital marketing efforts such as geofencing to target messages within a 3- to 5-mile radius around a restaurant are underway, with careful consideration of L&L's budget. "Our marketing budget is not as big as other organizations," said Flores of the 1 percent fee L&L charges 'zees, "so we have to use those funds as effectively as we can."
As CFO Flores said she thought about increasing all of L&L's fees (its royalty fee is just 3 percent, well below the 5.9 percent industry average reported by FRANdata), but ultimately decided there's "a good balance with what our franchisees pay to us and what we can do for them." That coincides with her commitment to L&L remaining a "lower cost, value brand" with a total investment range starting at $133,700 and topping out at $535,000.
"That lower barrier to entry is really wonderful," said Flores. "It yields a franchisee who is more entrepreneurial, is hungrier." And while L&L welcomes interest from larger operators considering multi-unit deals, "we're not going to push out the franchisees who got us where we are."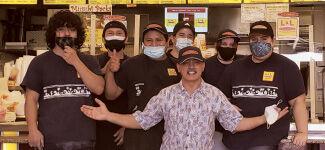 No two alike
Sole Leano is one such franchisee. Not long after L&L Hawaiian's leap from Oahu to California, Leano placed a catering order at a nearby location. "Fascinated" by the food and already looking for restaurant opportunities, Leano opened her first L&L south of San Diego in Chula Vista in 2006. She added a second unit in Miramar in 2018, followed by two locations on military bases (32nd Street Naval Station in San Diego and Arizona's Marine Corps Air Station Yuma), in 2020.
Born in the U.S. and raised in San Diego, Leano moved to Cavite City in her parents' native Philippines as a young adult where she competed in beauty pageants and eventually used her modeling income help her Filipino relatives, many of whom were very poor. After getting her computer science degree in Manila and eventually returning to California, Leano sought a new career and said L&L's willingness to let her make local adjustments has contributed to her restaurants' success.
At the Yuma location, she noted, the Marines "have about 30 minutes for lunch. So you need to expedite quick." That prompted her to create a "quick-pick menu," a limited selection of popular items such as barbecue chicken and short ribs. Her naval station location, meanwhile, opens at 7 a.m. to serve breakfast, including Spam musubi and eggs, Leano's morning version of a popular Hawaiian snack of grilled Spam atop rice and wrapped in dried seaweed.
"My first store is the only traditional, cook-to-order store," she pointed out. Corporate "is very helpful in being flexible."
Sunny Grover, a franchisee in California with restaurants in Anaheim, Walnut and Pasadena, was succinct in his assessment of the freedom he's given within L&L's system. "My bottom line: I'm thankful and grateful to be in L&L and that we're allowed to run our business our way."
Grover, who came to the U.S. from India in 1989 when he was 22, cleaned an ARCO-ampm gas station for $4.26 an hour before he got a job at a Taco Bell and eventually managed five stores. Other jobs followed, and while working in marketing at an insurance company Grover researched franchises and decided to purchase the L&L Hawaiian in Anaheim in 2015. His wife, Ninu Sigh, ran the store while he kept his corporate job. When two more restaurants followed, Grover turned his full attention to L&L.
"I was always looking to grow; it was always in my nature to be ambitious" he said. He also wanted independence, and L&L gives him that. "They don't tie my hands, that's what I really appreciated. They encourage me to try new things. If ever they turn corporate, they'll be just like everyone else."
One of those new things was adding a full sushi menu, which Grover said is popular with customers, as is the Thai tea he introduced. He launched delivery at his stores but emphasized he wasn't forced by corporate.
"I say, just leave me alone and I'll bring you the results," said Grover as he noted his restaurants' strong performance allowed his daughters to finish college debt-free. (L&L reported 43 percent of its units have sales of more than $750,000, according to Item 19 of its franchise disclosure document.)
For San Antonio franchisee Sarah Yee, the looser structure of L&L means she can deploy best practices learned during 25 years in franchise operations roles at McDonald's. All the "provisions, systems and checking of boxes" is what Yee was used to, and her management style reflects that with an intense focus on employee training. Many of her workers have been with her since she opened the restaurant in 2014, and she credited that consistency with helping push same-store sales increases of 20 percent in recent years. Even with the pandemic, "I'm still up, thank god."
"It's basic operations through well-trained staff—there's no magic to it," continued Yee. "I was always preaching that and it works."
Yee takes advantage of the flexibility within L&L to use Joyrun, a group delivery app that's popular with staff and soldiers at nearby Fort Sam Houston. And though gatherings are "on hiatus during COVID," Yee created what she called "Aloha Fridays," cultural events with specialty food, hula dancers and even full luaus so customers could learn more about the Hawaiian Islands.
This year L&L franchisees opened eight restaurants and Flores said another five stores are in the pipeline.