After nearly a year of shutdowns, fear of illness and home cooking, pizza remains one of the brightest spots in the food industry. At almost every corner of the pizza industry, from the massive Domino's to the hyper regional Stoner's Pizza Joint and everyone in between, there is ample sales growth.
As the biggest barometer of the pizza segment, Domino's Pizza reported incredible sales through the pandemic. The company started 2020 in a decent place with 1.6 percent sales growth in the first quarter, which ended in March. In that earnings report, Domino's also gave a little preview of how the panic-buying first impacted business as the pantries emptied and the dishes piled up. In those first weeks of March—after an initial decline—Domino's saw a 10 percent bump in same-store sales.
"There was a bunch of pantry loading," said Tom Curtis, COO of Domino's. "We saw a big sales dip and nobody could figure out what was safe or what wasn't. Fortunately, we did innovate very quickly and went out to customers and said, 'We figured out a way to do this safely and we know you'll get tired of cooking at home all the time. So, the ramp up was just as fast as the ramp down, but the ramp up just never stopped—that's a good thing."
That ramp brought Domino's to more than 16 percent same-store sales in the second quarter and more than 17 percent in the third. That is exceptional growth on top of a 2019 that yielded a 5.9 percent boost in global systemwide sales to $14.3 billion, according to Franchise Times' Top 200+ data.
Across the delivery-focused end of pizza, results are similar. Hungry Howie's CEO Steve Jackson said sales at the Madison Heights, Michigan-based brand's nearly 550 locations are up significantly, even after some difficulties in March and April.
"In the first quarter, we were relatively flat. March kind of hurt us when the shelter-in-place rules went into effect. Our sales dropped about 15 percent for the first three weeks," said Jackson. "Second quarter, we were up 20 percent. In the third quarter, we were up 24 percent, so our year-to-date number is 15 percent up, which we're pretty proud of."
Toppers Pizza founder and CEO Scott Gittrich said his company had the same pause early on, but like others in pizza delivery saw a lot of action all at once.
"There was this like national groupthink that it's OK to order some food. The government sent out money to every family and there was a thought, 'We might make it through this.' From that one week to the next we went from down 12 to 15 percent to up like 25 percent and we were up a lot of weeks. We're up 35 percent year over year," said Gittrich.
John Stetson, who was a three-unit Stoner's Pizza franchisee before he bought the company and became CEO last summer, said his brand is up about 25 percent, too, but he and other segment standouts said it's not exactly a pizza party given the toll of the pandemic both on individuals and fellow restaurant operators.
"It's so hard, you feel for these restaurants. I look down our main strip, and you see these stalled buildouts and now knowing these costs, your heart just aches," said Stetson.
He said it also wasn't just a buckle-up-and-hang-on situation. Having food that traveled well and homebound consumers was a tailwind, but pizza purveyors had to deal with some real challenges. For smaller brands like 15-unit Stoner's, the supply chain was a costly issue.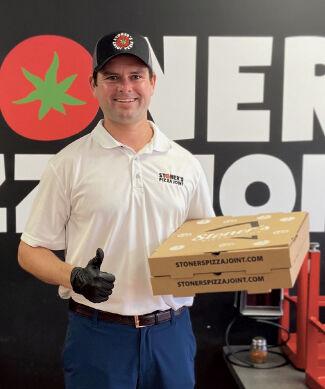 "My food and paper costs have gone up I would say between 5 and 10 percent and it's a question of what do you do? Do you pass that along to the consumer? They're hurting as well based on the economy," said Stetson. "I've kept my prices the same and it's affected my bottom line but I'm able to get it back on the top line. But for instance, I look at my cheese cost. I was at $77 for 30 pounds of cheese, today my bill was $117."
Jackson said the same—topline boosts are exciting, but the surge in sales is getting hammered by cheese. He said his typical cheese price recently shot up by more than 70 percent.
A younger workforce and economic stimulus made labor a headache, too—as if it wasn't already.
"Back in March a lot of our employees who are 16 to 20, mom said, 'You're not working.' We lost a big chunk of our workforce due to that," noted Jackson. "When the government came in with $600 in additional unemployment, that didn't help anything. That took a lot of people that were in the under $50,000 income bracket saying they're staying home."
He said it's a daily struggle to keep staffing levels high enough to ingest the heightened demand. At some locations, Hungry Howie's franchisees shaved almost an entire earlier shift off the schedule to keep up with increased dinner hours with existing staff.
As the pizza segment had to navigate those new COVID-era difficulties, it also had to innovate to keep up with new consumer demands. Everyone had to figure out new options for curbside delivery and new options for social-distanced deliveries. Curtis said Domino's undertook some breakneck innovation. While there was a learning curve, he said that renewed entrepreneurial vigor may be one of the brighter spots of 2020.
"Necessity is the mother of invention," said Curtis. "We got to know each other more than ever before and I think it's blown down silos and there have been huge benefits to moving more quickly and taking more risk."
He said one example was the "pizza pedestal," designed to embrace the desire for safer deliveries.
"We woke up one day and said we have to step back from the door but we can't just leave the food on the ground. So, we grabbed a pizza box and put another underneath and put a plastic bag underneath. That was effective for about a week. After that we created the pizza pedestal," said Curtis. "We put the pizza down but not on an unclean surface. But it's also a way for the customer to put a credit card receipt, cash or gratuity back into the pedestal. It made that transaction easy to understand and execute."
There was a lot of menu innovation, too, both to keep things fresh as consumers ate a lot more pizza, but also to compete with the intense surge in delivery options from every corner of the restaurant industry as scores of restaurants jumped on third-party delivery platforms.
Curtis said Domino's had a simple way for folks to get the burger or taco they were craving: put it on a pizza. The company launched a cheeseburger pizza and a taco pizza instead of a soggy burger or crumbling taco.
"You can get a really hot cheeseburger in 20 minutes if it's a cheeseburger pizza," said Curtis.
What comes next for pizza?
"What next" was a dangerous phrase in 2020, but despite the challenges, the explosive sales growth has a lot of pizza operators excited to look ahead. The resiliency in sales and the ability to meet even major challenges has the segment feeling a bit of "swagger" as Gittrich said.
"You pile on the coming together and taking advantage of the environment, our group has swagger. We feel bold. When you're getting your ass kicked and you can't hire people like in 2018 and '19, you start getting short sighted. You're fighting and feeling the chaos of running the business. You get the wind at your back and a coalesced team, your vision looks to the horizon, you start investing in the business in a different way," said Gittrich. "Just the financial strength from wall to wall is no small thing, our franchisees are chomping at the bit."
Even with the realization that pizza sales will return to earth one day, the pizza category got a real shot in the arm that is already translating to new development deals and franchisee expansion.
Stoner's just signed a 10-location deal with an operator Stetson said sought a low-cost buildout and resilient operations. At Hungry Howie's, a reduced franchise fee is expected to spur development and recent blockbuster openings have franchisees looking for new real estate opportunities.
Domino's is pushing a market density play it calls fortressing as Curtis said operators see the value in deep market penetration to get that cheeseburger pizza to a customer in 20 minutes. Even Papa John's, which was beleaguered by the drawn-out, contentious exit of founder and CEO John Schnatter, inked a major development deal last fall, a 49-unit agreement with franchisee Stuart Hunt and HB Restaurant Group for Philadelphia and southern New Jersey.
Consumers ate a lot of pizza in the last year, and this pandemic boost means they can eat a lot more soon.