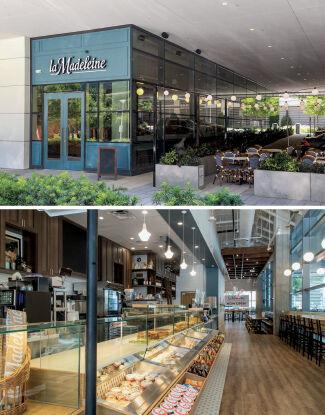 La Madeleine
The concept: La Madeleine unveiled a new Petite Market and Bakery prototype in Dallas late last year, which CEO Lionel Ladouceur said is designed to "show our bakery craft selection and our French roots." At 4,000 square feet, the prototype will have three things: a grab-and-go section catering to the millennial; in-store bread-baking, a hallmark of all La Madeleine stores but one Ladouceur said is not always recognized; and the drive-thru, for the first time.
The stats: Average unit volumes are $2 million at a standard La Madeleine. The buildout costs for the first prototype will be around $1 million for a retrofit of a Steak 'N Shake store. A drive-thru is a must these days, said Ladouceur, who counts about 100 stores today with about 75 percent franchised, mostly in Texas, Louisiana and the South. "We've been pushing really hard on all the digital marketing platforms, and curbside delivery, but you still need to have the drive-thru if you want to be a player," he said.
The competitors: The giant Panera, with more than 2,000 units, and the much smaller Corner Bakery are top-of-mind competition for Ladouceur.
The handicap: "What we're really trying to be is French comfort food," Ladouceur says, and that cuts both ways. People hear "French" and think it's going to be expensive. But they also think delicious, so this French-owned and French-founded franchise will likely have legs, especially now outfitted with an American-style drive-thru.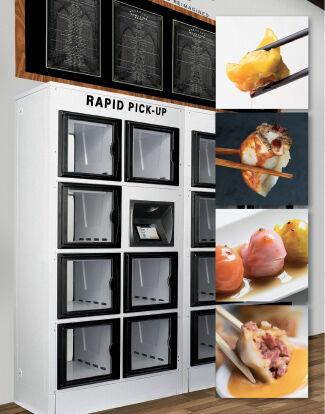 Brooklyn Dumpling Shop
The concept: New York restaurateur Stratis Morfogen, owner of the famed Brooklyn Chop House, has whipped up a new concept resurrecting the automat, a format started in 1895 that took off after the last pandemic, in 1918-1919. "I think it's the greatest form of distribution: cost-effective, error free," he said about the little lockers, hot or cold, which customers open to grab, in this case, dumplings with flavors from PB&J to French Onion Soup.
The stats: Brooklyn Dumpling Shop will feature robotics in the kitchen, which Morfogen plans to license to franchisees, and technology in the front like sensors to take customers' temperatures non-invasively. Cost of investment will be $150,000 to $250,000, and Dan Rowe, CEO of Fransmart that is backing the concept, believes they will do "$1.5 million to $2 million out of 500 square feet. For the cost of a Subway, these things are going to do more than a Five Guys."
The competitors: The Chicago-based Wow Bao is a direct competitor, featuring lockers where customers grab their food and already with five physical locations in the city and delivery-only stores in California, Florida, Georgia, Idaho and 17 more states.
The handicap: Not a single Brooklyn Dumpling Shop was open as of December 31, 2020, making the claims of Morfogen and Rowe merely aspirational. But for experienced franchisees willing to take a chance, note that Rowe previously backed franchise sensations like The Halal Guys and Five Guys.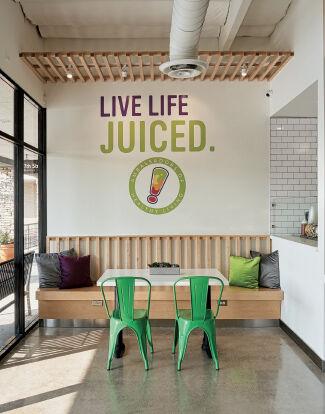 Juice It Up
The concept: The 25-year-old Juice It Up "is the first smoothie juice brand in Southern California," said Susan Taylor, president and COO for about a year and a half after an ownership change. "Juice It Up's been very good about updating and remodeling every five to 10 years," so her team's task to roll out yet another design in fall 2020 was relatively smooth. "It feels modern, it feels fresh. It conveys who we are as a brand in an authentic manner," she said.
The stats: The remodel costs about $50,000, depending on the extent of the work required, and the store footprint is about 1,000 square feet. Seventy-four stores were open as of December 2020, with six university accounts closed and a health club location that was also closed. Twelve new locations are slated to open in 2021.
The competitors: Juice concepts are everywhere, from Jamba to Smoothie King to Tropical Smoothie to Clean Juice and many more, most increasingly focusing on health and wellness rather than sweet treats, something Juice It Up emphasized from the start.
The handicap: Juice It Up's new design emphasizes transparency, Taylor said, noting customers can see everything that goes into the food, a must for millennials especially. "We actually have a monitor that we've filmed every single ingredient. You can see your product from start to finish. We're not hiding anything in how we make the product or what goes into them."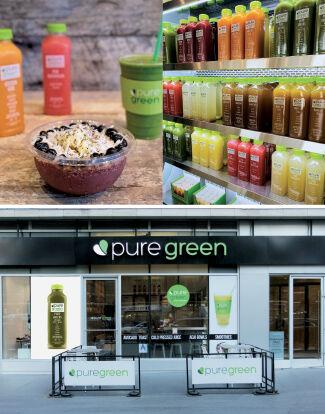 Pure Green
The concept: Ross Franklin started Pure Green in 2014 in New York City, and grew to five locations there before stepping out to Orlando and Chicago in summer 2020, with another location slated for Miami. "For us, everything is about the products that we offer, the nutrient-dense superfoods," said Michael Cecchini, director of operations, a mission that grew in importance during the pandemic. "A lot of people were flocking toward our immunity shot, which is ginger lemon."
The stats: "The concept that we follow is an open kitchen, so the guest can see everything that's being made," he said, with the placement of cold-pressed juices front and center for customers to grab and go. Keeping the cost of buildout as low as possible is a priority, although he declines to state that number. Nor will Cecchini divulge average unit volumes at open stores. Locations are 700 to 1,000 square feet, and cost of investment is $150,000 to $350,000.
The competitors: Healthy concepts are the rage these days and many chains are far ahead of Pure Green in number of units, as noted in the item nearby. Pure Green's menu items, too, are ubiquitous, including avocado toast and acai bowls.
The handicap: One ace-in-the-hole for Pure Green is Pure Green Wholesale, which produces the juice and provides it to franchisees for "a fraction of the cost" it would take to buy equipment and press the juice themselves, he said.