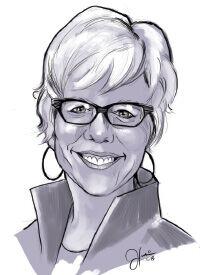 Could the root cause of growing rancor at I Heart Mac & Cheese be that customers don't heart the cheese sauce?
Genevieve Prieto thinks so. She was the second franchisee to sign on, in late 2017, and said she was told by Michael Blom, the chef that helped create the brand, that sales at the flagship store in Florida were $700,000 a year. The actual figure was $262,054, a document shows.
She closed her store in December 2018, only eight months after opening, after sales dropped from $31,000 the first week to $5,000 the last, she said, and then sued the brand for illegal financial performance representations, among other allegations, and subsequently filed for personal bankruptcy.
She said customers would line up at her Yukon, Oklahoma, store for the first time, enjoying choosing their own toppings for the comfort food favorite, but then not return. The cheese sauce "tastes like cheez whiz. For that kind of money we expected so much more," said one online review, which could be characterized as kind. "Nasty fake cheese. Disgusting!" said another.
"The thing with this concept is that it wasn't ready to franchise. None of their corporate locations have ever made a profit, or come even close to the revenues the salespeople tout during their discovery days," said Prieto, a former four-store Domino's operator. "There has to be a way of stopping these people from victimizing even more people."
The rancor has risen since, including from a New York franchisee, Elizabeth Torres, who according to a lawsuit emailed nine people in September 2020, stating: "I would advise you DO NOT move forward. I have to close my two NY locations and there is not a way to make money on these...this is a scam and lawsuits are pending against corporate." Corporate sued her for slander and loan default last October.
Adam Wasch of Wasch Raines law firm represents a franchisee in Athens, Georgia, and has spoken to others. "The common thread is, make the sale at any cost. Rules don't matter," Wasch said. "The guys who are running it can't make their own units work. So how can someone who's never heard of this brand in some town in Montana going to make it work? It's not proven, it's a loser, and these guys are good at selling it, I guess."
In a separate series of complaints, Wasch is representing four Florida franchisees suing Burgerim, the burger brand that sold more than 1,000 franchises in the U.S. in five years, starting in 2017, but then collapsed. "It's kind of that on maybe a smaller scale," he said about I Heart Mac & Cheese. "Let's sell, sell, sell, sell, sell."
Although the brand announced in September 2020 it had sold more than 125 stores, by the end of October 2020 only five corporate and eight franchisee-owned stores were open, and seven stores total had closed since franchising began in 2017, Prieto said.
Clearly, the openings at I Heart Mac & Cheese are not matching the press releases, which were pumped out by three different public relations firms over the past year.
'I can't make them perform'
Steve Giordanella, CEO, president and founder of I Heart Mac & Cheese, is undaunted by the criticism, which he says is confined to "three disgruntled franchisees. It's terrible and I really do feel bad for them, but I can't make them perform." He says the number of sold-but-not-open restaurants is "misleading" because about 75 were sold in 2020 and COVID-19 delayed permits and thus openings.
"We're going full speed ahead on sales. As a matter of fact, we've closed quite a few deals. Every week we sell new franchises," he said in an interview in mid-October. "Now that COVID is, God willing, coming to an end…we're going to start seeing stores open, and we're going forward." A store in Long Island, New York, and another in Indiana were set to open by the end of 2020/early 2021, he said.
Vinny Greco, also a Hurricane Grill & Wings franchisee, signed a 23-store deal for Long Island that was touted in March 2019 as the brand's largest to date by far. The deal was later cut down to nine and now Greco says he will open just one, expected by early 2021, and then see how it performs. Giordanella "has helped us out tremendously," Greco said in an interview, including altering the schedule for openings in the development deal.
Asked about complaints from other franchisees, Greco said, "Am I concerned? Everybody is going to be concerned. Do I believe in the brand? I believe in the product. You have to take everything into consideration. We're willing right now to take a one-store gamble, and if it works," he'll consider more.
Giordanella was born and raised in Long Island, he said, and he has the accent to prove it. He still has a catering hall there. He was in the body-armor business, making bullet-resistant vests. He moved to Florida in 1983.
Before starting I Heart Mac & Cheese, Giordanella started a chain called Cabo Flats and built it to a half-dozen locations, but only one of those stores, in Miami, remains. His focus is now on I Heart Mac & Cheese, full force.
"I believe it's a very good concept, obviously," he said, adding "the attention we're getting from franchisees" proves it. "Despite what people think, we don't force people to buy them. We've denied a number of people that didn't fit the mold, and most of the time because they were undercapitalized," not because they lacked restaurant experience.
"Lo and behold though, a lot of people that are buying these have some restaurant background," he said, "but many don't," and he cites a former police officer who is doing well at his store. "We're very proud of the fact that a family could afford to get into something like this."
As for the cheese sauce, he said with a laugh, "It's like everything else. Some people say the cheese sauce is bland, some people say the cheese sauce is spicy. It's good for the masses."
'Keep on it'
I'll give one outside observer, Keith Miller, a Subway operator and founder of Franchisee Advocacy Consulting, the last word. "Thanks for the stories on this brand, and keep on it. State regulators are watching it," he wrote, and then referred to the Burgerim debacle. "Hopefully with all the stories, damage will be limited to 100 franchisees versus 1,000."
Beth Ewen is senior editor of Franchise Times, and writes the Continental Franchise Review® column in each issue. Send interesting legal and public policy cases to bewen@franchisetimes.com.