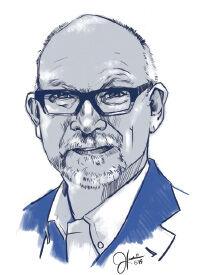 A national realtor website described Coral Gable as a dynamic financial district that also maintains its historical identity as one of the first communities in South Florida. The area also boasts a population of 50,000—half of whom speak Spanish—squeezed into just 13 square miles.
Density like that suits new Sola Salon Studio franchisee Dan Bowers fine. Not only does it mean there are lots of women (and men) seeking nearby beauty services; it means recruitment opportunities abound. "We want to see other salons in the area," he said. "What we're doing is providing stylists" at other salons "an opportunity to be their own boss."
Sola Salon franchisees lease a large space, anywhere from 3,500 to 6,500 square feet, create small studios (8 feet by 12 feet) within it and then rent each to a beauty service professional who usually operates a one-person shop. Franchisees also offer access to scheduling technology. 
Bowers, 50, who signed on to open three units in South Florida, emphasized Sola Salon Studios franchisees do not poach from rivals. Stylists, he explained, often want to exit crowded shops, especially in light of the pandemic. They also may want to work fewer hours, create their own schedules or own their own businesses. "Poaching comes across badly. Stylists know who we are. We advertise," he added. 
So far, he has signed a letter of intent on a 6,300-square-foot building in the Shops at Merrick Park, a tony shopping mall anchored by Neiman Marcus, Nordstrom and Equinox Fitness. The space is large enough for 32 to 36 studios, he said.  
According to the franchisor's franchise disclosure document, the cost to open a Sola Salon unit the size of Bowers' runs from roughly $1.3 million to $3.2 million. The royalty fee is 5.5 percent and franchise fees start at $41,000. 
Occupancy rates matter. The FDD's Item 19 notes median occupancy in 2019 for 309 of the 459 studio units who met reporting criteria was 92.3 percent. Average occupancy stood at 87.7 percent, and ranged overall from 100 percent to 26.9 percent. 
Bowers felt confident signing his agreement in April after research that included interviewing a former Dunkin' franchisee in New Jersey who had fine-toothed the financials and was about to pull the trigger on a Sola franchise. 
The pandemic also helped in his decision. "COVID pushed me over the edge. It was a business that I thought could survive, even thrive in a pandemic situation," he explained. 
A Dunkin' franchisee himself with 15 years in the system, Bowers had 13 units in Florida until a market consolidation pared his coffee empire to three, which are near his house in Jupiter. He declined to discuss the recent sale but said he kept the three "to keep a foot" in the foodservice franchising world.
The sale, in any case, will help finance the Sola location in Coral Gable, he said. When we talked, however, Bowers was pondering whether to self-finance the entire deal or to borrow money from one of Sola's preferred lenders. He wasn't sure where to place his bet. "The equities markets are pretty volatile," he said.
Underserved advantage at Golden Chick
Golden Chick franchisee Chris Aslam, who will open his eighth unit in Las Vegas before year end, grew up working in his parents' Jack in the Box restaurants. That worked in his favor when one of the units burned down. While Aslam helped rebuild, he decided to franchise a Jack in the Box himself. After all, he said, he'd already dropped out of college and sold a small perfume shop in Dallas. 
Even better for a guy in his mid-20s in 2007, capital was easy to come by on fabulous terms. "I was going out on my own to build my first restaurant at 3.5 percent interest rate, 100 percent financing of the land and building, and 95 percent financing on the equipment," he recalled. "All you had to have is good credit and a little bit of experience—and that's probably what led to the bubble bursting." 
Not his bubble, however. What those terms gave him "was an opportunity to open a couple of restaurants that were high-performing." 
Fast forward 10 years and the now multi-unit Jack in the Box franchisee was selling land to the Dallas-based Golden Chick chain, which today franchises most of its 192 units. Mark Parmerlee, who bought the chain in 1989, asked instead if Aslam wanted to become a Golden Chick franchisee.
"He took me to one of his restaurants and we had this big table full of food," Aslam said. "But it was the atmosphere, organization and processes that impressed me. Most important, everyone there had pride, like working there wasn't just a job."
Today, Aslam operates five Golden Chicks in Dallas with plans to open two more in the city. He said each rings up about $2 million annually from underserved locations with diverse populations. It's the same strategy he used for his 65 Jack in the Boxes. "Golden Chick attracts all the demographics. Go in at lunch and you will see every race of people," he said.
It's not surprising the same strategy applies to Las Vegas, where Aslam purchased property for two Golden Chick restaurants after signing a 20-unit deal.
"You go to a site and look for a couple of things. One, how does it feel to your gut, without having to look at demographics? Two, some of the best-looking lots that developers get excited about are absolutely the worst," he said. "Sure, you're going to want to go there and be the first, but so does everyone else."
So where do his units end up? "You look at our locations and you'd say, 'Oh, wow, what are they doing over there?' But they've turned into some of the highest volume stores we have," continued Aslam. "So that strategy has worked really well for us, because those areas are underserved."
David Farkas has covered the restaurant business for 25 years as a reporter and food writer, and writes about development deals in The Pipeline in each issue. Send your franchise's development agreements to him at dfarkas99@gmail.com.