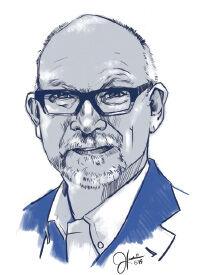 Given casual dining's long-running sales slump, which the pandemic only intensified, some operators are considering smaller footprints going forward. After all, off-premises revenues have climbed as they've adapted to capacity restrictions by implementing digital platforms. Who still needs 7,500 square feet? 
South Florida franchisee Fred Burgess is among those who do. He and his partners in DMD Ventures need at least that much space for the four (soon to be five) Twin Peaks restaurants they operate. The franchisor recommends that conversions run from 6,000 to 12,000 square feet.
"The problem is, Twin Peaks is not just a restaurant," explained Burgess, who with Jack Flechner and Austin Hester plan to open 13 outposts by 2023 in the southern half of the Sunshine State. "We like to tell manager candidates, your job is to manage the managing stuff, but the overriding thing we're trying to do is throw a party. And that's hard to do when all you have is 4,000 square feet."
The entertainment components are large-screen TVs, ice-cold beer and female servers clad in tight-fitting, revealing outfits, often themed to holidays and seasons. DMD is one of 17 multi-unit operators in the 78-unit Twin Peaks system.
When Burgess and I spoke in mid-November, finding financing for the fifth location, a conversion in Hollywood, Florida, was a sticking point. Traditional lenders are cold on the casual dining segment, fearing that sales won't recover fast enough, post-pandemic, to justify loans. Black Box Intelligence reported in November that the sector's same-store sales hadn't improved year-over-year compared to previous weeks and had "significantly slowed in October." The researchers blamed the fall spike in COVID-19 cases.
"It's frustrating," Flechner griped, "because we have opportunity to grow and we're limited because there is no traditional financing out there, which forces you to go to nontraditional financing or just not grow because you don't have the capital." 
It's a $2.2 million to $2.8 million investment to convert an existing restaurant to a Twin Peaks, Mark Ramage, the brand's director of franchise sales development, told me.
The partners came up with the capital for their first four units in 2013 by tapping EB-5 investors. The 20-year-old visa program, administered by U.S. Citizens and Immigration Services, allows American businesses to raise capital from foreign individuals seeking green cards for themselves and family members. Today, the minimum investment to qualify for a green card via EB-5 is $1.8 million. 
Now, the partners no longer find the program useful because the time it takes to get a green card processed is too long. "For all intents and purposes, EB-5 is almost dead," Burgess said. 
Meanwhile, the partners are attempting to recoup the $17 million in sales the restaurants lost from mid-March to May when Florida dining rooms were closed. Early in the pandemic the restaurants sold groceries and bulk alcohol. They also launched delivery.
Relief arrived, however, in late September, when Gov. Ron DeSantis issued an executive order allowing restaurants and bars to resume on-premise dining without pandemic restrictions. Even better for sales was the relaxing in October of Broward County's restaurant curfew from 11 p.m. to midnight. "We're sports-centric and some start games at 8 o'clock or 8:30, so customers couldn't always watch them to the end. Getting to 12 o'clock helped us out a lot," said Burgess.
More Indian food in Dallas
It's easy to see why franchisees Ankita and Dharmesh Mehta picked Grandscape to open the first of six Curry Up Now restaurants. The mammoth mixed-use development is in North Texas, with a population of 6.5 million. More specifically, The Colony, the Dallas suburb where Grandscape is located, boasts a median household income of $83,094 among 44,438 residents, per U.S. Census data. 
The Mehtas aren't new to franchising. Since 2006 they've opened four Cold Stone Creamery outlets in Texas and Louisiana. Ankita said her Indian-born father, a hotel franchisee, always wanted an Indian restaurant, thus the interest in Curry Up Now.
What she likes about her new franchise is the same thing she likes about the old one: Food prep is simple. "You have a 10-ounce bag of curry, and you have to put 2 pounds of chicken in it." To make golub paneer, "it's a 6-ounce bag you mix with 10 ounces of paneer. So it's the same tastes every time, and anyone can do it. We don't even need a kitchen manager."
She said the menu sets the restaurant apart from its many competitors in Dallas-Fort Worth. The area is home to one of the largest South Asian populations in Texas, while the state, in fact, is second only to California's South Asian population (815,948 to 452,598). Curry Up Now is based in San Francisco.
The restaurant's menu features familiar foods with Indian-flavor spins such as a tikka masala burrito, fried ravioli, tacos and its signature Sexy Fries, an Indian-inspired poutine.
The Mehtas will open the larger of Curry Up Now's two franchise models, at 3,300 square feet and including its cocktail bar component dubbed Mortar & Pestle, in Grandscape. According to the franchise disclosure document, the investment is $658,000 to $2,752,500. The smaller restaurant, which the couple also intends to open, is 1,500 to 2,000 square feet without bar service. That investment is $361,500 to $1,175,500. 
The FDD's Item 19 shows gross sales for company restaurants in California ranged widely over the last eight years—from $846,910 to $3,592, 500—depending on location. There were six company-owned outlets at the end of 2019. As of November, franchisees had yet to open a restaurant.
The Mehtas will use an SBA loan to pay for their first Curry Up Now and possibly the others. The financial strategy differs from their Cold Stone Creamery past, when the couple paid cash for each outpost, including a ground-up build. But those units were considerably less expensive to open. "Curry Up is a big investment, so I would get loans for that," said Ankita.
David Farkas has covered the restaurant business for 25 years as a reporter and food writer, and writes about development deals in The Pipeline in each issue. Send your franchise's development deals to dfarkas99@gmail.com.