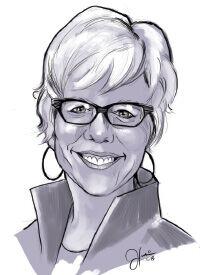 After 11 weeks of extreme lockdown in Chicago because of COVID-19, I got my American Express bill—at a mere $53, it mirrored the 85 percent plunge in economic activity throughout the nation—and decided it was time to go back into the world.
For one thing, someone had to try to save the economy. For another, I'm a 30-year business reporter, and how operators were coping as public policy dictates crushed the economy is a business story for the ages.
I masked up, kept my distance and doubled the thickness of my skin (to ignore the haters who believe those not locked down "just want people to die.") Here's what I learned.
1. Every business is dealing with COVID differently, some well and many not. Customers can easily tell the difference. There was the pool at the Sandpearl hotel in Clearwater, Florida, for instance, with big signs posted saying the number of guests was limited to 70. Then there were the number of guests, cheek by jowl and easily closer to 200. We hot-tailed it out of there, to an empty beach and the restaurants nearby instead.
This happened over and over. In Wisconsin, shortly after the state Supreme Court shot down the lockdowns, one restaurant was packed with people drinking and talking in close quarters. Employees of a retail boutique a block away, meanwhile, were wearing masks AND plastic face shields and not allowing anyone to touch the clothes.
Southwest Airlines and Delta Airlines kept their middle aisles open, while American did not, as I uncomfortably learned on a reporting trip to Charlotte, North Carolina.
Fleet Feet, a running shoe franchise, took nearly two months to issue my refund. By contrast, the Bellagio Hotel in Las Vegas emailed a credit to my account simultaneously when they canceled my room.
COVID-19 presents a great opportunity for businesses to gain new customers, and my point is customers are watching and will vote with their feet.
2. It's still the hospitality business. The greeters at my gym, Lakeview Athletic Club, look like they're security guards at a supermax prison, glowering behind masks as they take temperatures and order members to scan themselves in but never say hello.
On the other hand, servers at Wang's, our favorite neighborhood bar, opened as soon as they could legally do so, and danced to the DJ they hired to spin discs while they shook up our to-go cocktails.
When I ordered a birthday dinner to go from Fogo de Chao, in early April just after lockdowns started, they threw in extra treats and offered a couple bottles of wine at a discount. And when I called my favorite retailer, Click, when stores were closed, the owner helped me pick out my items and ran them over to my apartment building, during a rainstorm.
In all cases, customers and employees alike were following the rules, wearing masks and keeping their 6-foot distance. It's obvious which approach keeps us coming back.
3. Lengthy protocols are unconvincing. Especially in the early days of reopening, companies seemed to compete for who had the longest list of sanitation and other practices they were following. Wynn Hotel in Las Vegas put out dozens of pages. McDonald's boasted about 46 pages, but then got called out in two lawsuits by employees alleging they were given coffee filters for masks because they didn't have the right PPE.
As anyone knows who's been assigned a 4,000-word essay on the counties of North Dakota, or whatever, the length of the material does not necessarily correlate with the quality. Businesses win with a concise list of protocols that make sense and are enforced.
4. Some actions are plain silly. I saw a lone woman, wandering around a cavernous hotel lobby at the Sandpearl in Florida, holding a single spray bottle of disinfectant and a rag, ostensibly to keep the space sanitized. Perhaps they hadn't heard of fogging machines that cost $400 and sanitize spaces in about 10 minutes.
I searched in vain for shampoo and other bathroom toiletries at a Radisson hotel in Dallas, only to be told they were bundled up in a plastic bag, along with coffee and cream and so on, and placed on the shelf by the coffee maker. Huh?
I was told while making a hair appointment that the salon wasn't doing blowdrys after the cut and color, even though everyone was required to wear a mask. "You don't get COVID from hair," I helpfully pointed out to the staffer, who wasn't moved. Ditto for the requirement to sign a sheet releasing the business from COVID-related liability, which legal experts say will never hold up in court. Why not skip the dumb stuff and focus on what could actually reduce transmission?
5. Leadership by example matters. I have so many stories along these lines, but my favorite is from a Cinnaholic franchisee in Knoxville, Tennessee, who models for her employees how to handle people who refuse to wear masks or follow other protocols. "I have told my staff, we're not law enforcement. Honestly, it's a fine line. I told them, our job is to de-escalate anything. Usually, if you're smiling and you're being overly nice, it's really hard to be ugly to someone who's being really nice to you," Holly Roe told me. Roe's willingness to model what she wants means she gets it.
6. Some things just gotta go. I'm talking about you, the wood-like bar at Chili's, which was just as sticky when I visited one in Dallas in June as the last time I ate there, 20 years ago. And you, the tiny breakfast room in the Mill Creek Hotel in Wisconsin, with people parading through the open buffet, touching all the little jellies as they slopped powdered eggs onto their plates. What was merely gross before is now unacceptable.
My final lesson: Business owners going all out to keep their employees working, their customers satisfied and their communities served during COVID are heroes in my mind. As we maneuver through the next phases of the pandemic, I'll keep reporting what works and what doesn't while wishing all of you well—but more so, wishing for a vaccine.
Beth Ewen is senior editor of Franchise Times, and writes the Continental Franchise Review® column. Send interesting legal and public policy cases to bewen@franchisetimes.com.