There's a new generation of franchise legal professionals coming into the industry with more than just youthful energy. They're bringing new ideas, new ways of working, new technology and are providing some new value to franchise clients.
Maybe the most visible proclivity of young lawyers is the use of technology. The under 40-ish set grew up with the internet and learned to type early—no Dictaphones here.
"I remember when I first started articling, they handed me a Dictaphone and said they really wanted me to use this. I was supposed to speak into it and draft contracts with a Dictaphone. I was supposed to say, 'Page one section one, the franchisor agrees…,'" said Sam Kajeei, a partner at Canadian firm Nerland Lindsey. "I don't know how that was supposed to work out. I never grasped that, but that was antiquated technology that firms still had. That was the leading law firm at the time."
Adam Wasch, founder of Wasch Raines, said the recording and transcribing device was basically a fossil when he began practicing, but still in use.
"We're late 2000s, they had the older attorneys using the Dictaphone and teaching the young attorneys how to use it. Some of the younger guys were pretty good at it. Meanwhile I'm just hammering out a letter, typing faster than any assistant would type and I'm done. It's just so inefficient; I never used it," said Wasch.
In an age where franchise operators and franchisors are used to immediate results and highly efficient technology, getting things done is a core competency of younger attorneys. Both Wasch and Kajeei said it's important to meet clients where they want to be, whether that's on text, Whatsapp, Slack or even Twitter. Wasch said comfort with social media helped his firm with marketing and keeps legal issues top of mind for followers.
"It's just developing a community, there's nobody being the leader on social media in the franchise community," said Wasch. "And it's free. That's what's amazing about it, we have such a small marketing budget because we do so much on social media."
He said he was even one of the first people, let alone franchise lawyers, on the live-conversation app Clubhouse.
"I log on for like a half hour or an hour every couple days, join a franchise room and become the franchise law authority and I give them curbside advice," said Wasch. "I just got my first franchisor client, and I'm like holy crap, this is free? I just have to talk about franchising for an hour each week."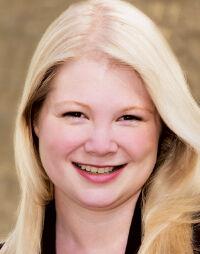 A different mindset
Caroline Fichter, an associate lawyer at Bundy Law Firm, said she tweets a "regrettable amount," but it pays dividends for her and her father's family firm. While there might be some cat gifs in there, the social network helped her speed up a recent case because she and the opposing counsel were already friendly on Twitter.
That kind of close connection is common across franchising to some degree but more amplified when two franchise lawyers keep in contact online, not just at the franchise expos. It might not change the outcome, but can reduce the posturing and sabre rattling that drives up the billable hours.
Fichter said the network effect of social media made that happen, but her value consciousness was forged in the Great Recession. "I remember very clearly sitting with my girlfriends from law school—the lady lawyer happy hour group—we were wondering how we'd make it the next six months with a law degree," said Fichter as she added those tough times made her "very scrappy and very cost-conscious."
"I'm constantly checking our pricing against the marketplace, and I'm not sure people did that before. I'm very comfortable talking about the value of our pricing," she said.
Hers is a different approach, Fichter continued, as lawyers can carry a halo of the "aristocratic counselor," some detached, wizened person lording over arcane knowledge. The value was as mysterious until the bill came.
Henry Pfutzenreuter, a shareholder and lawyer at Larkin Hoffman, agreed and said the unique period of the last 10 or 15 years created a whole new way of thinking for younger lawyers.
"There's this mantra that younger folks are spoiled with participation trophies," said Pfutzenreuter. "Young lawyers faced a lot of adversity. I think that's what defines this younger generation of attorneys, and it ingrains some of the best attributes of a lawyer: honesty, hard work and humility. I have a whole box of rejection letters. That experience teaches you how to accept and be honest about bad outcomes. You talk to a lot of lawyers and it's like they've never lost a case before, and that's not true."
He said it's a two-way street: he asks clients how he's doing and what he could do better. That helps him and younger lawyers think differently, be it with new tools or tweaks to their legal practice.
"That's important. The willingness to embrace change is one thing that makes younger lawyers unique," said Pfutzenreuter. "Someone who has been doing something for 40 years doesn't necessarily want to invest in something new, but if you're looking at another 30 years of practice, change is the only constant and younger attorneys are willing to make those investments."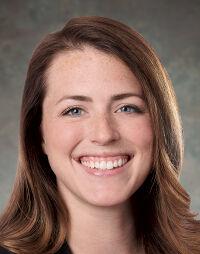 At 29, Hannah Fotsch, an associate lawyer at Lathrop GPM in the "throes of FDD renewal season," may be the youngest lawyer on this year's list. She said she was drawn to the firm because of a pro-bono work requirement, time she puts toward immigration and racial justice work. That carves out more room for empathy in her practice, something she said leads to better client outcomes.
"My mindset is really just thinking about someone as a whole person. I think that's really important if you're working pro-bono or on a corporate issue, being able to think of someone as a whole person," said Fotsch. "I found that's really helpful for negotiating contracts. To be able to say, what are our underlying rules or issue we're trying to approach? And figure out a way to come to agreement on it. We can figure out the legalese, that's the easy part, but how do we find common ground?"
But it's not a situation of young versus old. Fotsch said she relies heavily on the seasoned folks at Lathrop GPM. Pfutzenreuter said a clerkship with a judge brought direction to his legal career. Both Fichter and Wasch work alongside their franchise-law stalwart fathers. Kajeei said while the Dictaphone didn't stick, many more legal insights did.
---
Franchise Times Names 2021 Class of Legal Eagles
How COVID Alters the Legal Landscape
Regulatory Watch: Gauging Legislative Impacts on Franchising
How Younger Legal Eagles Embrace Change
Attorneys Share Interesting Cases and How They Spent COVID Downtime 
Meet the New Class of Legal Eagles
Legal Eagles Hall of Fame Welcomes 4 Members