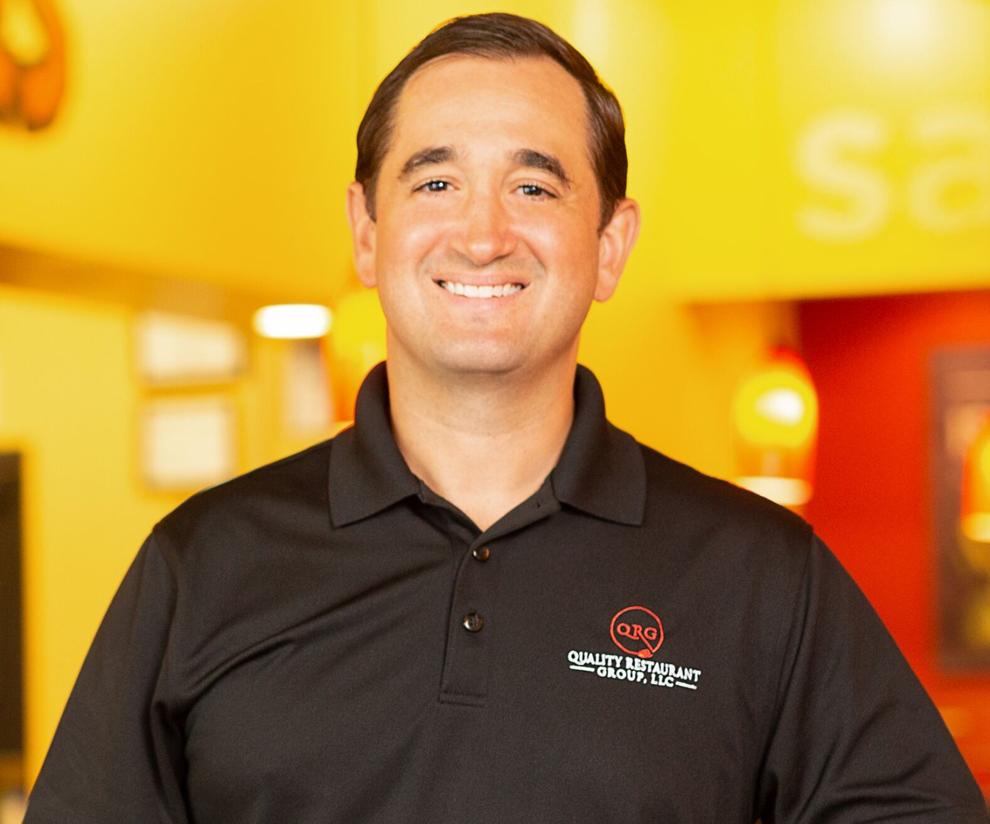 Matt Slaine, CEO of the two-year-old Quality Restaurant Group, was a very popular guy when he began searching for office space for new company headquarters in a pretty emptied-out Greensboro, North Carolina, during COVID-19. 
"I gotta say, I think searching in June and July for corporate office space put us in a very great space," he said. "When I called a broker saying, 'Hey I want to look for some space,' I actually think they thought I was kidding."
What's the space for? "This is our 10th transaction in the past two years and our sixth transaction in the past 12 months," he said, referring to QRC's latest deal: buying 62 Sonic Drive-In restaurants and 23 real estate parcels in Florida and Alabama from Buddy McClain's MVP Sonics operation. McClain retains his Sonic holdings in Mississippi.
In the past year, QRG has expanded its restaurant portfolio by 75 percent and added about 150 restaurants in the Pizza Hut, Arby's and Moe's Southwest Grill brands. QRC owns 345 restaurants and has 10,000 employees in 15 states. The Sonic acquisition fulfills a wish for a burger brand.
"Sonic was just a brand we admired and one that happens to have done very, very well in this COVID time period," said Matt Slaine, referring to his long-time friend and business partner Matt Ailey. Ailey, formerly with hedge fund Corvex, set out on his own in 2017 to form GenRock Capital, the private equity fund backing Quality Restaurant Group. In 2018, Slaine decided to join him and head up Quality Restaurant Group.
Slaine believes it's time to build his company's infrastructure and people after a crazy pace of acquisitions, and the new HQ will allow him to do so. "I do believe in face to face, especially building a brand new company," Slaine said. " It's one thing to be in maintenance mode and work from Zoom. And we did that in April, May, June, but looking forward I thought it was important to have a space that everyone can talk, that water cooler conversation."
A Monster deal for Authority Brands, plus FastSigns Buys NerdsToGo
Authority Brands wasted no time in buying Monster Tree Service, wrapping up the deal in 90 days. ShelfGenie goes to Neighborly, becoming its third acquisition in 2020. And FastSigns steps up to buy an emerging IT services brand.
BRIEFS
Authority Brands acquired Monster Tree Service in a transaction that technically took only 90 days to complete, said Rob Weddle, CEO of Authority Brands. Monster Tree Service was founded in 2008 and provides tree care services such as trimming, pruning, tree removal and land and lot clearing. Weddle said his vision two years ago was for Columbia, Maryland-based Authority Brands to become the leading franchisor of home services, and this deal "reinforces we're on the right path," marking the eighth brand in its home service portfolio and its sixth acquisition since October 2018. Though Weddle said the deal took about three months, he met Josh Skolnick, the founder and CEO of Monster Tree Service, four years prior and quickly took notice of the potential, following their progress as they grew the company to more than 200 territories. Authority's other brands include The Cleaning Authority, Homewatch CareGivers, America's Swimming Pool Co., Mosquito Squad, Benjamin Franklin Plumbing, Mister Sparky and One Hour Heating & Air Conditioning. Boxwood Partners represented Monster Tree Service and acted as its financial adviser for the transaction.
FastSigns made its first acquisition of another franchise brand, acquiring NerdsToGo, which provides IT services via a franchise model. "Our goal is to add value to the business as well as to expand and grow the NerdsToGo brand as a stand-alone business," said FastSigns CEO Catherine Monson in a statement. David Colella, CEO and founder of NerdsToGo, will remain in place as brand president.
Neighborly acquired ShelfGenie, a custom shelving solution brand based in Atlanta. This is Neighborly's third acquisition of 2020, growing the large home service franchisor to 27 service brands with more than 4,300 franchisees across nine countries. ShelfGenie, originally named Shelf Conversions when founded in 2000, rebranded and began franchising in 2008 and grew to more than 50 franchise locations across the U.S. and Canada. Boxwood Partners served as a sell-side adviser to ShelfGenie for this transaction.
International foot wellness retailer Foot Solutions acquired Noene America, a U.S. distributor featured on ABC's Shark Tank in 2015 for its Swiss-invented, high-frequency shock absorption shoe undersoles designed to reduce pain. Foot Solutions began selling Noene products at its corporate stores as a test run for several weeks, and positive feedback from customers helped them pull the trigger. "This acquisition demonstrates our commitment to finding and promoting technology that improves the quality of our customers' lives," said John Prothro, CEO of Foot Solutions in a statement. Transaction details were not released.
The deal is off for fitness franchise F45 Training and Crescent Acquisition Corp., a "blank-check" or special purchase acquisition company formed to take F45 public. The culprit is COVID, executives say, but they gave no word on how F45 will attract growth capital now or whether Crescent will find a new target to deploy its funds.
After acquiring 20-month-old mortgage processing startup wemlo last month, Re/Max Holdings has also acquired the Gadberry Group, a location intelligence data company founded in 2000 with 16 employees. Re/Max Holdings, the parent company of real estate brokerage franchisor Re/Max and Motto Mortgage, recently launched a consumer-facing website using Gadberry Group products. Gadberry Group will continue serving non-Re/Max clients in addition to contributing to Re/Max's technology. No financial details of the acquisition were disclosed, but Re/Max expected the acquisition to have a negligible impact on third quarter 2020 financial results.
Restaurant Brands New Zealand Limited acquired 69 KFC/Taco Bell multi-brand restaurants in the Los Angeles area from Great American Chicken, led by CEO Aryeh Aslan. RBD first became a KFC franchisee in 1997 and has grown to 232 KFCs and 353 restaurants total, also including Taco Bell, Pizza Hut and Carl's Jr. Operating with a staff of more than 11,000, RBD operates in New Zealand, Hawaii, Australia and now California. Unbridled Capital provided buy-side advisory services to RBD.
Automotive services and car lubricant retailer Valvoline plans to acquire 14 quick-lube service centers in Texas. The company signed a definitive agreement with Kent Lubrication Centers, doing business as Avis Lube, to purchase its existing quick-lube locations which will be rebranded as Valvoline Instant Oil Change centers. Valvoline's current corporate and franchise base in Texas centers around the Houston, Dallas, San Antonio and Austin markets, and this acquisition will help the brand expand into the Midland/Odessa region. Valvoline, established in 1866, operates and franchises about 1,400 quick-lube locations. Expected to close first quarter of 2021, financial terms of the acquisition have not been disclosed.
—Dealmakers briefs by Callie Evergreen. Send details of franchise M&A deals to cevergreen@franchisetimes.com.