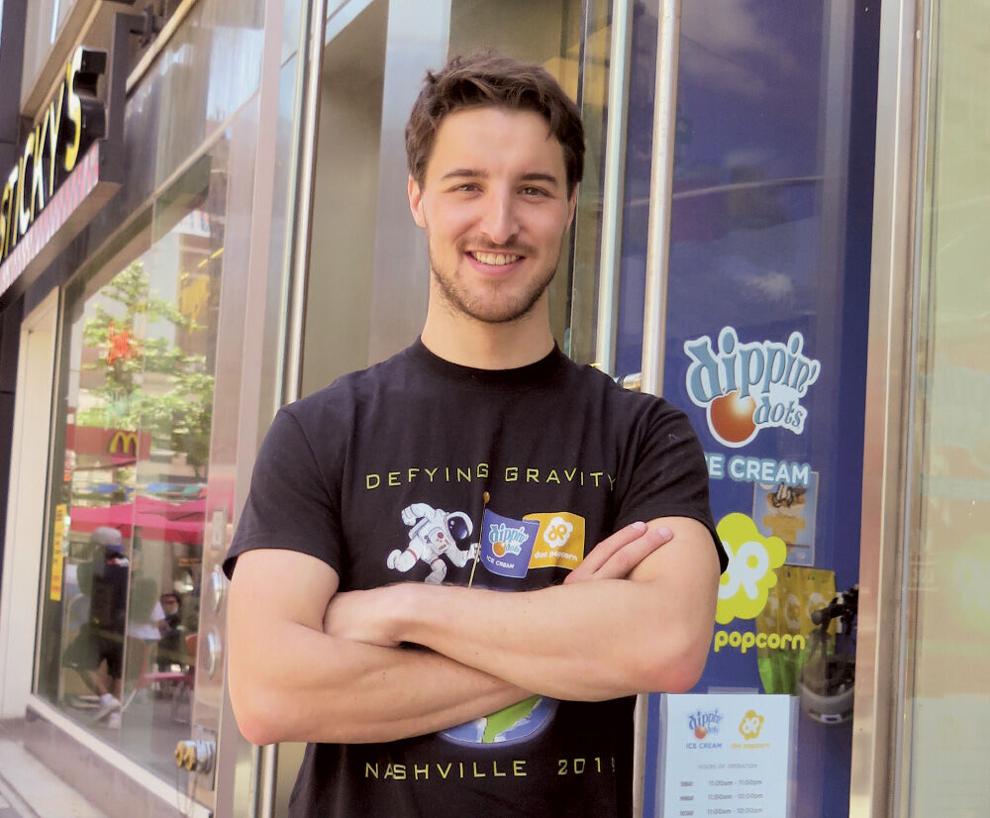 Like every day, Neil Hershman zoomed down to his Dippin' Dots/Doc Popcorn store in New York City on his electric scooter for a visit in late June. The owner of six shops and counting in Manhattan then explained his three entrepreneurial principles.
One: Stay close to your stores. "It became my signature management style. I can get to the stores in 10 minutes," said the 26-year-old Hershman about his transportation mode. "It's been a big success because emergencies happen."
Hershman owns five 16 Handles frozen yogurt stores, from Times Square down to Tribeca, plus the flagship co-branded Dippin' Dots/Doc Popcorn, adjacent to Madison Square Park, with leases for two more.
Two: Choose the smallest spot on the busiest street. The Dippin' Dots store is a tiny 370 square feet, including an Americans With Disabilities Act-compliant bathroom that takes up 70 of those. "I go where the people are," he said.
His 16 Handles shop in Tribeca is 750 square feet while most are at least double that; a new shop in Times Square is 550.
Three: Fine-tune the operation, every day. "I've always been an operations guy," Hershman said, even when working for a hedge fund right out of college. "I started my career in finance, and even then if you could find operational efficiencies," that's a good business to invest in.
His first store acquisition, of a 16 Handles store in 2018, was an asset purchase of a 10-year-old store. "Basically it was the most inefficient it could be," he said. "I observed for six months," working alongside his staffers in the store and immediately making improvements.
On that June day at his Dippin' Dots store, Hershman showed off those efficiencies himself. (He was filling in for a staffer who called in sick.) Doors opened at 11, and a customer immediately came in to order a small rainbow ice. It took him two seconds to scoop up the iconic flash frozen ice cream beads. "Does anything get more efficient than that?" he marvels. "It's so easy."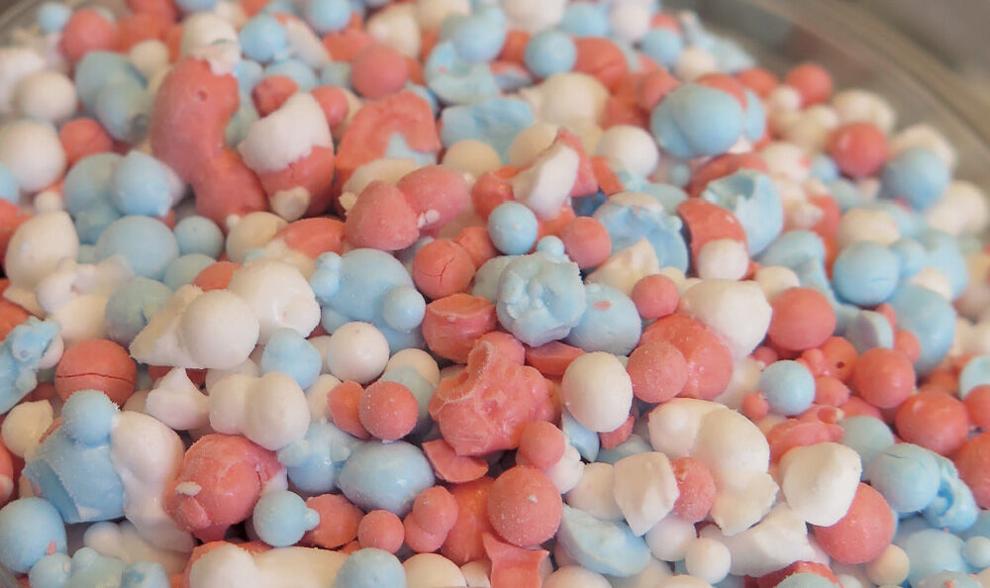 Hershman has philosophies for other facets of his growing enterprise, too, and for his life. He just returned from climbing Mount Everest, the latest of month-long trips he takes each year to challenge both himself and his staff to step up and run the stores. "The hardest part of Everest wasn't the summit day. It was the whole process, three weeks going up and down and up and down and sleeping with an oxygen tank and hoping it didn't break and you'd die in your sleep," he said, perhaps a metaphor for the snacks-and-treats business.
He chose 16 Handles as his first franchise in part because the New York City-founded brand wasn't doing so well. "When I joined I was the only new franchisee in a long time. I wanted somewhere where I could be a leader, not just a follower," he said. Plus it was cheaper than others.
As for his newer brand, "I just wanted Dippin' Dots at one point," as a consumer, "and I realized there's no way to get them in New York. I started putting two and two together. They wanted to expand," he said, referring to Dippin' Dots and Doc Popcorn, which joined the two brands under one umbrella a few years prior, but they needed an operator.
"I opened April 9, 2021," he said, calling the timing "kind of perfect" just as the pandemic eased a bit. "There was so much energy in New York. I really pushed to get it open."
Hershman enjoyed his former work as an asset manager for a hedge fund, he said, but noticed "people there my Dad's age, they weren't happy necessarily."
He was working on a project, making coasters that would refrigerate a drink when placed upon it. He started a Kickstarter campaign and told his friends: "If this raises $30,000 I will hand in my resignation. It raised $150,000 in 20 days or so."
He thought, "Shit, I actually have to make these things. I guess I have to move on."
And so began his retail business, and the scooter rides.