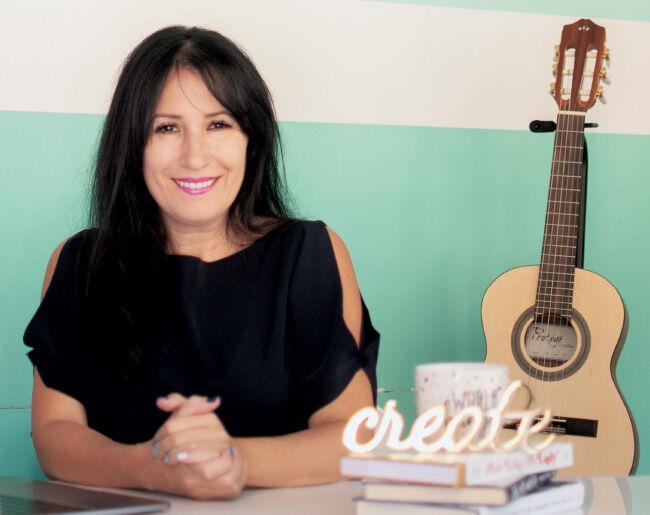 Magi Kapllani is continuing the legacy started by her parents, two classically trained musicians in Albania who established a music school and cultural center that's now the namesake for Kapllani's own franchise, DEA Music & Art.
"My parents have accomplished in my country what governments would not do, establishing a music and arts and cultural center," Kapllani said of her parents' DEA Center of the Arts. DEA stands for Dizdari Educational Academy, after Kapllani's mother's maiden name. "They offered numerous activities for the community when there was nothing like that" in the region. "The government put no money into the arts, so my parents took their whole life savings and passion and provided to a community that otherwise would have nothing, a little light in the dark."
Kapllani's mother started teaching her piano at the age of 4. When Kapllani immigrated to the U.S. in 1999 to get her master's degree in piano performance at the University of Illinois, she ended up performing all over Chicago and eventually moved to New York. She taught piano in her living room and had eight students who would put on small performances.
Kapllani, though, worried her music lessons weren't being taken seriously enough. "Maybe the fact that we were in a living room was a factor," she said. So she and her husband decided to lease a commercial space and establish a full-blown school. Then in 2003, Kapllani opened DEA Music & Art in Staten Island.
"When I established DEA, I was inspired by their work and love for sharing arts and culture with those who could not otherwise benefit," Kapllani said of her parents' influence. "I said, this is what I've seen my whole life, what I know, what I'm good at, and it's exactly what I want to do for my whole life."
Kapllani grew her business from eight students in her living room to three locations in Staten Island, and another in London's Southwark borough operated by her concert violinist sister, Alda Dizdari. While her plans to franchise were delayed by the COVID-19 pandemic, she launched a program last fall and is working to grow the brand.
"I had a few months of quiet, all of us staying at home and eating a lot of food, thinking about what's going to happen next and praying," Kapllani said. "In September when we officially launched our franchise, I was excited because I feel like I know for a fact there are people that feel like me, who love music and arts as a part of their life the same way I do, and want to put an imprint into the next generation's life."
Two weeks before pandemic shutdowns began, DEA was in the midst of performances and students had just sung the National Anthem at a game in Madison Square Garden. "We were this machine operating full force, and right in the middle of the school getting ready to prepare for our spring shows, we were told to pull the plug, just stay at home, we weren't allowed to do anything," Kapllani said.
Like so many other franchises, DEA went fully online. "The music never stops and we needed it even more during those times locked in, with the uncertainty and stress and news we heard," she said.
Online classes are going better than expected, she continued, allowing DEA to expand its reach, and Kapllani expects to incorporate online learning into the program permanently.
One problem, of course, is the very nature of performing arts.
"A lot of things are taught in the classroom, but we believe an equal amount of things are taught on stage or running an art exhibit. Showcasing your work is a different type of learning," Kapllani said. "Our customers choose us because they see it as a way of enriching children and giving them an understanding of what it means to work three months practicing something every day, then getting on stage and facing your fears of a big or small audience."
Still, Kapllani said business is growing because of the benefit people experience with the arts, and she's in the midst of early-stage conversations with potential franchisees. The cost to open a DEA center ranges from $135,000 to $213,900.
"It's known that performing arts help us cope with issues in life, so having some guidance in how you approach a subject is very important. This is what we've done during lockdown, and our teachers have been able to be a friend to our students and also a mentor or guidance counselor," Kapllani said. "So many students of ours are adults now, they've gone through all the activities and performances, and they come back to us and remember us. I know for a fact that we've touched their lives in a way that's unique to the performing arts."