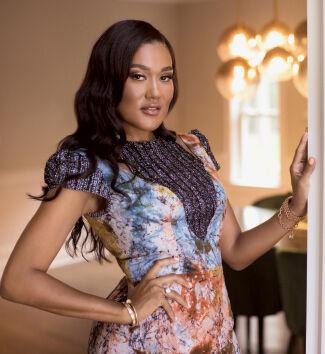 Elaina Watley's enthusiasm is unmistakable as she describes her path to owning five Amazing Lash Studios, a trip to Ghana that inspired an investment fund and her aspirations to "reshape the business world" for women.
"I love my lashes," said Watley, who's been getting eyelash extensions for eight years. Before deciding on Amazing Lash, "I literally traveled the country and got my lashes done at the best studios, with the best lash artists."
An Amazing Lash franchisee since 2016 with locations of the eyelash extension concept in Montclair, Clifton, Florham Park, Wayne and Wyckoff, New Jersey, Watley is a single mother who co-parents her daughter with former partner Victor Cruz, a retired wide receiver for the New York Giants. She worked in entertainment marketing before launching her own sports marketing agency, Brand Infinite, and found herself working predominately with professional male athletes before looking to franchising for her next opportunity with the eventual hope of bringing other women along with her.
"I think it's important to encourage entrepreneurship among women," said Watley, as she noted even with her business background the prospect of owning a franchise was at times daunting and there was a lot to learn. "I want to inspire women to overcome self-doubt and launch their dreams. So I remember saying to myself, if I ever have the opportunity to grow, I'm going to invite other women in with me."
Putting that idea into practice, however, required work on Watley's end as she sought a way to share equity and discovered even if she had employees interested in ownership, financial literacy and preparedness could be a barrier. Enlisting her financial adviser, Watley started offering monthly financial readiness classes to help her lash stylists and other employees learn about building a strong credit history, lending options and capital requirements. The effort proved successful; this year Watley is adding Catie Gatto, who started as a stylist and trainer in 2016, as her fourth ownership partner.
"To be profitable and scalable, you have to have partners. You can't be in 10 places at once, but if you have partners, you can," said Watley of how she's been able to manage and grow her business, including pushing one of her studios into the top three of high-performing locations in the system.
Extending ownership opportunities also allowed her to fill out her leadership team by tapping those with equity for roles such as operations director and lead trainer. "That sets me apart as an owner," she said of the ongoing training provided "so the stylists can perfect their art, which reduces attrition and keeps customers."
Watley is developing two more studios, including one in Brooklyn, New York, where because real estate is often prohibitively expensive she is working with her franchisor on an urban studio design. The smaller footprint of 1,300 square feet "makes a New York City buildout affordable," she said.
In the midst of expanding her Amazing Lash business, Watley is tackling another project after a serendipitous encounter in 2019 led to her supporting a school in Ghana. It was on her flight home from Accra, Ghana, where she'd gone for The Year of Return celebrating ancestors who were forced from Africa, that Watley found herself sitting next to Kim Wiggin, the co-founder of nonprofit school Lilies of the Field Academy. The two started talking, and by the end of the flight Watley was on board to help build a new school headquarters.
Watley's been back to Ghana twice since then. Impressed by the women-owned businesses there and wanting to reunite the diaspora with Africa, she and business partner Rachel Johnson created The Butterfly Effect to facilitate travel to and investment in Ghana.
"There's so much opportunity in Africa," said Watley, but that's often not recognized by U.S. investors. In December she's leading the first group of people, those in fashion, finance, beauty and sports, on a tour of Ghana where they'll learn about projects which a Butterfly Effect investment fund will then help in building as sustainable businesses.