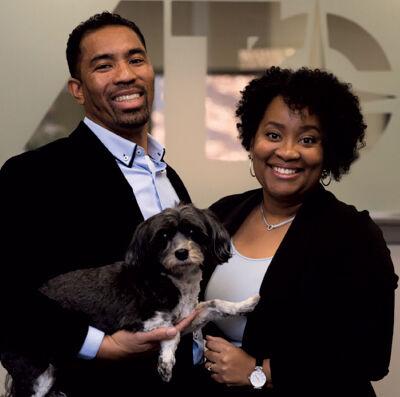 Martin and Kayla Briggs are franchisees of medical staffing company ATC Healthcare in Birmingham, Alabama. They're also high school sweethearts.
"We met in high school and fell in love. I think I was convinced before she was," Martin joked. The couple married after their second year of college at University of California, Davis.
Before becoming business owners, Kayla earned a doctorate in occupational therapy and Martin a post-bachelor certificate in health administration and policy. She worked as an occupational therapist and Martin in sales and marketing, plus he spent time in travel nurse staffing in Nebraska before the Briggses moved back to Alabama in 2006.
"Early on in our marriage, and even the last few years of undergrad, we already recognized we wanted to work together," Kayla said. "We were leaning toward entrepreneurship. We didn't know where, but obviously I had a passion for healthcare."
After considering a few job offers, Martin became the branch manager at the Birmingham ATC Healthcare in 2007. Franchising since 1996 with more than 40 units, the nurse staffing brand "just made sense" to them, Martin said. A year later, the opportunity to franchise arose and the couple became the new owners of the Birmingham location.
"It was an awesome environment, healthcare is always in demand and it matched where we were going as a couple," Martin said. "The system was the same, but the major change we had to get used to was fluctuation in income, since as employees we made a salary."
Kayla added becoming an owner also "takes on a different kind of weight" when considering employees' families and the responsibility toward team members.
"As a couple, we had to learn what lanes we are best in, then trust each other in those lanes so we aren't stepping all over each other," Kayla said. "Martin is a little more big-picture and I'm more in the details."
Martin oversees client-facing marketing and sales while Kayla "rules over everything else," from human resources and admin to special projects. In 2015, the Briggses launched a School Nurse Ambassador Program, which works closely with the state of Alabama and its school nurse program to help place talented nurses in area schools. The idea arose from one of their clients.
"We started to get so large in the market of school nurse staffing that our clients expected us to orient nurses to the culture more," Martin said.
School nurses are often thought of as the person you go to for bandaging small cuts and or if your stomach is upset, "but a lot of children now truly have complex needs," Kayla said.
"You have kids who have sensory issues and challenges, seizure disorders and rare genetic-based disorders," Kayla added. "And with environmental factors like poor nutrition, we're seeing kids who have type 2 diabetes, which is a huge piece of what we do. When you look at the range of issues that children and parents are faced with, nurses going into those settings have to have more of a true medical, almost ICU-level experience in order to know how to care for children."
School nursing gets more complex with each passing year, Martin said, and the COVID-19 pandemic didn't help. The couple's ATC Healthcare franchise is so school dominant that when the pandemic first hit, it became a challenge for their agency and school nursing employees since classes shifted online.
"But as a whole, combined with general staff nursing, it's a wide-open market and more opportunities than we can count," Martin said. "It's the question of who can find and recruit the nurses. That was our problem before COVID and that's still our problem today."
Now that schools are navigating both hybrid models and opening up fully in person this fall, ATC Healthcare is caring for both staff and students, Kayla added. The couple created an internal liaison ambassador position at their location, where a registered nurse helps handle communication between nurses and clients and assists with training.
"Healthcare has a general language which I can speak," Kayla said, "but there's nothing like being able to have an actual nurse speak the exact same language on navigating through this shift."
The initial investment for an ATC Healthcare franchise location ranges from $134,970 to $262,170.