Many home services businesses were deemed "essential" when COVID-19 shutdowns began, leading some people away from corporate jobs—whether they were furloughed, unemployed or just dreaming of entrepreneurship—to try out franchise ownership for the first time.
Josh and Natalia Byrd started looking at several types of service-oriented franchises during the pandemic, from mosquito and pest control concepts to laundromats and homecare services. Then, they came across Footprints Floors, a 50-unit home-based franchise founded in 2008 that specializes in installing hardwood floors, carpets, tile floors and backsplashes.
The Nashville couple was attracted to the strong franchise support system which included a call center and the low cost of entry, which ranges between $68,130 and $95,580 for a single territory, according to the brand's website.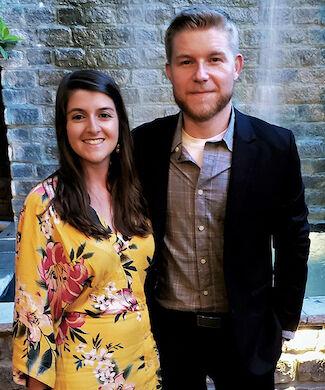 "Nothing we found compared to what we could get with the initial franchise fee and operating startup costs, plus the immediate revenue we could be earning," said Josh, who had worked as an engineer for 10 years prior. "We were sold. I left my job and went full into the business, and we haven't looked back. The fact that we've been growing throughout the pandemic is a testament to the business model."
The Byrds own two territories in Tennessee and signed a contract for a third in early February. They started operating in late July and early August 2020, so "we missed the complete lockdown period in March and April, which is when we were doing our search to start our own business," said Natalia, who still works as a finance manager and a fitness coach.
"It's been life-changing for us. We've been wanting to be business owners for a little while now but hadn't found the right opportunity," Josh said. "We have a direct line to Bryan (Park) the founder, as well as all the other franchisees. We're all in the same group chat together, where we bounce questions off of each other. We're all still learning a lot, but we communicate and get answers very quickly."
One of the biggest perks, Josh added, is that corporate provides a call center with customer service representatives who handle and manage all leads, plus schedule customers. The franchisor has also helped with marketing guidance and providing innovative tech, such as a new tool on their website called a "visualizer" where potential customers can take a picture of their floor and in under a minute, see what multiple different floor options would look like in their space.
"We've learned to expand and reach our customers through our marketing, which has been about creating our social media and online presence," Josh said. "We're getting great reviews online which is helping us expand even faster, and the fact that we're delivering a great product is really selling itself."
Natalia estimates their Footprints Floors franchise has grown about 30 percent month-to-month since August—enough to where they're looking at hiring their first employee to help out and hope to hire a total of three people in 2021.
"We have more work than we can handle now, so we're looking at the next step in our growth," Josh said. One of the biggest challenges has been learning the ins and outs of the flooring industry and how "there's a lot of other contractors out there that cut corners," he noted. "That's not what we do, we do it by the book and follow national flooring guidelines. If we're providing a warranty on our work, we make sure everything is done correctly and we can stand by our work."
Becoming first-time franchisees in the middle of a pandemic gave the Byrds yet another thing to worry about: the safety of both themselves and their customers. They always wear masks inside client homes and make sure to social distance, plus postpone immediately if anyone feels sick. So far, the couple has been fortunate not to have any issues, Natalia said.
"Hard work does pay off, and certainly with this business model, the more hours you put in and the more effort, the more benefits you'll get out of it," Josh added. "For someone self-motivated and willing to put in the work, this is a great business for them."
The struggle of starting and restarting a franchise
More than 700 miles northeast in Oakville, Ontario, David Wheeler started up his Handyman Pro franchise in February 2020—and has had to restart his business about three times because of Canadian lockdowns, he said, though he's been able to keep working on an emergency basis throughout COVID-19.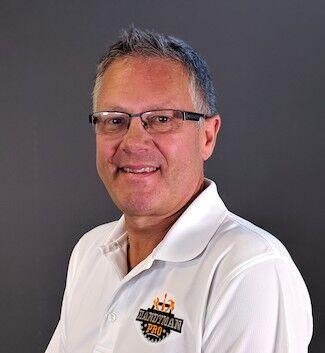 "I got to experience an interesting year for a start-up, that's for sure," Wheeler quipped. After spending more than 30 years in financial services, Wheeler began doing handyman work on the side about five years ago for some real estate contacts he had, which led him to attend franchise conferences where he had an initial conversation with Premium Service Brands. Charlottesville, Virginia-based PSB is the parent company of Handyman Pro and other home services franchises such as 360° Painting, Maid Right, Renew Crew, Kitchen Wise and ProLift Garage Doors.
Established in 2018, Handyman Pro is a home repair and remodeling franchise with a wide range of offerings, from servicing windows and gutters to plumbing, carpentry and HOA maintenance. According to its 2020 franchise disclosure document, there are five franchised Handyman Pro locations in the U.S., and the initial investment to open a Handyman Pro ranges from $99,125 to $139,500, including a $60,000 initial franchise fee.
Wheeler's business was deemed essential, but only on an emergency basis for plumbing leaks or other safety issues, or if another essential business required his plethora of services. Despite the limitations, Wheeler was able to do around four to five jobs per week and make an average of $2,000 each week while on lockdown, and in the six-month period from June to November, he did 75 percent of his total business for the year. One of his greatest accomplishments, he said, was being able to break even.
"That doesn't sound great, but for me, it's really successful given everything," Wheeler said. "For the first year you start out, I'm pretty happy."
Wheeler said the franchisor has been great at providing resources, and his coach has helped him with how to keep working safely and market during the pandemic, plus provide emotional support.
"It really has been a challenging year, and I'd be lying if I didn't wonder at times if it was worth it. Not from a money perspective—I was ready for the first year to be tough—but on the psychological side," Wheeler admitted. "It's hard to start a business in general, but having to do it multiple times in this kind of environment, at certain points I've had some down times, and my coach was really good about supporting me."
With just one territory and about two employees, Wheeler's growth plan is simply to keep increasing sales over last year for a sustained period of time. He mentioned that although 90 percent of his clients have been great and understanding of safety concerns and restrictions, the other 10 percent weren't willing to wait until timing allowed for the work to be done.
As far as advice for other franchisees, Wheeler encouraged people to stay positive.
"Some franchisees had less stress than others, but I would recommend everyone try to find a particular area they can continue to work," said Wheeler, which for him was through his real estate contacts. "There are other opportunities out there. Find an area where you can still thrive when things are struggling."