Debilitating lower back pain prompted Greg Breitbart's interest in electro-muscle stimulation, and now as CEO of EMS fitness franchise Body20 he's working to bring technology that's been used in European markets for decades to a wider audience in the United States.
"This is going to be game-changing in the fitness space," said Breitbart, who recalled the physical and mental toll his former job at an energy company took on his body, to the point where he developed extreme lower back pain and other muscle injuries.
"Everything was going amazing in my life, but physically, I'm like 60," Breitbart said. "So, it's really bittersweet."
Breitbart eventually left that job and spent his time between roles recuperating. He visited a physical therapist to address the pain, which was caused by a muscle issue and resulted from long periods of sitting and poor posture. Isolation exercises alone weren't helping, which is when he tried electric stimulation to directly contract the muscle.
After just one session, "I did the isolation exercises, and I could actually use the right muscle for the first time in two years, at this point," Breitbart said. He said he was sore the next day, but hasn't had lower back pain since.
A few weeks later, his father contacted him about Body20 as a potential franchise investment. The brand uses electro-muscle stimulation, which is meant to give a client's body a workout in just 20 minutes. Other franchises using EMS technology include Ohm Fitness and Pulse Performance.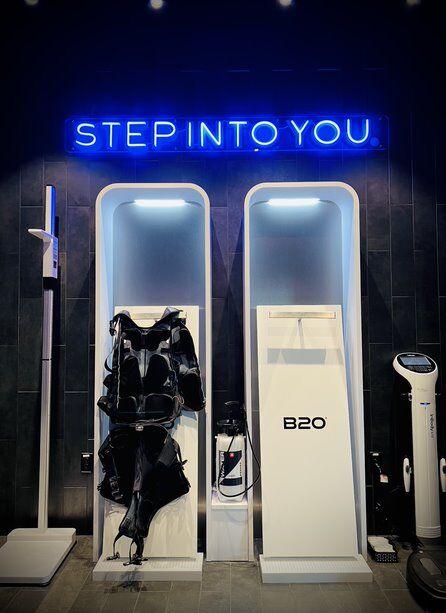 The owner of Body20 was looking to sell the five-unit franchise, and Breitbart went all in, buying the intellectual property rights to the brand in April 2019. It's not affiliated with international brands of the same name. There's less of a chance of injury compared to traditional workouts, he noted, because "there's not 100-pound weights over your head while you're trying to have the correct form."
Body20 customers choose from a few membership package options, and they have to buy a base layer of special, water-retaining clothing that helps transfer the electric stimulation from the EMS technology.
The investment required to open a Body20 franchise ranges from $409,021 to $498,441, including the $127,100 franchisor fee.
Monthly gross revenue for the first quarter for 2022 at 11 franchised studios ranged from $14,504 to $81,603, according to Body20's Item 19. Body20 opened seven stores in 2021, all franchised, after closing three in 2020. It now has 33 locations across 15 states.
Body20 looks for franchisees with business management or sales experience, and a competitive attitude is a bonus. "We find that when we can find franchisees that want to be the best, they want to have the biggest opening ever, they want to win all the sales competitions—they buy into that, which is really our culture," Breitbart said. "We have that type of culture here, kind of a high-performance culture."
Body20 has been preparing for significant growth. "It wasn't that we had everything figured out and every single hire and every key position filled," Breitbart said. "We just knew that the core was scalable." The brand sold more franchises that it initially expected, which took the team by surprise, he added.
"We actually had to make a decision at a couple different points: Do we slow this down? Because if we don't think we can keep up with it operationally, then we should," he said. Rather than slow down, Body20 invested money in hiring the right people to support the franchise sales and operations. It's tripled the number of staff members in the last year.
"2023 is gonna be a really fun year for us, with a lot of work, but we think it'll be rewarding," Breitbart said.