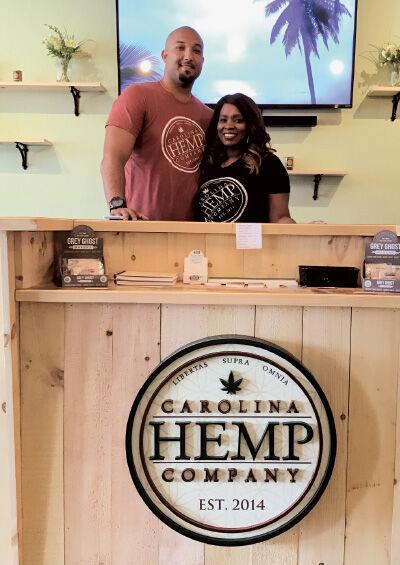 Monica Hailey Sharpe, owner of a Carolina Hemp Co. store in Mint Hill, North Carolina, gets a kick out of her clients and the products they prefer. Oils and edibles laced with CBD are popular, of course. But the oldsters really dig their joints, filled with ground-up hemp flower rather than marijuana buds.
"Sixty percent of my clientele are older people, 65 and up. A lot of them buy smokable hemp," she said, which became legal in 2018 if containing no more than 0.3 percent THC, the high-inducing chemical in pot.
"They come in and say, 'We want that one! We were the happiest people in the world when we smoked it last Friday.' I look at them and say, Oh my God, I can't believe you're sitting around smokin' a pre-roll," she said.
"I've got this one little old lady that comes in every Wednesday" and brings her some ice cream. She doesn't have the heart to say she's lactose-intolerant.
Hailey Sharpe, who just published a book called "Redemptive," is one of a half-dozen owners who are pioneers at Carolina Hemp Co., which began franchising in 2019 and now has about 20 stores.
Randall Snyder, co-founder, calls them "the ladies of hemp" who are "some of the most lovely people you could ever hope to meet." They call themselves true believers.
Freda Wallace is co-owner of two Carolina Hemp Co. franchises, in Rock Hill and Indian Land, South Carolina. An attorney for 25 years, she began researching business opportunities for retirement and came across cannabis. "It wasn't legal in our state; I wanted something legal," and she eventually found Carolina Hemp Co.
While hemp is legal in all 50 states thanks to the 2018 Farm Bill, she clarified, in South Carolina "it's county by county whether you can display the loose flower," and in her county law enforcement takes a hard line. "There are about eight lawsuits that are pending. I think they will come out in favor of the store owners," she said.
Wallace and her business partner were the first to sign an agreement for Carolina Hemp Co., which has no financials because it's new. "That's what makes it an absolute step of faith, because there isn't a track record," she said.
Melissa Tarr, who owns a store in Wilmington, North Carolina, has a poignant story about her late husband, Mark Tarr. "My husband passed away last year from pancreatic cancer. He and I owned a very successful restoration company, " a Paul Davis Restoration franchise generating $10 million in revenue a year.
He was diagnosed at age 49. "He was so sick. They had him on so much pain medication that he was just sleeping whatever life he had away," she said.
A fellow Paul Davis franchisee sent her a bottle of Carolina Hemp oil. "Within a week he was off all his pain meds, and he got to live what little life he had left, and participate with his family." Before he died, he asked her to sell the Paul Davis franchise and buy into Carolina Hemp. "I promised him I would," she said.
Investment cost is $28,000, whereas "Paul Davis costs half a million," she said, and the low cost was an attraction. "Sure, because that's a minimal risk factor there."
For her, the biggest problem in the CBD business is the flood of products sold anywhere and everywhere. "The only thing I've run into is, people, after they've tried my oil, coming back and saying, 'There's a lot of snake oil salesmen right now. This is night and day from what I bought at the gas station.' There's not any regulation," she said.
"I just educate them, that we own our own farm so we're kind of farm to table, and that you really have to know the company you're purchasing from and their growing practices."
Avis Milton, owner of a store in Jacksonville, Florida, with her husband, Jeff, is one more convert to CBD products. Like Hailey Sharpe, she was surprised by her clientele. "I have a very large old population of folks that love the flower. I was expecting a bunch of young kids trying to smoke. It's made me open my eyes," said Milton.
"Everybody is not trying to party. Everybody is not trying to get high. People are suffering," from anxiety or pain or insomnia, and her Carolina Hemp Co. products help, she believes.