Before founding Mutts Canine Cantina, Kyle Noonan was an art major at Southern Methodist University in Dallas, Texas, while his roommate Josh Sepkowitz studied finance—which ended up being the perfect pairing for business partners. "We're a very left brain, right brain odd couple, but we get along and we've been best friends since we were 18 years old," Noonan said.
Their story is part of a Franchise Times digital series this month featuring founder success stories.
They took separate routes after college. Noonan went into foodservice management and worked as director of operations for a large restaurant in Houston, and Sepkowitz went into investment banking at Merrill Lynch in New York, now rebranded as Merrill.
"He can digest an Excel spreadsheet like nobody's business, and I got into the restaurant business because I started waiting tables in college for beer money basically," Noonan said. "As an art major, I realized pretty quickly there are not a lot of jobs for art majors."
Sepkowitz began working at a private equity firm that focused on real estate investing after he moved back to Dallas. But in May of 2011, he was laid off during the aftermath of the Great Recession.  
"I did not want to go back into finance. I'd been through a couple of cycles, and it just wasn't what I wanted to do, but I didn't know what I wanted," Sepkowitz said. "I had this idea for an upscale bowling alley in Dallas, and there were no bowling alleys left in the city of Dallas at the time."
Since he had the real estate and financial know-how, Sepkowitz decided to reach out to Noonan for his restaurant expertise to try and develop the bowling/restaurant concept, and Bowl & Barrel was born. The first location opened in December 2012—their first entry into the food and entertainment combo space—and the two formed FreeRange Concepts.
The duo came up with the idea for Mutts Canine Cantina shortly after, inspired by seeing a woman eating out at a restaurant patio and struggling to keep her dog tied to the chair.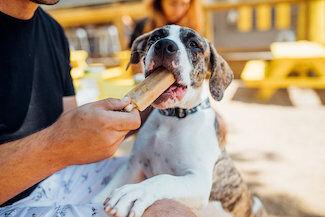 "They were knocking over the chair and having a very difficult time enjoying the meal with her dog, and we were like, why don't we create a concept catered to this?" Noonan said. "How many people own pets? Let's cater to that, and we started brainstorming how that model would work—we would be very weather dependent because it's outside."
Americans spent $103.6 billion dollars on their pets in 2020, according to the American Pet Products Association. Attempting to implement a revenue model with a stable cash flow that would not be affected by the weather, Noonan and Sepkowitz came up with a membership model where customers can purchase a daily, monthly or annual pass to the dog park.
Noonan drew a prototype of the dog park/bar on a piece of paper that's still hanging in his office, and it looks nearly exactly how the first Mutts ended up looking when it opened in June 2012 in Dallas, Sepkowitz said. But they didn't start franchising the concept until fall of 2018.
"It took us quite a while to figure out the business model for Mutts, probably took two to three years for us to really fine tune it, and at that point we felt good about franchising it so we build a unit in Fort Worth," Sepkowitz said.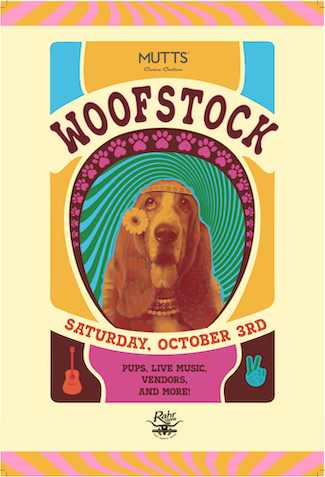 "When you buy a franchise from us, it's a prefabricated building, and we've designed a really cool version 2.0 of Mutts in Fort Worth, so when we have discovery days, prospective franchisees see the original Dallas, which does great and we have over 2,000 members there," he added. "When you go to Fort Worth, you see the evolution of the building and park."
With two corporate locations and 19 franchises sold, mostly to multi-unit developers in Arizona, Colorado, Texas and New Mexico, Sepkowitz said between 40 and 50 percent of their revenue comes from memberships at no cost of goods. That has been a key factor to their success as both a business and a franchisor attracting franchisees.
Another differentiator is their fun branding, and Noonan's art background came into play with the branding and aesthetics. Names like Yappy Hour and Barkarita appear on their menu, along with some dog treats such as the Pupsicle—frozen peanut butter and beef broth in edible "stick" form.  
"One thing we really wanted to focus on, just because the concept in our minds is being really playful and cute, is not taking ourselves so seriously. You can see that with our brand name, Yappy Hour, things like that," Noonan said. "We call them Mutts-isms, we say 'thank you so mutts.'"
When asked separately what their favorite food or beverage was at Mutts, both Noonan and Sepkowitz said it was the Mutts cheeseburger with crinkle-cut fries.
"We have five restaurant brands, and my favorite menu item of any of our companies is the Mutts cheeseburger with crinkley fries," Sepkowitz added. "It's by far and away the thing I crave the most out of all our businesses."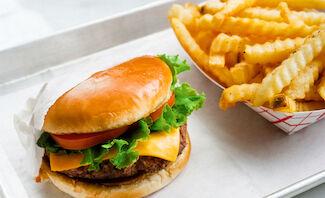 The franchise investment for a Mutts Canine Cantina ranges from $1.2 million to $1.4 million.