As the world races to get people vaccinated to curb the pandemic, business owners are getting creative in their approach to help keep employees and customers safe. Brands are offering special deals for fully vaccinated card holders, called a vaccine "passport" by some, such as Krispy Kreme giving away free donuts through the end of 2021 to customers who show a valid vaccine card—an offer which extends to all 369 stores in 41 states. Retro Fitness, a 15-year-old fitness franchise with more than 120 gyms open and in development, announced a $0 down and no commitment membership to vaccinated individuals starting April 1.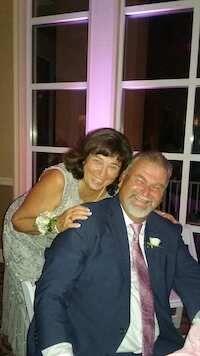 And then there's Chris Overbeck, a Hudson, Florida-based owner of sports pub concept Beef 'O' Brady's who is offering a $100 cash incentive to each of his employees who agree to get the vaccine.
"My staff and I are pretty close, and I know first and foremost, my motive is their health, our health, and our customers who are family in this business," said Overbeck.
Overbeck thought the idea was a no-brainer, and mentioned it to corporate about two months after he decided on it. He sent them an email recently to say, "this is why I'm doing, just an FYI, and you might wanna recommend it to some of the other stores. I left it at that," he said. There are 150 Beef 'O' Brady's locations in 21 states, and when asked if it would advise its franchisees to implement a similar program, Beef 'O' Brady's said the incentive is only being offered by Overbeck. 
None of Overbeck's young staff have been eligible to receive a COVID-19 vaccine yet, but they're all aware of the incentive and many plan to jump on the opportunity when it's available to them, he said.
"They understand the importance of it, not only to keep themselves safe, but also help with managing the virus with their family members here and at home," Overbeck said. "Beef 'O' Brady's is a family sports restaurant, it's where Little League goes on Saturdays after practice…we tend to create this neighborhood family feel, and our staff becomes protective of our clientele, as well."
Overbeck and his wife, Teresa, were forced to shutter the doors of their Beef 'O' Brady's in March and April of 2020, but continued to pay their employees throughout the closure. "That was important to us," he said. "They've helped us survive for 10 years in the restaurant business in addition to going through COVID."
After opening back up, they experienced a big shift in sales as their to-go business tripled. So another motive behind the incentive, Overbeck said, is his theory that guests will feel more comfortable coming back to dine in at his restaurant if they know some staff are vaccinated. He plans to continue offering the incentive even "if it takes until September or October, and they get the shot, I'll pay them," he added. "I don't have an issue with that. It's important they get taken care of."
Franchise Times previously reported that employers can require vaccinations as long as they accommodate those who refuse because of religious beliefs or medical conditions, according to guidance issued by the Equal Employment Opportunity Commission December 22, 2020—but no franchise system large or small has publicly announced it will do so.
While Overbeck is not requiring his employees to be vaccinated, a cash incentive leaves room for potential fairness issues, such as employees who are unable to receive the vaccine for certain reasons and feel overlooked. Overbeck said it hasn't been a problem so far.
"It's a little incentive for them to get the vaccine, and I don't know what negative ramifications would be of offering that," Overbeck said. "I try to take care of my staff, and I'm willing to take that risk if push comes to shove…I'll try to figure out something else we can do so they don't feel slighted."
PTO for employees who get vaccinated
Meanwhile, Focus Brands—the parent company of Auntie Anne's, Carvel, Cinnabon, Jamba, McAlister's Deli, Moe's Southwest Grill and Schlotzsky's—launched a new vaccination policy to give employees at all company-owned store locations two hours of paid time off for each COVID-19 shot. Getting vaccinated is not mandatory, the company emphasized, but it wanted to provide employees with the education and resources to make the best decision for themselves.
"So far, the response has been positive," said Eric Franklin, vice president of Total Rewards at Focus Brands. "We know many people are having to drive to different parts of their city to get the vaccine, rather than just going to the pharmacy down the road, so the flexibility they have with the paid time off helps alleviate some of the stress that comes with accessing the vaccine when and where they are able to secure it."
The franchisor has also been diligent in sharing resources from the Centers for Disease Control and Prevention with employees and franchise owners to stay up-to-date on reliable and accurate vaccine information.
"We have been fortunate and no issues of fairness have come up," Franklin said, "however, we are constantly listening and learning from our colleagues to make sure we are supporting all of our team members throughout this time."
"Our leadership team put significant thought and effort into our vaccination policy. We wanted to make sure that we were thinking through various scenarios of how we could support our employees as vaccines become more readily available to all demographics," he added.
Company-owned locations make up a small percentage of Focus Brands' locations, and while the company has shared its new policy with franchisees, it is leaving it up to each operator to adopt whatever approach is best for their own employees. The PTO vaccine policy will last until December 31, 2021.