Mystery shopping and surveying firm SeeLevel HX released its biannual look at drive-thru timing, the first examination of key QSR metrics since the pandemic slammed the restaurant industry.
The study included 10 brands, and the firm sent out mystery shoppers to measure the entire time from the moment they arrived at the restaurant to when they got their food—not just service times but the entire time.
The grand average in the study was 5 minutes and 57 seconds, a full 30 seconds slower than 5 minutes and 27 seconds recorded at this time last year.
As seen in the chart below, most of the brands examined fell in a 30-second band, but there were a few outliers that were measurably faster and slower than that average.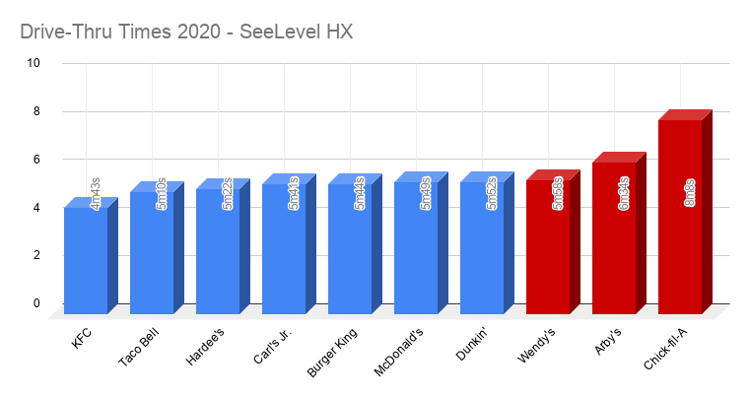 KFC and Taco Bell were outliers on the speedier side; both brands showed faster drive-thru times during COVID than they did in 2019. Both brands streamlined menus recently, and as SeeLevel HX CEO Lisa van Kesteren said, smarter use of technology increased speeds.
"Taco Bell has been in the news for the new drive-thru lanes they're installing, but it has been in the process for quite some time and it's paid off," said van Kesteren during a webinar talking through the study. "At KFC, one of the interesting things was how they streamlined their menu. They made buying sides a one button push. They made it easy to get through the lines, so all this automation is serving to truly make a difference in speed of service."
Popularity, of course is a big factor. KFC had an average of 1.5 cars in line ahead of mystery shoppers; Chick-fil-A had 8.6 cars on average.
Regardless, a 30-second slowdown as much of the QSR industry went from 70 to 80 percent drive-thru traffic to 100 percent is pretty good. That's 20 to 30 percent more traffic through the channel and only a 9 percent slowdown in times. Shutdown rules and limited dine-in seating weren't even the only issue.
"I was shocked that it didn't take longer than it did given all the challenges restaurants had to go through," said van Kesteren. "A lot of them had to lay off employees, and then a lot had to hire and train new employees on top of new protocols and procedure. So, I was shocked it wasn't more."
Of course, speed isn't everything. It would be hard to call Arby's or Chick-fil-A a failure, as both have seen traffic increase during the pandemic, but SeeLevel HX COO Donna Goodwin said there is a cost attached to every second. Accuracy, however, can be lower-hanging fruit for brands that have done the work to keep speeds at peak performance. She said there was a bump in accuracy compared to 2019, but there's still work to be done. In the study, 87 percent of orders were accurate. The 13 percent that weren't, however, meant much slower service times. Inaccurate orders were 50 seconds slower than accurate orders, which slows everything down and does hit the bottom line, as seen in the chart below.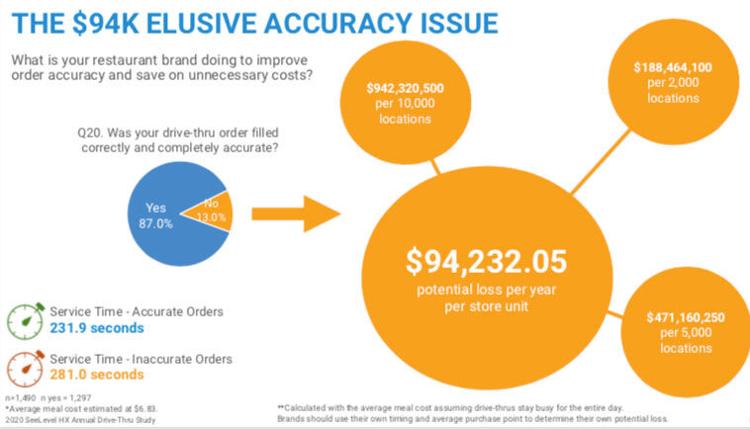 "If I were in a brand, I would be going after this really hard. This is a way I know I could boost revenue and protect my bottom dollar," said Goodwin. "We also know that inaccurate orders tick off guests. Not only does it improve dollars with less time but satisfaction goes up. There are multiple levers this can turn, so it's an attractive investment."
She said options like pre-sell menu boards that entice customers with limited-time offers or special deals push accuracy and speed.
Take a look at the full study at SeeLevel HX.