Everytable is growing under a unique social equity franchising program that serves as the "capstone" of the company's mission to bring healthy food to underserved communities.
At first glance, the Los Angeles-based grab-and-go concept looks like other convenient, urban models. Customers can grab coffee, breakfast and a salad, bowl or pre-made plate and be on their way. But behind the modern design and trendy menu items is a community-focused mission. Co-founder and CEO Sam Polk said the mission came into view while he was doing nonprofit work after his first lucrative career.
"Basically, I was a former hedge fund trader that read a lot of civil rights stuff. So, in 2013 I was working in a nonprofit to help serve families in undeserved neighborhoods," said Polk. "We were working with these moms in South L.A. with a per capita income of $13,000 a year and there was this huge demand for healthy food but no supply."
With those kind of trade-area demographics, traditional healthy restaurants weren't looking to build locations, nor did the community want $15 salads. Polk said the key was drastically lowering the overhead for each location to bring it closer to a grocery or c-store model of prepared food.
"The reason that it's very difficult to make healthy food affordable is basically perishability and waste. The consequence is that you have to do all the prep at the restaurant level. But what we did was we're just going to centralize production at a scale few people have done before," said Polk. "We have a single, healthy kitchen. Right now, it's a 34,000-square-foot kitchen making 200,000 meals a week. We control logistics from that commissary to our restaurants, which are small-footprint, no hood, low-cost operations with only one or two people."
That was the foundation of Everytable, which launched in 2015 as a company-owned model. That central kitchen also supports smart refrigerator or vending outlets, an e-commerce meal plan and other organizations that provide hunger relief. The central kitchen has been even busier lately as it provides meals to people experiencing homelessness and other emergency relief in the company's core communities, which were hit especially hard by COVID-19 and job losses.
The larger-than-average commissary kitchen and multiple revenue streams mean Everytable can aggressively price the menu and tailor it for each location. A Caesar salad in Compton can be priced at about $5; in downtown L.A., it can make a good margin at $7. The business was profitable, reaching 20 percent margins overall before the pandemic.
In 2020, it launched a social equity franchising program and secured $4.5 million in grants and investments from organizations such as the W.K. Kellogg Foundation, the Annenberg Foundation, the California Wellness Foundation and Dignity Health. That capital will be put toward opening 40 locations. Polk said the company isn't chasing multi-unit operators or folks with $1 million in liquidity. Like the food it sources, all franchisees are going to come from the communities in which Everytable operates.
"We believe that talent is equally distributed but capital is not. So, it's finding these people and taking that money and lending to the entrepreneurs to build their businesses, and we can benefit from the franchise benefits," said Polk. "Everytable has always been about creating a more just and equal world. We did that through the pricing and the food, and now this is like the capstone of our mission through economic empowerment."
A "very supportive" philanthropic community gives Everytable funding, it creates loans for start-up franchisees and pays them a guaranteed annual salary of $40,000 for the first three years. They're trained in running a business, supported closely by the company as they build up their own operation. As they pay off the loans, the capital goes back to the company and the funding organizations, which can lend it out again.
Polk said the aim is to put millions more to work. The parent company also just raised $16 million in a round that included Kimbal Musk and other venture capital firms.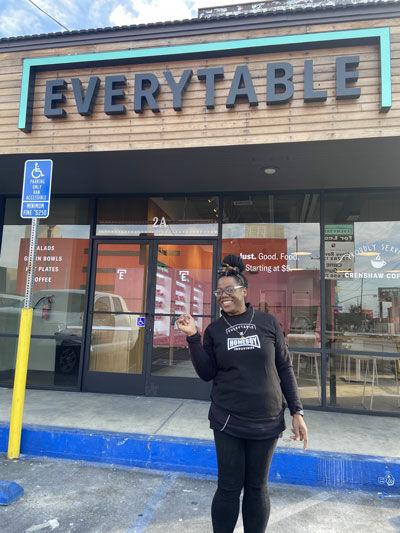 Dorcia Whitebrake is the first franchise owner and offered inspiration for the program. Her location just opened at the end of December and serves as a model for the kind of training and support the next franchisees will need. The Black single mother of three and Polk became friends and he watched her launch a cleaning company and work exceptionally hard at it.
"I worked with a lot of people who worked hard in their lives, but nobody worked harder than Dorcia," said Polk. "Once she has a successful store, that will put her in an income level she's never been in that if she can manage that and another she can earn real wealth—and there are a lot of Dorcias out there."
The company plans to open 40 locations in the next two years.