Rafi Vargas grew up in the Dominican Republic, where his father was an entrepreneur. When Vargas turned 16, they immigrated to the United States, leaving "everything behind to pursue the American dream."
Vargas held various roles in restaurants, learning English along the way and developing his love for the foodservice industry. He worked his way up from employee to district manager of Burger King before moving on to managing at Taco Bell, where he worked for five years until a former Burger King colleague told him about the Marco's Pizza brand.
"I didn't know much about it, but knowing him and the passion he shared, I knew there was something there," Vargas said. "I went into a Marco's Pizza and got the same message at that restaurant, which got me interested. The culture seemed to be good, and everyone was on the same page."
Ranked No. 133 on the Franchise Times Top 200+ list, Marco's Pizza has more than 900 franchised locations in 34 states, the Bahamas and Puerto Rico. After talking with numerous leaders and seeing the brand consistency, Vargas made the decision to join Marco's Pizza as a franchise adviser and business leader five years ago.
"It wasn't easy leaving Yum Brands, working for Taco Bell and going to Marco's because it was a growing company, and a little scary at the beginning," Vargas admitted. "But I knew the leaders here and it ended up being the best decision ever."
Two years ago, the opportunity arose to become a franchisee, and Vargas jumped at the chance. After his first partner backed down, Vargas chose to partner up with a former Burger King colleague, Kattya Barbaran.
Barbaran grew up in Peru and moved to the U.S. at age 18. She started her foodservice career at Burger King and spent 15 years with the brand, and similarly to Vargas, was promoted from team member to manager by age 21. She was working as a general manager at Chipotle when Vargas contacted her about the opportunity to become franchisees of Marco's Pizza.
"I graduated college in 2017 and had two kids, and I came out from college always wanting to do something for me in my career, something positive," Barbaran said. She joined Marco's Pizza and during her franchise training, "they saw my potential and offered me an opportunity to be a general manager while my restaurant was getting ready. It turned out to be two years though, and I thought it would just be a couple months." Barbaran worked at the Marco's corporate-managed store in St. Cloud, Florida, helping transform the location to be one of the top performers in the system.
At the start of the pandemic, Vargas said they were denied an SBA loan as banks were being very strict about loaning, especially with restaurant concepts and first-timers. "But we didn't give up, we kept knocking on doors and asking people for advice," Vargas said. "There's gonna be a door that opens if you're persistent and consistent in your dreams."
Finally, on October 21, Vargas and Barbaran opened their Kissimmee, Florida store—the 1,000th Marco's Pizza location.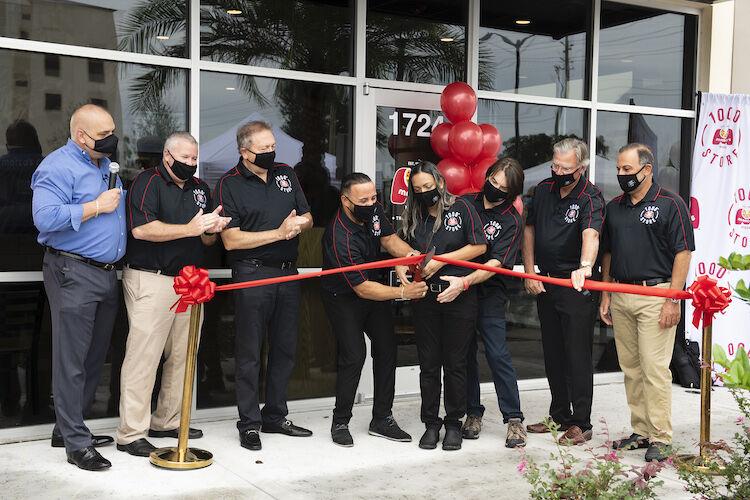 "Opening your own business is already scary to be honest, but in the middle of a pandemic makes it even worse, so we really had to rise above the circumstance," Vargas said. "It's really rewarding to not only be moving up and becoming your own franchise owner but also helping others in the middle of a pandemic, though."
They've already been able to start helping people experiencing homelessness in their community through their business, Barbaran said. "We're holding fast for what we can do for our community, and people are happy we're here…We're providing jobs to people, delivering pizzas and keeping positive about it, and that continues to grow even under these circumstances."
The initial investment for a Marco's Pizza franchise ranges from $289,780 to $762,530. As first-time franchisees, Vargas wished he had known more about dealing with real estate, landlords and contractors, which has been the biggest challenge so far. For Barbaran, she mentioned that being a franchisee takes you out of your comfort zone to connect with the community and sell your product, and you have to be willing to go the extra mile.
"It's been two years to make this project happen, and it hasn't been easy for us," Barbaran added. "There have been many times I've been close to saying no, but if you have a vision to grow, just fight for it…We are good examples of hard-working people, showing people you don't need to already be rich to become successful."