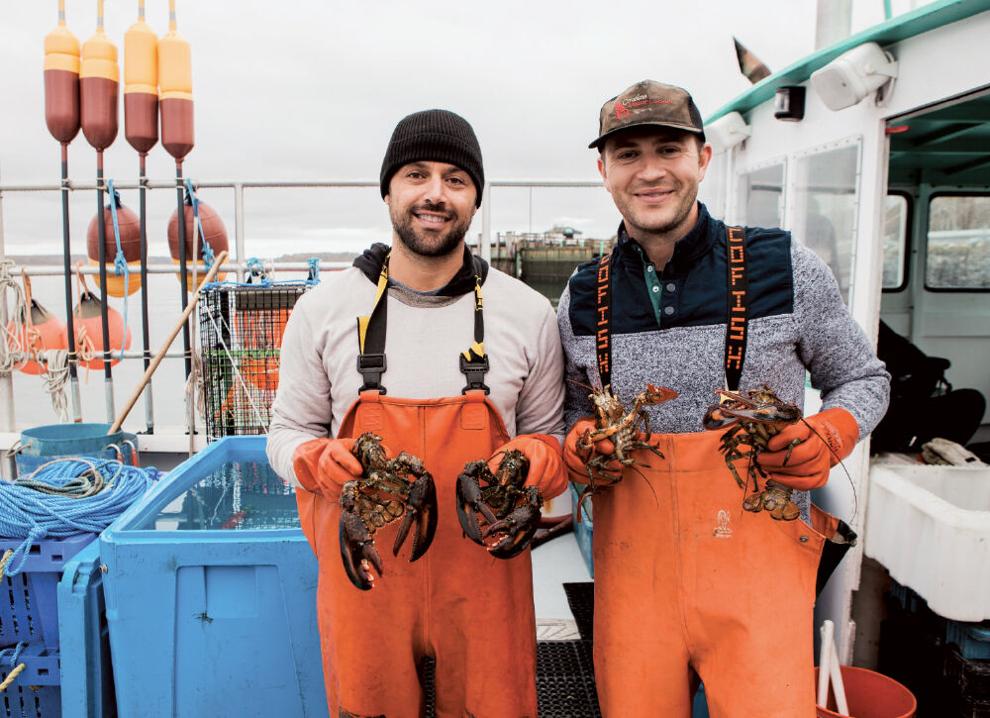 The two men at the helm of Cousins Maine Lobster still marvel that Barbara Corcoran, real estate mogul and "shark" on TV's "Shark Tank," invested in their fledgling food truck business 10 years ago.
"We're both mama's boys, so she seemed motherly. We thought she'd really care about our business," said Jim Tselikis about Corcoran, who invested $55,000 in 2012 for a 15 percent stake in their gourmet lobster shack on wheels.
Today they have 42 food trucks, six corporate-owned and the rest franchised, a handful of full-service restaurants and an aggressive growth plan. "Barbara got the steal of the century. That's what happens when you get in on the ground floor," he said.
But the real mothers, also cousins, behind the men are Julie, Tselikis's mom, and Jeannie, his aunt. "We're mama's boys, and they are true, down-to-earth Mainers. They wear their heart on their sleeves. They are full of Catholic guilt, and that sheds off on us," said Tselikis, referring to his cousin and business partner Sabin Lomac.
"We grew up together in Maine, from the diapers to after high school. All the cousins were the same age. Our parents, our grandparents spent all
summer together, the pool parties and the beaches. There was always lobster involved. Thanksgiving—is that weird?"
Savas and Victoria Alkoc bought their first Cousins Maine Lobster truck in 2017. They now have three trucks in New Jersey and are about to put a fourth into Delaware. With any luck (supply chain problems have caused delays), they will open this June their first full-service restaurant on the boardwalk on the Jersey Shore.
"During this whole crisis, we were looking at options on where to go next. The pandemic obviously has been gut-wrenching to the country," Savas said. "We ran across a store that shut down on the boardwalk, which was always our dream—lobster rolls on the New Jersey Shore."
The pair have "absolutely no restaurant background," Victoria added. "My husband was in the stock market and I was a photographer. We were very, very scared because of our winter months and we knew nothing about the food truck industry, at all." She credits research and the franchisor, who "are very involved in your training and making sure you become a successful franchisee."
They got in the business "by accident," Savas said, after they tried a lobster food truck (not a Cousins truck) on a trip to Boston to watch their son play hockey. "There were lines everywhere. I was telling Victoria, this place was unbelievable, and the food quality is tremendous, we should bring it here," but they didn't know where to begin.
"I said, the only guys who knew about lobsters are the guys on 'Shark Tank,'" whom he had seen on the popular show where entrepreneurs compete to gain investments, during season four. "I gave them a call, and they actually picked up the phone."
The trucks post average unit volumes of $1.7 million; investment range is $180,000 to $240,000, according to Tselikis. At a recent franchise show, he said, visitors to his booth including multi-unit owners of big restaurant brands marveled at the high sales volume from a food truck, and the fast return on investment.
One reason is the prices people will pay for lobster rolls, "the champagne of food" to Tselikis. Before COVID-19 and inflation, "We were between $17 and $19 nationally. Now, because lobster has gone up like everything else, we're between $20 and $23. Which again, to be frank, we should have been there the whole time," he said.
Lobster, of course, is the key to the business, and the focus of intense planning. "If you're like our mothers, they would take the lobster meat out of the roll and dip it in butter. We want the lobster to speak for itself," so they don't mix it with mayo or anything else.
The lobsters are Maine lobsters, naturally, and Americanus is the species. In Maine, no corporation can own a lobster boat. "The lobster men and women own the boats privately. They are cooked and packed there, and are sent throughout the country," he said. A lobster that weighs one and a quarter pound will fill one of their lobster rolls.
Each one has to meet an exacting standard. "The photos of us as kids, you just couldn't make it up. You'd have a photo of us sitting on the rocks, and they'd be chowing down on these lobsters," he said about his mother and aunt. "We want the best. They still test our stuff when it comes through."