Franchise Times is reporting on the generosity of business owners throughout the pandemic, from restaurant franchises donating food to healthcare and front-line workers to franchisees getting creative as they find ways to thank those providing essential services in their communities. Here we take a look at four brands that came up with unique ways to practice philanthropy during COVID-19.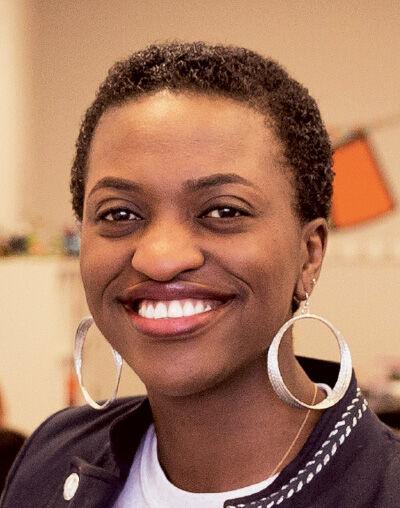 Code Wiz puts 3D printer to work
Ruth Agbaji is the founder and CEO of Code Wiz, a franchise offering computer coding, game programming and robotics classes to kids. Agbaji's husband, sister and brother-in-law are physicians on the front lines of the COVID-19 fight, so finding a way to help out was personal for her.
After MIT put out a call asking people to print face shields if they had access to 3D printers, Agbaji's team sprang into action. Ravi Meka and Sandeep Alluri, Code Wiz franchisees in Reading, Massachusetts, found a visor model they could print, and they started manually cutting 2-liter soda bottles to use as transparency sheets. When demand increased, they began using plastic sheets from Staples. Then, they started printing what they call "ear savers."
"My husband is a physician who is also having PPE issues, and one of the things he mentioned was because he's wearing a mask all day, his ears were being irritated a lot," Agbaji said. "I went online and found a design for ear strips that pull the mask straps back around away from the ears so it's not constantly rubbing on your ears."
Code Wiz already had filament from its 3D printing classes, but the biggest challenge was the amount of time it took to print the shields.
"It's slow, it can take hours and hours to print. We were running the printer overnight but we still weren't producing enough," Agbaji said. "Our solution to making it run faster was modifying the design to stack on top, so instead of printing one at a time, we could print 20 at time running overnight."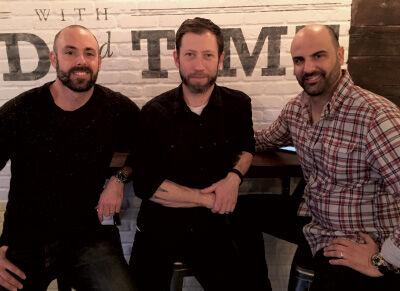 Agbaji founded Code Wiz in 2017, started franchising in 2018 and has five units in the Boston and New York markets. Between all locations, Agbaji estimated they've donated at least 1,000 face shields and ear savers.
"All of this was while we were trying to figure out how to offer classes online, trying to figure out summer camp and moving it online and the kids are home and not at school," Agbaji said. "This was a whole different thing for our franchisees to deal with, but it was just the right thing to do at the time. Everybody was under so much pressure, and it was the one way we knew we could help. We were happy to put in the hours."
Mighty Quinn's forms partnerships
When the COVID-19 pandemic hit, Mighty Quinn's, a barbecue concept with locations in New York and New Jersey, worked with multiple organizations to get their food to people in need. Having opened two Mighty Quinn's locations in Madison Square Garden earlier this year, the brand partnered with the venue and Chase Bank to donate meals in New Jersey and Manhattan.
"When the pandemic hit, our first reaction was to support the hospital communities," said co-founder Micha Magid. "My partner and co-CEO grew up in New Jersey and had several organization ties to various hospitals, so our first big drop through Chase and MSG was to Hackensack Hospital."
The franchise also offered healthcare professionals free sandwiches and worked with Dine 11 to deliver free meals to front-line workers. Discounts on family-oriented menu items were designed to help parents on a tight budget, and Mighty Quinn's leveraged its partnership with GoldBelly to ship more meals nationally.
"GoldBelly is something we've been a part of for close to three years now. When the pandemic hit, our mail orders direct to consumer took off with sales through GoldBelly," Magid said. "Dine 11 came to us through a partner. We had a relationship with some of the folks putting together the program, and early on when they brought it to New York, we did a big hospital donation to a hospital in Queens."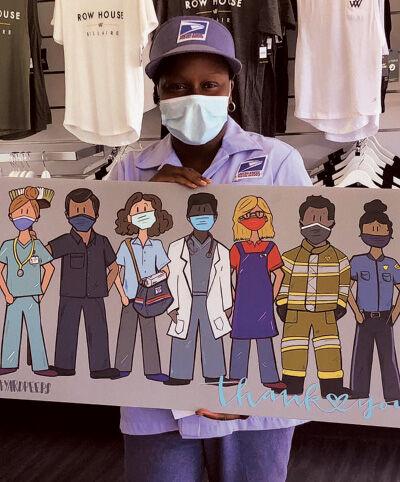 Additionally, the brand connected with The Power of 10, a nonprofit restaurant industry initiative with the mission to provide food assistance to those in need and bring restaurant employees back to work. By raising $10,000 a week, The Power of 10 can employ 10 full-time workers and made 1,000 meals. To date, they've served about 20,000 meals.
On its own, Mighty Quinn's donated approximately 6,000 meals, with The Power of 10 and Chase programs adding another 1,000 each. The initial push came from corporate because franchisees are in various stages of development, with the first franchise location slated to open this summer in Garden City, New York.
Row House 'zee launches YardPeeps
Robyn Goldstein and her husband own fitness and wellness studios Row House and StretchLab in Bellaire, Texas. When the locations closed to comply with COVID-19 restrictions, Goldstein—who has a graphic design background—spent many sleepless nights doodling drawings on her iPad of front-line and essential workers, wishing she could thank them.
"My husband was challenging me, what businesses now would be thriving? We were being creative, bouncing ideas with our studios closed," Goldstein said. "I've always drawn, and I literally had just gotten an iPad Pro two weeks before the conversation. I said, 'What if we did something to thank people that people can put in their yards?'"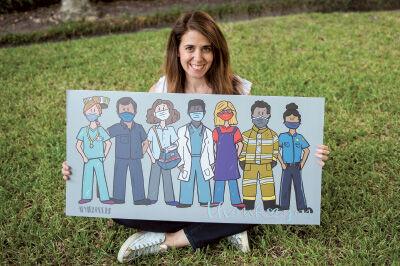 Giant cutouts were the original idea, which morphed into yard signs. In mid-May, Goldstein created a yard sign with drawings of essential workers and shared the idea on Facebook. Within a few hours they had 100 requests from friends, family and members of their fitness community for signs of their own, and it spiraled into a fundraising campaign named YardPeeps.
"People were Venmoing me when I didn't even have a price set," Goldstein said. "My husband, definitely my tech guru, put up a very basic website. We were barely set up when 15 orders came in through the website. We didn't even have addresses."
Within a week, they had 575 orders for YardPeeps from people who hadn't even seen a physical sign yet. Goldstein and her husband found a printer that would help them ship nationwide, and they converted their website into an e-commerce site.
Goldstein has sold nearly 4,000 YardPeeps signs since May and reached 50 states. They've raised more than $15,000 for a Houston nonprofit, Brighter Bites, and nearly $3,000 for regional food banks through Feeding America. Goldstein also created a Black Lives Matter sign and has donated money from those sales to the NAACP.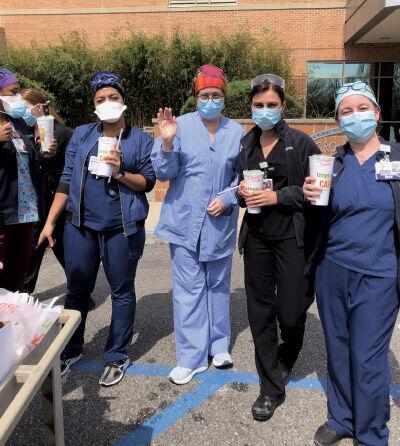 "Never in my wildest dreams did I think I'd be making yard art," Goldstein said. "But people say, 'Oh I saw your sign and it made me smile.' Mail carriers are obsessed with our signs and we've gifted many to the USPS."
Goldstein's fitness studios are open with restrictions and are doubling as production and pickup sites for YardPeeps. While YardPeeps likely won't become a franchise, she is considering a subscription model, where seasonal signs get delivered to homes.
"Spreading happiness is here to stay. It's one of the positive things to come out of the pandemic," Goldstein said. "I'm hoping to continue to grow it and spread as much joy to as many people as possible."
Tropical Smoothie gives 'momentary getaway'
In April, Tropical Smoothie Café franchisees donated more than 230,000 smoothies to healthcare workers and first responders in their local communities.
"When you look at what the initiative is, it started with who TSC is and the culture we have. Our history has had a philanthropic bend since day one, as well as the amazing things our franchisees do locally," said Mark Montini, the brand's chief marketing officer. "That's the core of why this was such a good fit and caught fire so quickly in our system."
The average TSC franchisee owns 2.2 cafes, Montini said, and operators are deeply involved in their communities.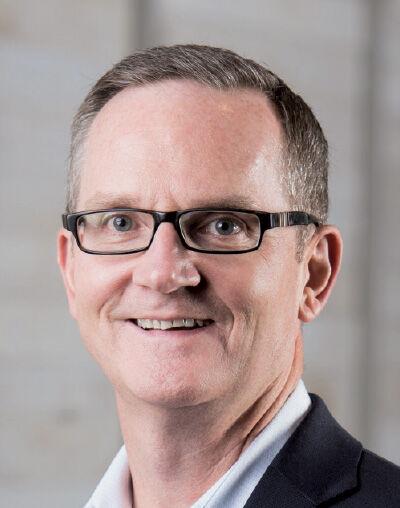 The genesis of the smoothie donation started with Debbie Pike and Meghan Cook, a mother-daughter franchisee team in Georgia. A hospital is across the street from their café, so they started delivering smoothies to its workers.
"We can't fashion masks from bananas, and we can't make PPE from mangos and pineapples," Montini quipped. "We wanted to focus on what we do better, which is to spread sunshine and give people that momentary getaway."
"The smiles and true appreciation from healthcare heroes couldn't be ignored," Montini said. "When we saw that, we said, we gotta do more. So we made it a systemwide initiative."
The initiative sparked the brand's next idea, a nationwide One Million Smoothie Giveaway campaign for guests during May where the brand pledged to donate $100,000 to the American Nurses Foundation upon meeting the giveaway goal. Though the brand didn't meet that benchmark, it donated the $100,000 anyway, Montini said.
"The key is, this isn't a one-time deal for our brand. We got a lot of attention for it, but it's an extension of our culture and focus on community and our desire to inspire our guests to live better," Montini said.