By the time she was 23 years old, Takisha Clark owned three houses and was running a successful daycare business in Victorville, California. She received her child care license after a friend asked her to nanny their four children and she thought, "I might as well do it as a business." She had started providing 24-hour childcare "because that was what the need was for." Then tragedy struck.
Clark's younger sister was killed in a car accident, and Clark shut down her daycare to process her grief. "That made me go downhill a little bit," Clark said. "I got addicted to pills, because dealing with the death of her, it kind of made me just not be interested in dealing with kids because I was in a depression state."
By 2007, Clark had sold one home and then lost the others in the financial fallout of shuttering her business. She was homeless for more than a year. "I went all the way down and hit rock bottom," she said.
After about a year and a half, Clark realized "this is not what my sister would have wanted," she said. "I'm going to figure out what I'm going to do and get out of this depression state and do something better for myself, because this is not me—so that's what I did."
Efforts to become a nurse practitioner were halted when Clark dropped out of school to care for her sick mother. She later found a job as a receptionist at a nonprofit organization dedicated to helping victims of child and drug abuse—something Clark felt connected to as the child of a parent who suffered from drug addiction.
"When I was seeing families that had lost everything, like me, and they were rebuilding themselves and regaining their confidence, it helped me to regain my confidence," Clark said. "A lot of them had amazing stories as well, getting their life back on track…I was giving people hope, and they were giving me hope at the same time."
The experience helped Clark refocus on her goals and sparked her entrepreneurial spirt. She began working part time in credit repair and later opened a Liberty Tax franchise before launching her own company, Good Faith Tax Services.
Clark's latest endeavor, Capital Postal & Mailbox Service, is now franchising and has earned her recognition as the first Black woman to own a postal and shipping franchise. Founded in 2017 in Long Beach, California, Capital Postal provides packing and shipping services, money orders and transfers, bill payments and more. She was attracted to the industry because of the opportunity to create multiple streams of revenue and the room for growth in the sector.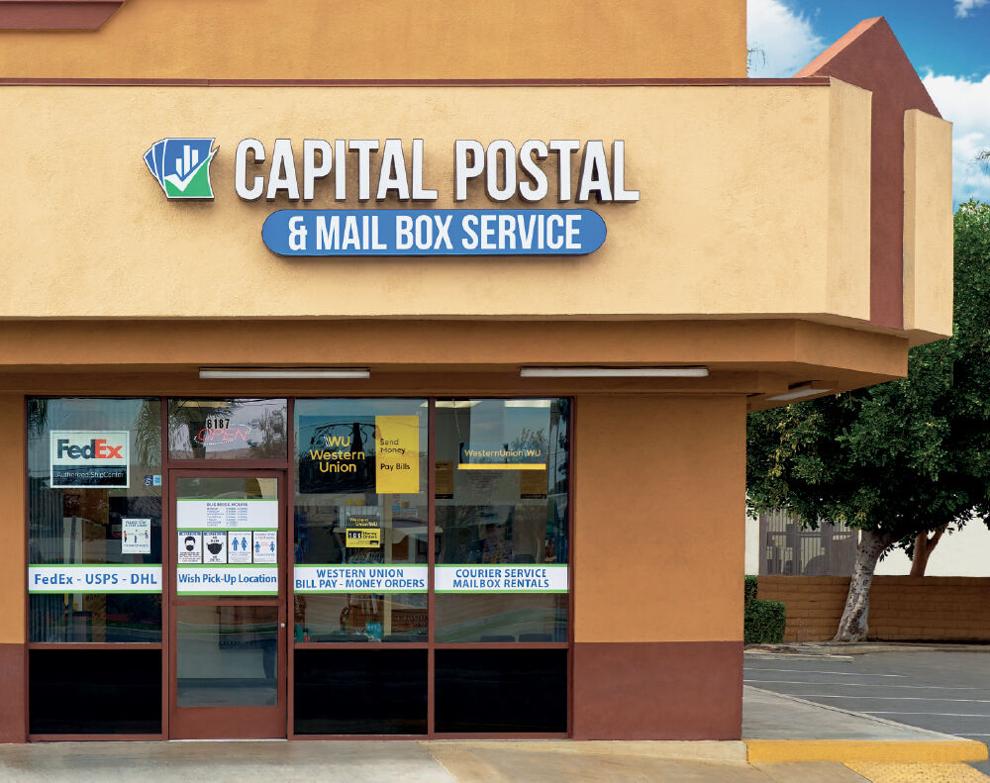 To put her franchisees in a position to sign federal contracts, Clark is working on approval from the Women-Owned Small Business Federal Contracting program from the U.S. Small Business Administration. "I'm doing it first so that I know the process" and can then help franchisees get their stores certified, Clark said.
Clark opened a second corporate location last fall and her first franchisee opened his store at the beginning of 2022 in Sacramento, California. Clark is in talks with prospective owners in New York and Las Vegas. With franchise support outsourced to Atlanta-based consulting firm Franchise Marketing Systems, Clark hopes to one day grow her business globally.
The total investment for a Capital Postal franchise ranges from $63,990 to $121,050. "Because of my due diligence, I learned how to set it up for the least amount of money as possible," Clark said.
Part of Clark's mission is to continue giving back in every way she can. She employs people in the Greater Avenues for Independence Program, which helps communities in the Los Angeles area build economic self-sufficiency through gainful employment. She also partnered with nonprofit Pacific Gateway, which provides job training to low-income youth in the Los Angeles area.