Michele Henry remembers exactly where she was sitting when she signed the agreement to sell Primp, a cheap-chic boutique she founded in 2010 in St. Paul, Minnesota. Her signature was penned at 10:30 a.m. on December 14, 2018, and just five minutes later, appeared again on a lease for a space in Edina's Galleria to open her next concept, an open-air facial brand called The Face Foundrie.
"I knew I wanted to continue my mission to make women and men feel beautiful and confident, and I think I really learned a lot from Primp and servicing people all those years," Henry said. "It definitely translated into the beauty industry."
Henry's story is part of a Franchise Times digital series this month featuring founder success stories.
Henry wanted to make sure she got her money's worth while attending college at the University of St. Thomas in Minnesota, so she earned degrees in apparel design, fashion merchandizing, and minored in art and business commerce. When Henry and her business partner founded Primp, they had $8,000 each.
"We had no money for buildout, it went all to inventory," she said. "We built it up to over $25 million in sales by the time I left."
The inspiration to open a facial brand came after Henry had her third child in May 2017 and was trying to acclimate to hormonal changes and acne.
"I was struggling with my skin after giving birth, and I could not truly get a grasp on feeling confident. I tried on different clothes, changed my hair and nails, but I kept coming back to, I need to fix my skin," Henry said, so she "set out to find someone I could chat with to educate myself."
Upon doing more research, Henry found a gap in the beauty industry—there were expensive medical spas that took up your entire day, which felt unattainable with trying to get time off of work and finding a babysitter, and not a lot of approachable options.
"Bridging that gap was really important to be and making sure it was welcoming and aesthetically pleasing. That's something I definitely took from my Primp days," Henry added.
Henry didn't like the inefficiencies she saw in other facial settings, such as having clients undress and be in private rooms. She set out to create a chic, clean and modern approach to high-end facials in an open-air concept, where clients are separated by curtains. Innovative facials, with names such as "Cryo Queen"—a cryotherapy or cold treatment—last 20-to-40 minutes and cost between $45 and $65, with membership options available.
"As we're adding services and opening back up (after COVID), we're the only place, at least that I've found, that offers a full cryotherapy facial," Henry said, "which was a pandemic pivot because cryotherapy helps kill off bacteria and dead skin cells. It was timely."
Face Foundrie has sold a proprietary line of products since its inception, with items available in store as well as online. Their collagen spritz, made from bovine collagen versus the typical marine collagen, was named the Face Mist Product of the Year in the 2020 Beauty Independent Innovation Awards. The brand has also added lash extensions, facial waxing and eyebrow services to its menu.
"A lot of time and research went into products to bring into the store, because I wanted a very clean aesthetic," Henry said. "I want people to walk into a space that's inviting but really clean, and that's how we want you to feel when you leave and how your skin should feel. We never want to overwhelm, so we're picky with the products we introduce. We have to all love them."
The franchise launch
In conjunction with buying out her business partner's minority shares of Face Foundrie in 2020, Henry filed her Franchise Disclosure Document last year on March 1—and had to shut down her three corporate stores in Minnesota just 14 days later.
"We were set to announce franchising, and we wanted one year of sales on the books to showcase this model was something obviously you could franchise," Henry said. "…14 days later we closed down, and it was the biggest blessing in disguise. Looking back, we wouldn't have had the time we devoted to perfecting our training platforms, systems, and the overall franchising process. Truly I accredit that to the pandemic and being closed for three months."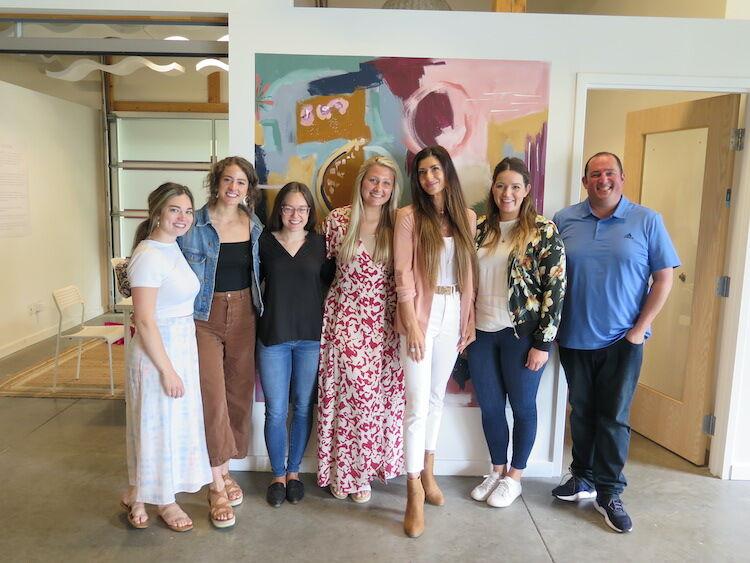 Henry wanted three corporate stores in different areas of the Twin Cities to showcase how the model works with various demographics, so in addition to their Edina and Minneapolis units, they opened a location in Maple Grove, Minnesota in October. "Truly by Maple Grove's buildout, or version 3.0, we really nailed it with training and our process, which I attribute all of that to our staff," Henry said.
After relaunching their franchising efforts on January 10, the brand has nearly 60 commitments nationwide from about 25 franchisees. The first of four locations in Chicago is set to open August 27, and one in Appleton, Wisconsin by September. By the end of 2021, franchisees are slated to open Face Foundries in Fargo, North Dakota; Sioux Falls, South Dakota; Phoenix, Arizona; Houston, Texas; Nashville, Tennessee and Wayzata and St. Paul in Minnesota.
"We're strictly a franchisor now," Henry said, and she doesn't plan to open any more corporate stores. "I really want to make sure we commit to franchises coming into the system, and offer them full support."
Facial studios range from 1,250 square feet upwards of 2,300, and the investment range is $149,000 to $278,000. Moving forward, Henry wants to prioritize sustainability in her product formulations and manufacturing processes.
"Knowing how many franchise units we have coming up, it's really important to focus on how to slow down and eliminate waste as much as possible," she said. "We source as many ingredients as we can locally, and also our manufacturing facilities are a few miles up the street, so that's a lot less shipping with products sitting on a cargo ship over the ocean and losing active ingredients."