Roman Cowan had no electricity or running water while growing up in St. Andrew Parish, a rural part of Jamaica. "I grew up in a very humble background, very poor, even for third-world country standards," he said, adding that he and his sister had to walk miles just to purchase ice. His parents became his personal heroes, especially his mother, who got Cowan and his sister into a good school and encouraged their education.
"She sacrificed a lot for us to be educated, and I saw that and it inspired me," Cowan said. His background molded him to "have a lot of perspective, and has given me a lot of empathy for others and generosity. In a way, it led me to franchising."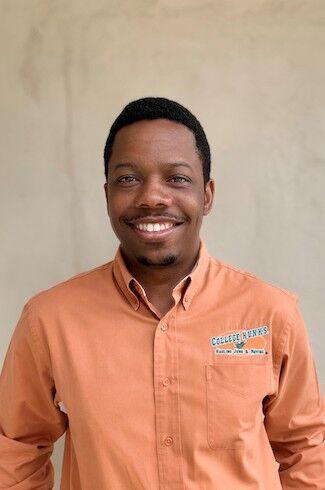 After learning about financial management in high school, Cowan went on to earn an MBA and master's in finance and accounting from the University of Tampa, where he met Nick Friedman and Omar Soliman, the founders of College HUNKS Hauling Junk & Moving. (HUNKS stands for honest, uniformed, nice, knowledgeable, service.) In a case study for his college class, Cowan and his classmates were required to pitch three to five recommendations to College HUNKS to improve their business.
"I wasn't as interested in the brand at first, but as they talked about their franchisees and I saw how they cared more about their success than their own, it brought me back to my upbringing and thinking about other people's happiness before myself," Cowan said. "It struck a chord with me." Plus, Cowan's favorite colors, green and orange, happened to coincide with the brand colors.
About 60 groups of college students pitched ideas to Friedman and Soliman and competed to get into the final five. Cowan recalled telling his classmates, "this is the company I want to work for and lead one day; I want to be in the top five." So they met Friday nights in the library, and on the day of the presentation, Cowan told the College HUNKS founders that he wanted to lead their organization in 10 years.
"I asked to work for them back in 2009 and they turned me down," Cowan admitted, "but they told me to stay persistent, get experience, maybe an MBA, and call them up." After several attempts, Cowan was finally hired as financial controller of the brand in 2013.
After being promoted to various roles such as chief operating officer and chief financial officer of the company, Cowan achieved his dream of running College HUNKS when he became brand president in January 2021.
"When I came on board, my intention was to lead the brand, and I came out with the guise of, I'll wear multiple hats. I always tell people, if they want to be something, act like it, don't just say it," Cowan said. "From day one in my mind, I was preparing myself to be president of the organization."
Founded by two college buddies out of a cargo van, College HUNKS began franchising in 2007 and has grown to more than 100 locations in the U.S. and Canada. The brand also seeks to be a socially conscious, values-based organization—for example, they have a national partnership with Feeding Children Everywhere which strives to end childhood hunger.
The empathy and generosity he learned from his upbringing shines through Cowan's leadership, especially this past year. When the pandemic hit in 2020, Cowan spearheaded College HUNKS' initiative to provide free moving services to people experiencing domestic violence who were stuck at home with their abusers.
But he's not all soft skills—his finance and accounting acumen also helped lead College HUNKS to its most profitable year to date. Still, he seeks to remain humble and credits a lot of the brand's success to the leadership team and franchisees.
"I often will go to conferences, and diversity is not something I noticed as we just hire the best people, but it has been something I've felt really strongly about knowing that in my time, there were often more females on the executive team than males, and a wide variety of ages and demographics," Cowan added. "I've been lucky enough to have leaders who empower me to make decisions of who we bring on the team, which is all I can ask for in my role."
With more than 150 franchisees, Cowan hopes to be at 200 or more by the end of 2021. Their typical franchisee has one location, but has an average of two zones per territory, bringing their total up to about 300 active zones. The initial investment for a College HUNKS Hauling Junk franchise ranges from $89,300 to $208,200.