When James Park became CEO of Garbanzo Mediterranean Fresh in late 2015, his first order of business was tackling the "convoluted" menu and the very long prep line that accompanied all those food items.
"I shortened the line. It used to be 26 and a half feet; now I've gotten it down to 15 and a half," Park said. "It's all about the K.I.S.S. rule. Keep It Simple, Silly."
Following the rule is easier said than done, though, when the cuisine is less familiar than in Park's former world, in the sandwich business at Which Wich, Charley's Grilled Subs and Penn Station East Coast Subs.
"Not everyone understands in the Mediterranean space what baba ghanoush means," he cites as an example. (It's eggplant.)
Plus, until 2014 Garbanzo was founder-led, a type known to resist culling the menu. "I see this quite a bit with founders. You've got that one customer" who loves a specific item, "and everybody wants to satisfy every customer," Park said, but he takes a hard line. "You just can't manage to the exception."
Out went the boiled eggs, plus certain types of vegetables and a couple of other new proteins "that just simply weren't moving," Park said. "Anything that was less than 10 percent" of the menu mix was out, "because other parts of the line were moving 50 to 60 percent."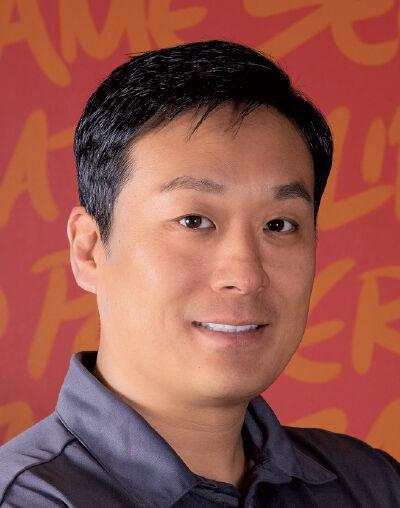 But Park wasn't done yet. In early 2016, the group decided to stop franchising for two-and-a-half years, "just completely shut it off until we got the model right. We were able to create a lot of efficiencies and gain tailwind, and it wasn't until last year we decided to start franchising again."
Or as Marketing Director Devin Handler put it: "We had to get our falafel in a row, to feel good about offering a model that was impressive in its unit economics." Park said Garbanzo is "under 60 percent in prime costs," meaning total cost of goods sold and labor as a percentage of revenue.
Denver-based Garbanzo Mediterranean Fresh has 31 restaurants, two-thirds corporate and one-third franchised, in six states. Average unit volumes are $1 million, lower than Park would like. "It's sort of what we're fixing. That will continue to rise," he said. It costs between $384,000 to $775,000 to open a Garbanzo.
Lee Kleiner is one believer, set to open his first store in the Indianapolis/Carmel market and also signed on as an area developer for Indiana, Kentucky and the Cincinnati region. He also operates four Which Wich restaurants and three Dairy Queens as a franchisee.
Garbanzo ticked off several boxes for him. "The strong business model, the unit economics, the scalability, the additional revenue streams that I think are really important these days such as catering," he said. He also praised "very strong corporate leadership. James Park and the entire executive team."
Park, meanwhile, will continue to squeeze the most he can out of Garbanzo, like he literally did when he became a franchisee of Penn Station subs at age 25 and within a couple of years "became the most profitable operator in the system," he said. (He's now 42.)
One trick: "We would squeeze the lemons and I'd carry the box out, and the bottom would fall out" of the box because there was so much juice left in the rinds.
"I put the strainer on top of a cup, and then I'd throw the lemons on there and sure enough there'd be a third of a cup left," Park said. "That one-third cup would create two more vats of lemonade."