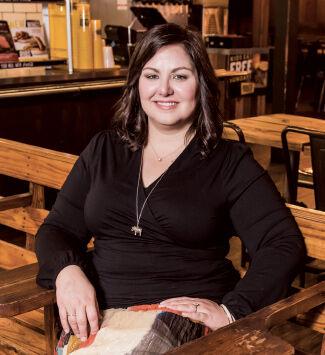 In her monthly "Grab Bag" column, Editor in Chief Laura Michaels asks the tough questions—What superhero power would you most like to have? What's the weirdest thing you've ever eaten?—to show a side of franchising execs you don't normally see.
Who would play you in the biopic about your life?
Hopefully Melissa McCarthy. I think she's so funny and I genuinely enjoy her. I've loved her in everything she's ever done. She's so relatable and has such a great sense of humor. My favorite is 'Life of the Party'—I can cry-laugh every time I watch it, even though I know what's coming next. It's not Shakespeare, but it's really enjoyable.
What's your favorite franchise brand that's not your own?
Raising Cane's, I love their brand. And I'm also a big fan of Mutts (Canine Cantina). I love them both as a consumer and a guest. For Raising Canes, the product, the chicken is so good, and Mutts, we have three dogs and love going to the location in Dallas. We have two pugs, Kellyanne and Carmen Miranda, and a Chihuahua mix, Charo.
If you were to open a non-barbecue restaurant, what would it be called and what would it serve?
I would open a steakhouse, absolutely, and I would call it Deckle and Hyde. I love a good, traditional steakhouse that has that old world feel.
What's something not many people know about you?
I was born in Wyoming and my first job was mucking stalls. And I hate flying. Any time I can, I will avoid flying. It's probably a control thing.
What's your guilty pleasure?
Reading. I read at least an hour every day. I usually have three books going. I just finished 'The Dragon Behind the Glass' about the illegal fish trade. And I just started 'Who Cooked Adam Smith's Dinner?'.
What's one restaurant or food trend you wish would disappear?
Frozen yogurt. I would just go straight to ice cream. I feel like it's cheating the ice cream experience. There are surprisingly still more froyo shops around than I would have thought there was a base market for.
What's the weirdest thing you've ever eaten?
In Croatia—and I love the country, I love everything about it—but there were these handmade sausages that have a really funky sauce on them. They're called Cevapcici and yeah, they're this traditional dish but just not for me.
If you could dis-invent one thing, what would it be?
Ketchup. I know people have such a passion for it, but for me, if you put ketchup on things, that's all you taste. There are so many better things to do with a tomato.
If you could be a member of any TV show family, which would it be?
I'd say 'Schitt's Creek.' I'd want to be Stevie just sitting behind the desk and watching it all happen.
What are you freakishly good at (or bad at)?
I'm freakishly good at remembering things. I'm freakishly bad at cooking, which is funny being in the restaurant industry. I can follow a recipe and it still comes out as a C average experience. I'm really good at taste testing and making reservations.
What's something you would seriously stockpile if you found out it wasn't going to be sold anymore?
I would immediately stockpile my favorite sunscreen, it's called Barbara Sturm Sun Drops. It's magic, I love the product. And also Gatorade. That would terrify me if they ran out of Gatorade.
What's the best piece of advice you've ever been given?
Fake it 'til you make it. My first boss at Murray Brown Creative Group … I was the intern, going into my senior year of college and one of the ladies called out sick and he needed me to go to a meeting with him and before we walked in he told me, 'they don't need to know you're an intern.' You have to lean in and try it and then you'll gain the experience.