Flashing lights don't work when trying to chase geese off properties. Nor do fox statues or sonic booms, because geese become accustomed to those "threats" and ignore them. "One thing they do not get used to is us pulling up in the car and letting big, hairy dogs chase them away," says Kerri Stinger.
She's a Geese Chasers franchisee in southern New Jersey, which employs trained border collies to do what the name says: chase water-fouling, poop-abounding geese away from properties without harming the animals, with prices ranging from $499 to $1,600 a month for customers depending on the toughness of the job. "We change the habits of the geese," Stinger says.
Bob Young, CEO and founder, established his first Geese Chasers business in May 2002 and has 10 units; he is now reviving his franchise offering after a pause for the pandemic. It costs $25,000 to purchase, plus another $50,000 for a vehicle, a dog, insurance and the like.
A former physician's assistant, his journey began when he bought Boomer. "We had this border collie we got my son. I'm highly allergic to dogs but you do everything for your kids. The dog was going nuts" every day when he got home from work, and he was told that's because the breed needs a job to do.
"One year in 1998, a guy pulls up and starts asking questions about Boomer," saying he didn't often see border collies as pets. "Yeah, you don't see them around because they're a pain in the ass," Young replied. "They're all over the place, very neurotic."
The man soon revealed he owned a golf course nearby, and asked if Young played. "I said I stopped golfing there a couple years ago, because you couldn't get through the goose poop. He said he had a 10-foot pole that he strapped a border collie stuffed animal to, and he was chasing them. He said, they're not afraid," Young recalls. "I said of course they're not afraid, it's a stuffed animal."
The man offered free golf if Young would bring Boomer to the golf course. "Within a week he had cleared about 500 geese that were tearing up the course," and the rest is history. "Here we are basically 23 years later, about to open our tenth franchise."
Joe and Brooke Bello are Geese Chasers franchisees in northern New Jersey, with clients including Central Park in New York City and Liberty State Park in New Jersey, across from the Statue of Liberty. Brooke started as a dog handler and trainer for the former franchisee and then bought it.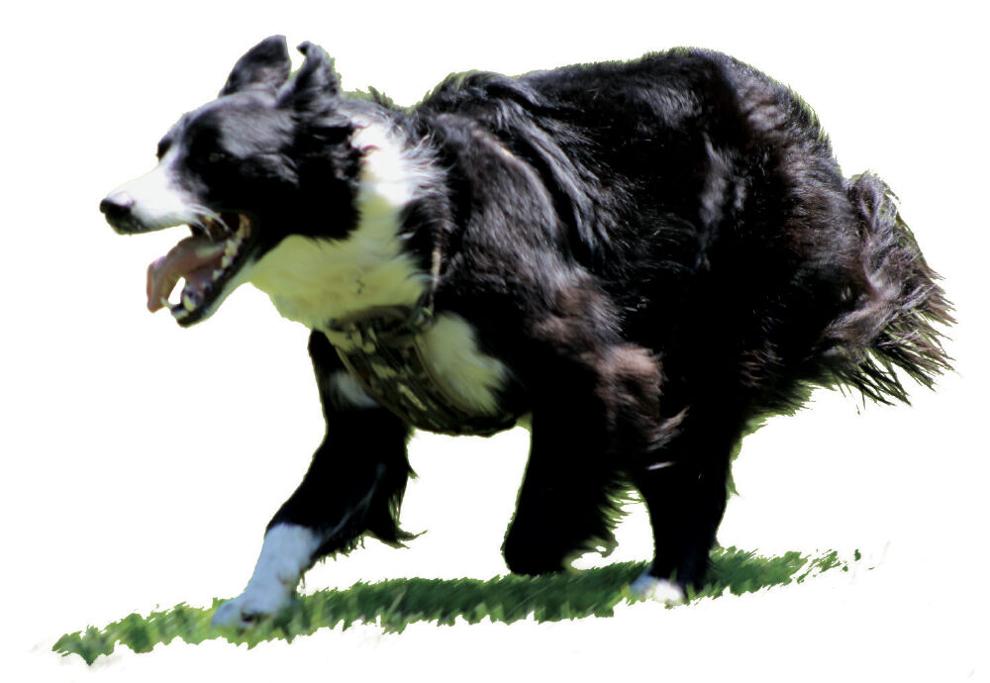 What does she like about the dogs? "Honestly, everything," she says. "They make your day less stressful, they're highly efficient, they're never tired, they're inspiring to be around, honestly. It's an amazing dog breed."
Joe was in turf management for about 15 years, designing, selling and maintaining lawns and landscaping. He handles client relationships, administration and other matters. "She's the dog whisperer," he says.
The pair now have eight dogs and more than 100 accounts, some of them tougher than others. Joe says in the spring, female geese lie down in their nests, but "the males will chase moms with strollers through parks. They're super aggressive." In the fall geese are migratory, so clearing them is relatively easier. "After we start, within that week, it will go from 200 to 30. It's a dramatic improvement," Brooke says.
Asked which is smarter, geese or dogs, she laughed. "Border collies are definitely smarter than geese. But I have to say, I have the utmost respect for geese. I actually love them," she says.
"They're great parents, and they're really smart and that's one of the reasons" that dogs work while other methods don't. "The dogs stalking them as the Arctic fox would, that's what really triggers their response to move."