Restaurants not taking advantage of TikTok to promote their culture and attract employees are missing a big opportunity to get in front of Gen Z workers. That's according to Alondra Vela, "chief happiness officer" of EmploYay, the fictitious consulting company created by hospitality students at The University of Texas-Rio Grande Valley to share recruitment and retention strategies with attendees of the Restaurant Finance & Development Conference, which kicked off today at the Wynn hotel in Las Vegas.
"When we're applying for jobs, that's what we're looking at," said Vela. "Stay professional … but show us what you do. Show people why it's fun to be with you."
Another EmploYay recommendation: support the mental health needs of employees. "Our main priority is our mental health," said Anna Tamez, the "head of office peace." Restaurants need to invest in resources to support employees, she continued, and also make diversity, equity and inclusion efforts a core part of company culture.
"We want to see different ethnicities, different backgrounds, different cultures … we really want to see this in your company," she said.
These sentiments showed up in the presentations of all five student teams as they sought to illuminate the labor challenges facing the restaurant industry and offer solutions. Another consensus: higher wages alone won't solve the problem.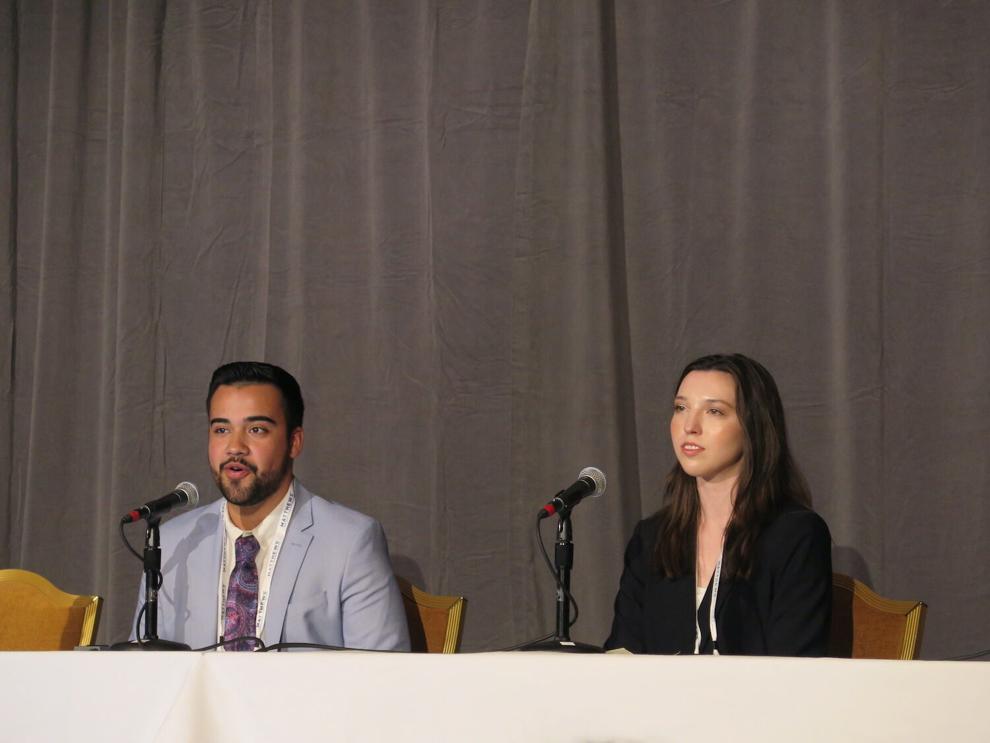 "It is not enough to simply punch in and out for a paycheck anymore," said Diana Talamantes-Valles, a junior at Michigan State University. Shifting mindsets within younger generations of workers mean they're looking for work environments where investments are made not just in them as employees but as human beings, she noted.
The COVID-19 pandemic amplified many of the restaurant industry's labor issues, said Gil Katzman, "but the crisis wasn't created by COVID." A student pursuing his master's at Florida International University's Chaplin School of Hospitality and Tourism Management, Katzman had a 30-year career in hotel sales and marketing, and named inconsistent hours, low pay, lack of benefits and lack of opportunities for advancement among the problems already plaguing the industry.
Even if a company provides a 401(k) program or medical insurance, "if they're being paid minimum wage, can they even afford to utilize these benefits?" asked Katzman. Boosting pay is one tool, but companies can do more when it comes to flexible scheduling and offering programs for childcare reimbursement or transit stipends, plus clear opportunities for advancement.
But don't present perks or paths to promotions unless you're prepared to deliver. That was one message from Elizabeth Linstruth and Mark DeWeese, students at Harrah College of Hospitality at the University of Nevada-Las Vegas.
"Make sure you are not overpromising anything and if you do make those promises, make sure you act on them swiftly," said Linstruth, who named lack of manager follow through as a big reason employees leave.
Sponsored by data management firm Mirus, workforce management platform Harri and law firm Burr & Forman, the student team session featured insight from the following programs and students:
Michigan State University: Brooke Gillmore, Kat Kondratyev, Megean Setla and Diana Talamantes-Valles
Florida International University: Gil Katzman, Shawn Hubble and Genesis Torrez
Northern Arizona University: CC Chavez, Savannah Lawson, Tanner McNeese and Shannon Regan
The University of Texas-Rio Grande Valley: Paola Villarreal, Anna Tamez, Alondra Vela and Shelly Hernandez
University of Nevada-Las Vegas: Mark DeWeese and Elizabeth Linstruth
The Restaurant Finance & Development Conference, presented by the Restaurant Finance Monitor, Franchise Times and Food On Demand, runs through Wednesday, November 16, at the Wynn in Las Vegas.