Breaker box doors. That's how the conversation with Chris Dull starts as we sit down for an interview during the Restaurant Finance & Development Conference. Supply chain disruptions are everywhere, but it's an inability to get doors for circuit breaker boxes that's holding up new restaurant openings for Freddy's Frozen Custard & Steakburgers, where Dull is CEO.
"We're investing our own capital right now … we're buying equipment right now" in anticipation of more shortages, he said, so heading into 2022 franchisees can then purchase equipment from corporate when they're ready to open, avoiding delays.
"We'll probably take a loss," continued Dull, "but it behooves all of us to get these restaurants open."
Freddy's is a franchise founded on an "overarching desire to do good," said Dull, which is one of the reasons he took the chief executive post in May following the company's sale to St. Louis-based Thompson Street Capital Partners.
Thompson Street already had a letter of intent to buy Freddy's Frozen Custard & Steakburgers when the private equity firm brought Dull in for the final due diligence phase. The former CEO of Global Franchise Group had been working as an adviser to other firms since departing GFG in February 2020, and the more he learned about Wichita, Kansas-based Freddy's, the more he liked it.
"I wasn't thinking about Freddy's for myself," said Dull of the start of his research, "but I quickly found myself turning into a Fredhead."
Founded in 2002 by brothers Bill and Randy Simon, their father, Freddy, and business partner Scott Redler, Freddy's Frozen Custard & Steakburgers now has more than 400 locations and finished 2020 with $643.3 million in systemwide sales, a 20 percent increase, according to the Franchise Times Top 400 database. Dull took over the CEO role from Randy Simon and is in the midst of working through the "strategic playbook" he created as the brand embarks on a new growth strategy.
Investments at work
"Freddy's didn't really have a professional marketing department," said Dull of one of the first areas he addressed. "They would produce a handful of materials for franchisees, some LTOs, but without really measuring the impact on sales."
"So the first thing was to build a marketing team and a real marketing plan," he continued. Freddy's hired former Edible Arrangements marketing vice president Laura Rueckel as its chief marketing officer, along with Erin Walter, who Dull worked with at Global Franchise Group, as VP of brand marketing. It also started collecting marketing support dollars from franchisees.
"Only 0.375 percent of the 3 percent had historically been collected," said Dull. "And the franchisees were excited" to contribute "and see the brand start talking nationally."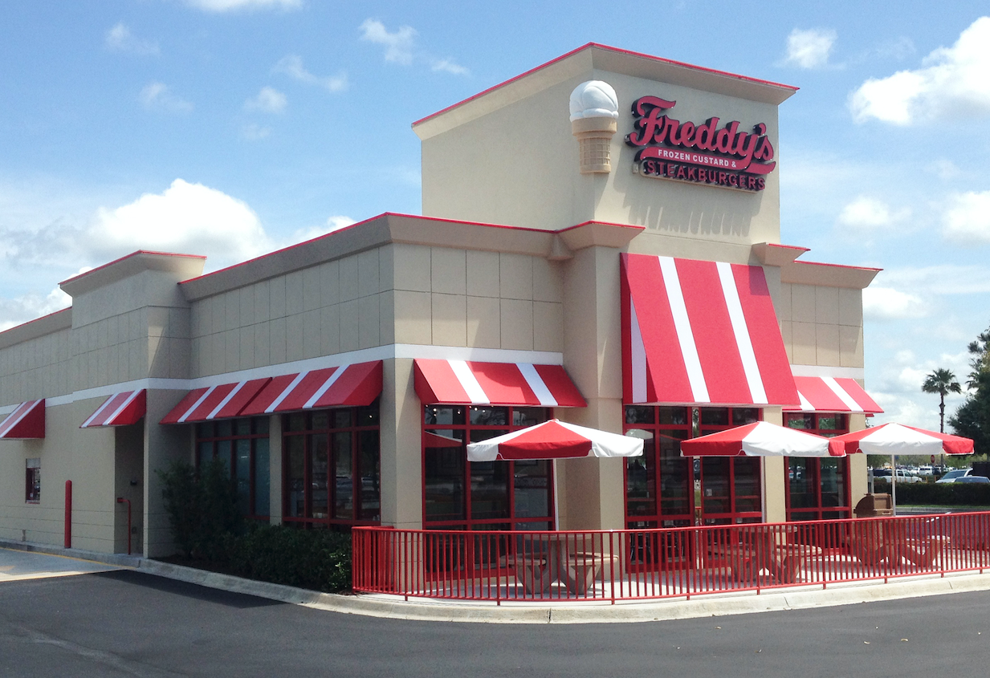 The brand, which has drive-thrus at the vast majority of its restaurants, also needed to be able to market to new customers who tried Freddy's for the first time during the COVID-19 pandemic. After an initial downturn in March and April 2020, "we saw significant sales lifts during the COVID period," said Dull. The pandemic "created trial and now we're seeing significant retention," another area the brand is focusing on as it prepares to roll out a new loyalty program, among other technology initiatives.
Thompson Street Capital Partners brings expertise in technology to Freddy's, the first restaurant franchise in its portfolio. Its primary focus is companies in healthcare, software and technology, and business services.
 "Where we ultimately want to spend our time and money is where we know there will be an immediate impact to driving sales and franchisee profitability," said Thompson Street Director Joe St. Geme in an interview after the acquisition earlier this year. He listed workforce management software and a point-of-sale system upgrade to better integrate delivery and curbside pickup channels among the priorities.
Freddy's is now testing its new cloud-based Par Brink POS system and will begin a full franchise rollout in May 2022, said Dull. It created a new mobile app—the previous one "was a bit clunky"—and is also putting a new online ordering platform in place.
From six minutes to four and a half
Another focus is speed of service. "We are truly a made-to-order concept," noted Dull, but as more sales continue to come from the drive-thru, Freddy's is looking for ways to improve efficiencies in the kitchen and in the drive-thru lane. The brand is adding new burger presses that cook six burgers at once—ticket times have dropped from six minutes to four and a half, said Dull—and is also putting workers in the drive-thru lane to test tablet ordering.  
As he continued to lay out his playbook priorities, Dull listed field coaches and training, both of which are being invested in. Field coaches had historically been focused on compliance, "but I think they should be focused on profitability and quality of life" for the franchisee. "So we've restructured field support training to focus on individual franchisee success because everybody needs something a little different," he said. Freddy's is also looking to build an R&D kitchen and training facility.
Franchise development is yet another priority as Freddy's works toward opening 90 to 100 restaurants a year.
Freddy's is sitting on "close to 600 options," said Dull of the franchise's pipeline and it now has a team in place, led by Chief Development Officer Andrew Thengvall, to focus on growing its footprint. The company will also launch a request for proposal effort in 2022 for its supply chain, "something Freddy's has never done," said Dull, a move he expects will ensure franchisees are getting their products in the most cost-effective manner.
All these initiatives and more "are things our franchisees have been clamoring for," he added.
As for working effectively with a private equity partner, Dull, who's been with seven or eight brands through transactions, said alignment on values and strategies is important.
"You don't have to be best friends with your private equity partner, but you have to like them and they have to like you," he said. "And you have to check your ego at the door.
"Be humble and recognize even as CEO, you don't have to have all the answers, so be willing to look to other smart people in the room."