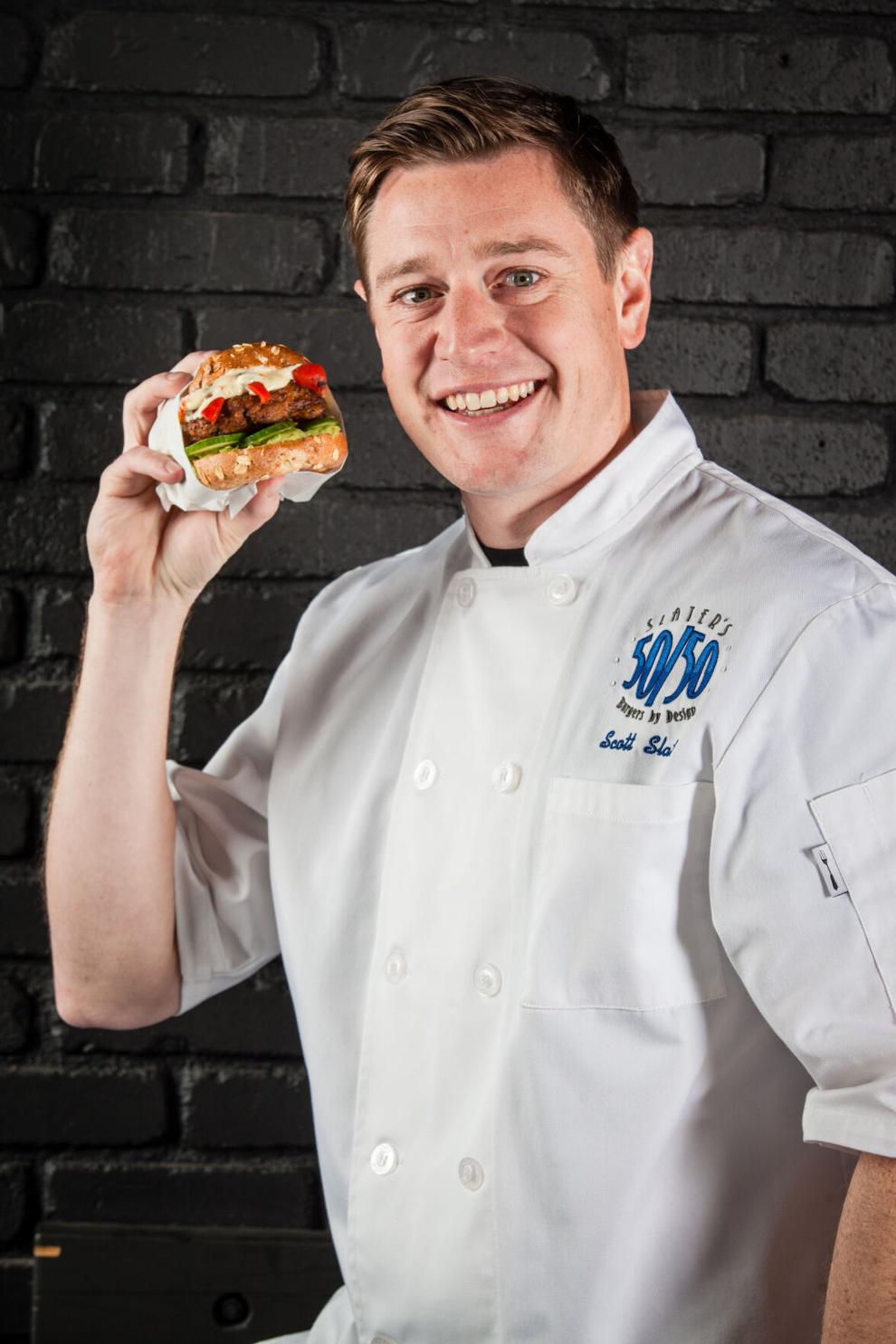 Scott Slater's bacon obsession started in college when, after Saturday nights out around San Diego State University, he would tailgate at Chargers games the next morning and craved something to help, as he put it, "soak up the night before." Bacon strips easily caught fire on the open barbecue grill. Ground bacon patties proved equally flammable.
"So I started adding ground beef to it, enough to where it would hold up, and I came up with the 50/50," Slater said of the burger that's 50 percent ground bacon and 50 percent ground beef.
That burger eventually became the foundation—and partial namesake—of Slater's 50/50, the full-service bacon, burger and beer restaurant Slater launched in 2009 after the Great Recession brought an end to his prior venture.
"My original business out of college was hot dog concession stands outside Home Depot, we grew that to 36 locations," said Slater. "That was all pre-recession, when Home Depots were crazy with foot traffic." By 2009, the business was "no longer viable."
A second-generation restaurant space in Anaheim, California, brought the chance to start something new. "I had 30 days and $135,000 to open the first restaurant," said Slater. "I was 27."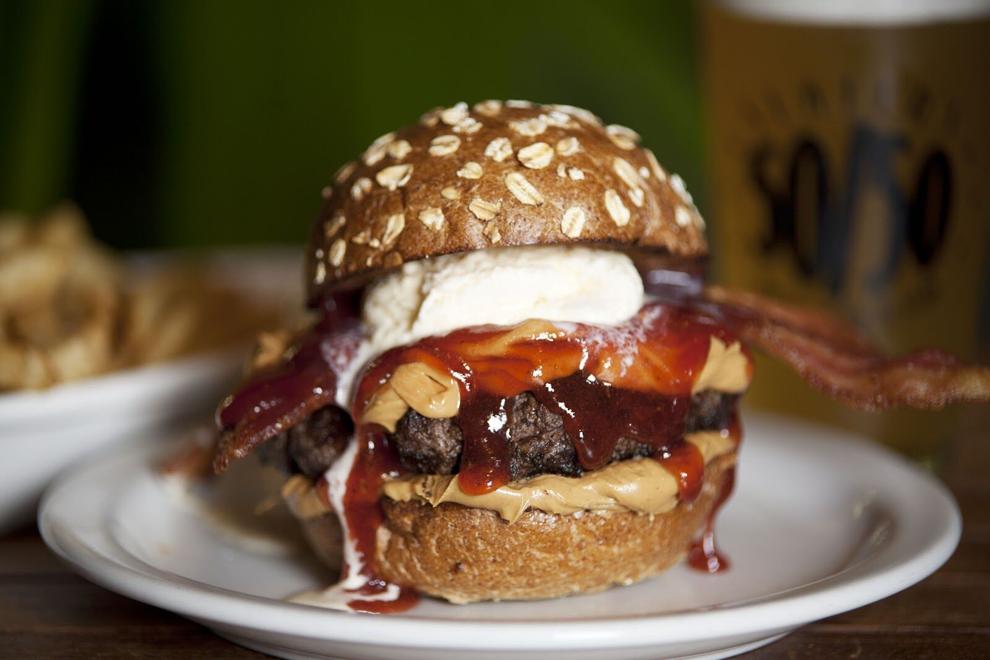 Slater came up with decadent combinations such as the Peanut Butter & Jellousy burger, a ground beef patty topped with a smear of peanut butter, strawberry jelly and two thick-cut bacon slices—"You can pretty much do anything with a burger," he said—and by 2016 he had six restaurants and demand was growing for a franchise program.
Finding a franchise partner
That's when Mike Nakhleh entered the picture. His Elite Restaurant Group had been a franchisee of Fatburger and Sizzler and developed some one-off concepts. Nakhleh, said Slater, was going to become a Slater's 50/50 franchisee "and we got to talking and struck a deal."
Los Angeles-based Elite Restaurant Group acquired Slater's 50/50 in 2017 and solidified the franchise program, growing the unit count to 11 restaurants, including the most recent opening in June by franchisee Kaitlin Garcia in Riverside, California. Slater retained an ownership stake and now holds the title of "baron of bacon," working on menu innovation and marketing. (Elite Restaurant Group also owns Patxi's Pizza, Gigi's Cupcakes, Marie Callender's and Mimi's Cafe.)
Founders who have their sights set on franchising need to be prepared to give up some of the control, said Slater, something he wasn't ready to do earlier in his brand's development.
"Back in 2013, the brand was young, I was young and I didn't really trust the brand with anyone else," said Slater when asked about an interview in which he said he would never franchise Slater's 50/50. "The brand just wasn't mature enough; I wasn't mature enough. I was 31."
A few years later, however, Slater said he was ready to bring in others who were enthusiastic about the concept. "I wouldn't say I ran out of creativity, but it was bringing people in who were passionate about the brand."
As Slater's 50/50 has embarked on franchise expansion, its founder said he's learned the importance of being confident in his concept and brand. "Stick to your vision statement and your values," is his advice to other founders, along with careful selection of franchisees, people who are enthusiastic about the brand "and not just the P&L." Oh, and less lawyers.
"I just remember there were times when there was bickering that wasn't necessary," recalled Slater of negotiations with Elite Restaurant Group. "There were times when I should have just called up Mike and we'd figure it out."
While Slater's 50/50 did close a couple of units during the COVID-19 pandemic, Slater said when California, where seven of its restaurants are located, dropped restaurant restrictions in June it resulted in "the best month we've had in years." (The company doesn't provide financial performance information in its franchise disclosure document.) He expects dine-in traffic to rebound and grow, but said while the company is committed to its full-service model it is exploring other formats and perfected online ordering and delivery over the last 15 months.
Slater's 50/50's Las Vegas restaurant was also recently featured on the Netflix show "Fresh, Fried & Crispy," which did a spot on its Whale Burger, topped with fried lobster tail, wagyu beef and gold-dusted bacon.
Other locations are in development in Covina and Del Amo-Torrance, California, along with New Jersey. The cost to open a single Slater's 50/50 restaurant ranges from $685,000 to $2,067,000.
Slater's story is part of a Franchise Times digital series this month featuring founder success stories.