Nick-Anthony Zamucen was in his early 20s when he witnessed something he'll never forget. He had attended a church service when the pastor informed them that a man in their congregation had taken his own life, and his widow needed comfort. When Zamucen and a few other church members arrived at the house to visit the woman, he found that she hadn't moved from the couch for several days. She pointed to her bedroom and told Zamucen, "they said I had to clean it myself." Zamucen naively opened the door and was shocked to find the aftermath of the suicide.
"The man had taken his life on Wednesday, and this was Sunday afternoon, and this poor lady hadn't moved from the couch because the last thing the coroner said (after taking the body) was, 'normally people clean this up themselves,'" Zamucen recalled. "I was young and dumb and saw something you only see in movies, so I quickly shut the door, took a deep breath, sat on the couch with the widow and told everyone else to get her out of here and take her to lunch, and we'll clean this up for her."
Though Zamucen and his friend had no idea what they were doing and didn't know how to properly clean the area, "we were just trying to help a lady in her greatest time of need, and that's for me how I got into the crime scene and cleaning business," he said.
That experience led Zamucen to eventually found Bio-One Inc. in 1998, which provides services in recovery and suicide cleanup, homicide cleanup, hoarding situations, junk removal, deceased animal recovery and other overwhelming situations.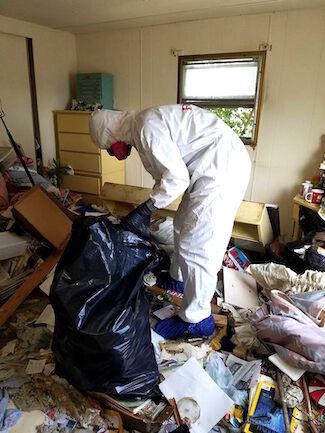 Touting themselves as the first crime scene cleaning franchise, Bio-One now has 110 franchise locations in 41 states, operated by 96 franchise owners. Zamucen didn't plan to franchise the concept at first, but after speaking with executives in the industry, he realized he could help more people if he grew his concept on a national scale, which he launched in 2010.
"I did not understand what franchising was 15 years ago, and it was explained to me, and I won't say I didn't make a bunch of mistakes along the way," Zamucen said, "The differences from owning your own company and running a franchise organization, just not realizing or taking into account that not everyone is going to work like you do, train or think like you do."
Their franchisee demographic ranges from ex-firefighters and ex-police officers to bankers, mechanics and people downsized from the corporate world. He struggled at first with attracting the right type of franchisee who was not only caring and empathetic, two traits required for the job, but also people with an entrepreneur spirit willing to put in overtime to grow their business. "It reaffirmed to me that you have to find the right people to join your group, not everyone who seems like they want to do it and has a good heart."
Zamucen said his industry is very fragmented, but he's starting to see a trend of more restoration companies getting into the biohazard and trauma scene cleanup business—which Zamucen candidly said he hates, because oftentimes "they don't have the right PPE, chemicals, training or right mindset to do this kind of work," he claimed.
He said the biggest barrier or competition is mom and pop shops with "strong stomachs," as well as the coroners and first responders who are still telling people to clean things up themselves.
"We try to educate first responders, those ones on scene that need to stop telling people to just clean it themselves or call Molly Maid or Two Maids & A Mop," Zamucen said. "Stop doing that because you can't put a franchisee or somebody in a situation where they feel like they have to do something they're not trained to do. There are some really scary things out there in the bio world, diseases, that procedures and PPE are put into place for a reason so people don't get hurt."
Bio-One went from $25 million in systemwide sales in 2019 to nearly $80 million in 2020, because "when a COVID outbreak happened, Bio-One was he name to call," Zamucen said. Bio-One is the only bio company recommended and credited by the FBI, Zamucen added, and they handled many Ebola outbreaks previously along with cleanup for domestic terrorism incidents such as the Las Vegas Mandalay Bay shooting and the Pulse nightclub massacre.
In 2016, Zamucen launched his fourth concept, BOR (Best Option Restoration) which has about 22 locations around the country. Though focused on leading BOR, Zamucen still owns Bio-One 100 percent and advises the company. 
The initial investment for a Bio-One franchise ranges from $90,445 to $138,445.
If you or someone you know are having thoughts of suicide or self harm, please contact the National Suicide Prevention Lifeline at this link or call 1-800-273-8255. The hotline is open 24 hours a day, 7 days a week.