The hardest thing for longtime franchisee Scott Hatter to understand when he switched to the franchisor side: How some operators could give up so easily.
"My wife and I have always been top performers in every franchise we've been in," including LunchboxWax Salon, Baja Fresh Grill, Deka Lash and Burger King, said Hatter, the new president and COO of Legends Boxing.
"I just assumed everybody was like me. That was my hardest thing at first," when franchisees were missing in action in their businesses, or after just a few weeks seemed ready to throw in the towel.
"Where's your grit?" Hatter would wonder in those cases. "You really see right now, when anything gets tough you have franchisees that just thrive because they're leaders. And then you see some that shrivel."
Hatter is looking for the former, naturally, since taking the president's post after Look Good Brands bought Legends Boxing last July from its founders, Andrew and Rob Scott.
Legends Boxing has 33 units sold in nine states, with 10 units open. Cost of the franchise ranges from $297,000 to $594,000.
The Scott brothers, the two youngest of five children with three older sisters, know a few things about grit as well. Rob Scott, older than Andrew by three years, said Legends Boxing started "kind of by accident. I used to own a large sports complex, and we had basketball, lacrosse and you name it. We put a boxing program in that building, and the purpose was to train fighters" and hold boxing events.
"Long story short, we had our fitness members wanting to learn" what the fighters were doing. "I went to Andrew and said, what if we do a boxing program?"
Andrew replied: "We don't know how to teach fake boxing. So the light went off in my head, and I thought, this is the secret sauce." Starting in November 2010, Legends Boxing became the focus. "It just started growing and growing."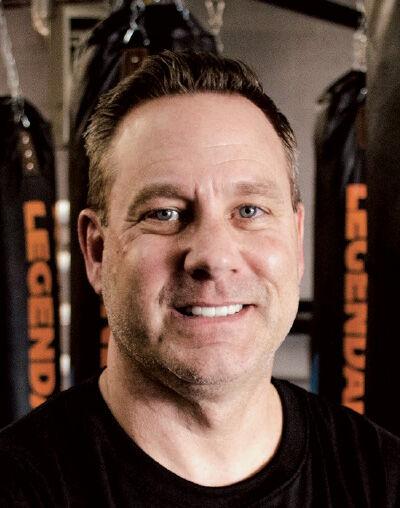 A friend suggested franchising, so Rob Scott took a year to learn about it and launched a program, but ultimately sold to CEO Michael Blair and Look Good Brands, which also franchises Deka Lash.
"I felt like we had limited resources; we had to bootstrap everything," Rob Scott said. "The only way to take this on a global level, we needed a bigger company, an executive team. This was one of those rare opportunities where it could be something very, very big."
But he needed convincing, in the form of a better price. "I kind of turned the offer down four times, and the fifth time I couldn't turn it down."
Andrew's role is to create the workouts and train the coaches. "Turns out I love what I do," said the two-time Golden Gloves state boxing champion. "It gives me the opportunity to do the best parts of my job." Before the acquisition, he was coaching six classes a day at the pair's original gym. "Now I coach the coaches. My job is to create the systems, as far as inside the classes. In the last 10 years I've never duplicated the same workout twice. I create the workouts organically, just right off the top of my head."
He believes clients learning fundamental boxing techniques is key. "You're learning something. When you're learning things, you develop confidence in it. You can see or track your progress."
He adds: "It's very empowering if I can walk down the street and know I can throw proper punches."
Hatter, who grew up in his father's Burger King system, joined Deka Lash as a consultant about four years ago. The eyelash extension franchise started with two units in Pittsburgh and now has nearly 300 sold and close to 100 open.
When the opportunity came to buy Legends, "I threw my hand in the air" and said he'd like to run it. "I love the emerging phase," Hatter said. "I love that phase; every time you take a step, you're doing something new."
Interviewed just as the COVID-19 crisis was closing all his gyms, he returned to the subject of grit. "Honestly, I feel like sometimes these things create fantastic opportunities," he said, using a classic boxing phrase. "You've got to keep your chin up."