Andrew Lawrie's College HUNKS Hauling Junk & Moving franchise dropped 42.9 percent in sales during the second quarter of 2020. Though they were deemed an "essential" business when COVID-19 hit and the business never technically shutdown, realtors weren't able to host showings, so their moving market dried up pretty quickly, Lawrie said.
Pre-COVID, Lawrie's business comprised of about 65 percent moving services, 35 percent junk removal—but that quickly flip-flopped when more people were stuck at home, wanting to clean and declutter their spaces.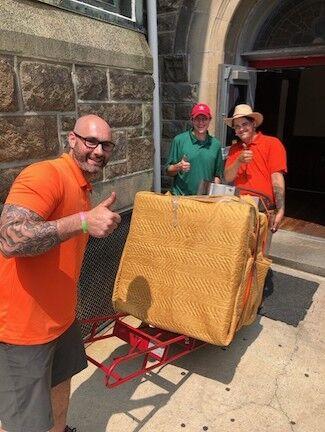 "The main thing as a franchisee is, you're still going through the playbook. You have to keep marketing and keep going, no matter what," said Lawrie, who signed on in September 2016 and has two locations serving three territories in Pennsylvania and Delaware. His team didn't stop putting up yard signs and door hangers, hoping to be top of mind for anyone moving or needing junk removal. "Let's be there, let's not play defense, let's play offense," he added.
Founded by Nick Friedman and Omar Soliman, College HUNKS began franchising in 2007 and has grown to more than 100 locations in the U.S. and Canada. The brand also seeks to be a socially conscious, values-based organization. When the pandemic started, Lawrie began partnering up with various organizations such as iHeart Radio and the Red Cross to deliver food from grocery stores to local schools using their trucks. 
"Since everyone was at home, people needed a little bit more help," Lawrie said, "so we were getting out there and looking at where we can help, making sure our name was getting out there in the right way."
The challenge for the brand coming out of the pandemic will be focusing in on just a few initiatives and making sure they're not trying to do too much, said Roman Cowan, College HUNKS president.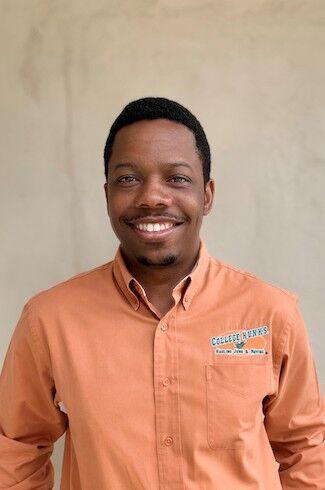 "We're trying to ensure franchisees across the brand are committed to a few things we do well and are doing it exceptionally better than competitors," Cowan said. "Eventually there will be a place for a storage concept, more international expansion and potentially other lines of service, but when we focus on what we do really well, which is move-in labor and junk removal and providing exceptional services to our communities…we won't stretch ourselves too thin."
The past four years Lawrie has been a College HUNKS franchisee, the support from corporate has "gone through the roof, continually revolutionizing to be at a better place," he said. Lawrie is on the brand's Franchise Advisory Council and worked hand-in-hand with them during COVID to create another website where more junk jobs were routed to, plus he helped set up more national accounts for College HUNKS.
"I had no doubt in my mind it would be a successful year, even with the pandemic," and he was right. Overall, Lawrie's franchise sales grew 3 percent year-over-year in 2020.
Though Lawrie feels supported by the franchisor—both financially with the suspension of royalty payments and through their communication during the pandemic—he also feels franchisees are ultimately responsible for their successes or failures.
"It our job to run our business. We don't need the franchisor to save us," Lawrie said. "The franchisor is there to guide and give support, not implement and do the work. College HUNKS did a great job in doing that, supporting where they could."
Lawrie plans to grow in his two existing zones and saturate his current market before grabbing another territory, which he hopes to do by 2022. 
"I'm extremely happy with what we've done at College HUNKS in our location. When we purchased, I was also a franchisee with three other brands," Lawrie added. "Now I'm down to just (College HUNKS) because I believe it this so much. I sold the others off because I wanted to give my all to this one."
The initial investment to buy a College HUNKS Hauling Junk franchise ranges from $89,300 to $208,200.