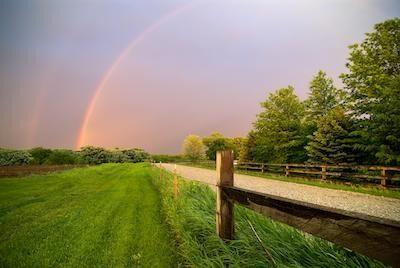 McDonald's is making moves to stay sustainable. The giant fast-food franchise recently teamed up with The Nature Conservancy, Cargill and Target to invest in a more sustainable beef supply chain. It's also partnering with New Jersey-based TerraCycle to test out a zero-waste solution for cups.
"To secure a thriving food system for future generations, McDonald's and the broader food industry has a significant opportunity—and responsibility—to collectively help mitigate the impact of climate change, accelerate a circular economy, and find more sustainable ways to feed people," said Elaine Strunk, director of global sustainability at McDonald's. "We also know that sustainability is an important part of what makes our customers feel good about our food and we don't expect that to change."
The five-year, $8.5 million sustainable beef project will support Nebraska farmers' adaptation to climate change, targeting proven soil health practices to help mitigate greenhouse gas emissions.
"Nebraska is one of the top states for U.S. beef production and among the top three states for corn production, a key ingredient for cattle feed," said Sara Kroopf, McDonald's manager of U.S. sustainable sourcing. "This project will work with interested farmers to reach 100,000 acres of land and provide them with the technical and financial assistance to scale the implementation of regenerative soil health practices, including cover cropping, reduced tillage and diversified crop rotation."
Overall, the brand hopes the project will have equivalent of removing 32,000 cars from the road in one year by preventing 150 million metric tons of cardon dioxide from being released into the atmosphere. Another way to think of that goal: Planting 3.8 billion trees and growing them for 10 years.
This climate "crisis is an important reminder to keep a long-term mindset to ensure a more resilient and sustainable food system for the future," Kroopf said. "We know that we need to act now with partners to put in place practices and technologies within our restaurants and supply chains in order to reach our goal. This project is the first, but definitely will not be the last, to help us build a supply chain that is resilient to climate change and mitigate our footprint."
The investment will also further McDonald's progress toward meeting its Science Based Target Initiative to reduce greenhouse emissions by 31 percent (per ton of food and packaging) across its supply chain, restaurants and offices by 2030. 
With a push for all companies to reduce single-use plastic, McDonald's is also partnering with TerraCycle's circular packaging service, Loop, to test out a zero-waste cup solution. The new reusable cup model for hot beverages will be piloted in 2021 across select McDonald's in the United Kingdom, allowing customers to choose a durable Loop-created cup for a small deposit. When the customer comes back, they can return the cup to be washed, sanitized and reused again, plus get their deposit back.
"Reusable packaging is one potential solution that we want to test as part of a broader suite of strategies and tools that will be needed to advance circular solutions and keep waste out of nature," Strunk said. "Through this pilot, we're excited to learn how reusable packaging for on-the-go use could fit with our system."