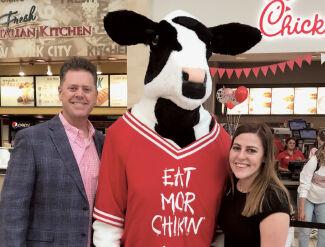 Misti McClain rang the cowbell on November 1, 2018, just moments after sitting at the desk of Chick-fil-A founder Truett Cathy to sign her franchise agreement. Cheers ensued, her mentor made a surprise appearance at the company's Atlanta headquarters for the occasion and McClain almost couldn't believe she was actually a Chick-fil-A franchisee.
"It was surreal. To be one of the few that was selected, I just feel so grateful," said McClain as she recalled the nearly year-long process to become an operator in a brand known for its rigorous selection criteria. "You're just hoping that you're competitive enough to beat out the others."
The owner/operator of the Chick-fil-A inside Lakeline Mall in Cedar Park, Texas, for two years now, McClain's journey began long before she submitted her official expression of interest. Like many 17-year-olds, she needed to save money for a car and started working at the Chick-fil-A in Tomball, Texas, northwest of Houston. Within three months she was promoted to team leader and as graduation neared boss and franchisee Joseph Piotrowski told her she could own a store one day.
"One of the things that struck me about Misti … you know when it's packed, lines are out the door, the drive-thru is full. With Misti, she doesn't run away from it. She runs into it head on," said Piotrowski, a Chick-fil-A franchisee since 2005. "She thrived in that. She was made for that environment of quick thinking. And she's very coachable. I could sit her down, talk, give her feedback and she'd process it and run with it."
McClain, now 28, credited Piotrowski for planting the operator seed and encouraging her as a part-time job serving chicken sandwiches became a career. Even while earning her degree in human resource development from the University of Houston, McClain never left Chick-fil-A, working in a variety of roles at Piotrowski's restaurant and as a grand opening trainer traveling with a corporate team.
"I started to fall in love with the brand even more," she said, eventually getting accepted to Chick-fil-A's leadership development program after college.
"I was on the road for two years, living in hotels, opening restaurants," McClain continued, all the while experiencing more of the servant leadership she noted is core to the culture at Chick-fil-A.
"You focus on the development of the person," she explained of the environment operators create in their restaurants, again crediting Piotrowski, who has a motto of "bring in, build up and send out" with his employees. "One of the biggest reasons I decided to become an operator is to have that influence" and help employees, many of them high schoolers, learn more than just how to run a cash register.
"It's communication, it's conflict resolution," McClain said. "My vision for my restaurant is to leave everything we come into contact with better than we found it."
The restaurant McClain took over had been operating inside Lakeline Mall since 1995 and "was very healthy" heading into 2020. Then COVID-19 shutdowns forced the closure of the entire mall in mid-March and "it's just been a whole different ballgame," she said.
While QSRs with drive-thrus have seen steady and often increasing sales through the pandemic, McClain was dependent on mall foot traffic. She moved quickly to implement what Chick-fil-A calls operator-led delivery, with her own employees delivering orders, and she used DoorDash. She even improvised and created a mall parking lot drive-thru, with employees taking orders outside and bringing food to customers. Still, sales are down but McClain is undeterred.
"I've definitely faced a decline, but I'm still profitable and I'm still able to keep my team employed," she said.
Her first two years of ownership have also brought lessons in balance. While she's still in the restaurant almost daily, she's learned to delegate and trust her own team leaders. "I'm a perfectionist … I can get very stressed out because I have that constant striving for perfection," she said. "I'm learning to give myself grace and time to relax."
There won't be too much relaxing though. McClain said she and fiancé Foster Cunningham are about to begin the process of requesting a new store, possibly in Las Vegas. The total investment for a new Chick-fil-A restaurant ranges from $582,360 to $2,025,400 and includes the $10,000 franchise fee.
Las Vegas is a hot, newer market for Chick-fil-A, noted Piotrowski, who now runs a Chick-fil-A in Montgomery, Texas. McClain, who he said as a mall operator has to "fight for every sale, every dollar, every cent," would do well in that competitive environment.
"Her calm is contagious. When things get hairy, she goes into the fire," he said.