Paola Portillo-Nolan calls herself a living example of Jersey Mike's Subs and its mission.
A week after opening her own store September 9 in Long Beach, California, through the brand's STAY program and with the mentorship of Alvaro Garcia, a multi-unit owner and her former boss, Portillo-Nolan recounts the oft-told story of Jersey Mike's founder Peter Cancro. It was a loan from his youth football coach that allowed Cancro to buy a single sub shop and he now aims to give those working in the brand's 2,500-plus restaurants a similar shot.
At 28, Portillo-Nolan has that shot, she says, and is putting a "tremendous amount of passion and grit" into her store after being the first employee Garcia mentored through STAY, which stands for sweat, tears and years, and started in 2016 as a way for Jersey Mike's franchisees to mentor managers as they worked toward ownership of their own restaurant. Garcia retains a small ownership percentage, while Portillo-Nolan is the majority owner and is on a repayment program for the business loan backed by Jersey Mike's.
"It's less capital for me up front and I can really serve as a brand ambassador," she says, focusing heavily on community involvement in the same area where she grew up. A fundraiser to support the Boys and Girls Club of Long Beach helped kick off her store opening.
A first-generation Salvadoran-American, Portillo-Nolan (pictured below) grew up in North Long Beach and said it's been a dream of hers since she was 16 to become a multi-unit business owner. "I remember being in an econ class in high school," she recalls. "I fairly quickly came to the realization that I wanted to make an impact on the world, and the only way, the best way I could really do that was by being an entrepreneur in my community."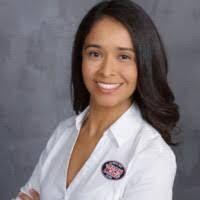 Garcia, who at the time had a couple dozen Jersey Mike's shops, hired Portillo-Nolan for a marketing position in 2014 after she graduated from the University of La Verne, and it quickly became apparent their plans were aligned. "He shared with me his dream for opening all these stores," says Portillo-Nolan, who in turn voiced her desire to open her own locations.
She became a general manager, then district manager, eventually helping Garcia open nearly 30 more units in California and Hawaii before taking on the director of marketing role. "She learned from A to Z," says Garcia of his protégé. "She went from the bottom to the top.
Now one of the system's largest franchisees with 62 stores, Garcia, who immigrated to the United States from Nicaragua in 1987 and became a Jersey Mike's operator in 2011, says he recognized Portillo-Nolan's potential but also cautioned her about the realities of owning a restaurant.
"I said, you've gotta be passionate," he remembers telling her. "And you're going from being an employee to being an owner—there's always a risk. As long as you work hard and dedicate the time, the opportunity is there."
Garcia "always said, there's no problems, there's only solutions," Portillo-Nolan says of her mentor's mantra that's stuck with her. Another lesson: be a visible leader. "He was out there doing the work with us," she says. "Nothing is above Alvaro. I remember, it was one opening and he's cleaning up, mopping the floor. A lot of big owners, they wouldn't be doing that."
Portillo-Nolan, who earned her master's degree in organizational development and leadership and wrote her thesis on mentoring the leaders of tomorrow, wants to eventually have five to seven locations and mentor her own employees. "We're really committed and all in with this brand," she says.
Read more:
Jersey Mike's launched another program this year, the Coach Rod Smith Ownership Program, to provide financing to store-level workers wanting to open their own restaurant: Jersey Mike's new program turns managers into owners