New York City is a foodie's mecca, serving everything from fine cuisine to platters of ethnic eats. But according to Hugh Mangum, co-founder and pitmaster of Mighty Quinn's, the Big Apple is lacking in a culinary tradition at the heart of American gastronomy: barbecue.
With Mighty Quinn's, a fast-casual restaurant serving pulled pork, beef brisket and spare ribs, Mangum is trying to change that.
"In the South there's this culture and way of life around barbecue that permeates into the foods, and that simply hasn't existed ... on Long Island," said Jason Wotman, a Mighty Quinn's franchisee who plans to open at the end of 2019. "Mighty Quinn's does a really great job of infusing that style and that love for the food into their product."
Mighty Quinn's slow-cooked meat aims to replicate the authentic barbecue found in the Carolinas and Texas. The goal is to give New Yorkers a meal that's both on the bone and bona fide.
An unconventional franchising strategy
Starting off as a food truck, Mighty Quinn's opened its first brick-and-mortar location in Manhattan's East Village in 2012. It now operates 12 corporate locations in the New York metro area.
So, where are the restaurant's franchised locations? They're not in New York. Or New Jersey. Or anywhere in the United States, for that matter.
Mighty Quinn's only open franchised units are international—one in Dubai, one in the Filipino capital of Manila, and one in Taipei, Taiwan. Apparently introducing the world of barbecue to Queens wasn't enough; the restaurant was also game for exposing it to markets more than 7,000 miles away while piloting the franchise model for the first time.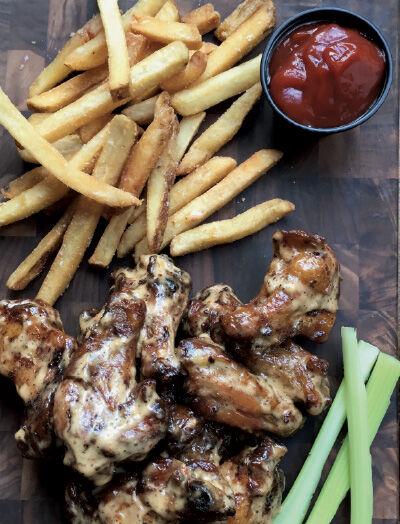 Was this part of a larger strategy? According to Mangum, not really.
After Mighty Quinn's received a two-star rating from the New York Times, international tourists began flocking into the barbecue joint, some expressing interest in franchising. Although they weren't planning to expand beyond the U.S., Mangum and his co-founder Micha Magid jumped at the opportunity.
"It was definitely a little bit of the cart before the horse," Mangum said.
The local diets in Mighty Quinn's new host countries forced the restaurant to get creative. In Dubai, the restaurant uses lamb ribs to be halal-compliant and adjusted its recipes to account for different brands of ketchup and kosher salt. In Taipei and Manila, customers were only familiar with pork and chicken and had no exposure to beef brisket.
"There is a learning curve there," Mangum said. "It's like taking someone from the desert" and putting them "on snow for the first time. That's kind of what our brisket is."
Domestic units in the works
Mighty Quinn's experience franchising abroad opened Mangum's eyes to doing the same in the U.S. The restaurant signed franchise agreements for three Long Island locations with Wotman and four Queens units with franchisees Michael and Paula Dolan.
A former startup strategist, Wotman was unfazed by Mighty Quinn's lack of a U.S. franchising track record.
"It was certainly a bit of a leap of faith," Wotman said. "It felt almost like joining an early-stage startup in that way, where I was getting in on something early that I could help grow and shape in a way."
For the Dolans, Mangum and Magid's knowledge of the complex New York restaurant scene gave them the confidence to sign.
"New York is a very, very unique market," said Paula Dolan. "As we started to speak with the management team at Mighty Quinn's, their local expertise gave us the confidence that they were very good operators."
While Mighty Quinn's is focused on growth in the northeastern U.S., Mangum sees it as a nationwide concept that can be successful even in barbecue hotspots like Texas.
"In New York, everyone's got their favorite pizza place, but if you really distill it down, how many places are really phenomenal?" Mangum said. "There's probably a handful, somewhere between five and 10. And I would venture to say the same about most barbecue capitals."
With its quick-service appeal, Mangum thinks the restaurant can stand out with the ultimate combination of convenience and quality.