With 15 locations open, Red's Savoy Pizza is planning a franchising push for 2021 and the next few years, starting with six new territories in Minnesota recently sold to a single franchisee.
Reed Daniels is the president and CEO of Red's Savoy Pizza, plus he owns and operates the downtown St. Paul and Edina, Minnesota locations. In spring of 2019, the family that founded the brand in 1965 sold it to Daniels, who has been with Red's Savoy since 2012. 
"Honestly, I had never heard of the brand before (2012)," Daniels admitted. He previously worked as director of sales and marketing for a web development company and first began working with Red's Savoy as a marketing consultant. "I instantly fell in love with it—the product, the stories, the family…(founder Earl 'Red' Schoenheider) reminded me a lot of my grandfather with his hardworking mentality."
Red's Savoy specializes in thin-crust, square-cut pizzas with tons of cheese and a secret sauce recipe. The brand started offering franchise licenses between 2007 and 2009, which were transferred to franchises in 2012.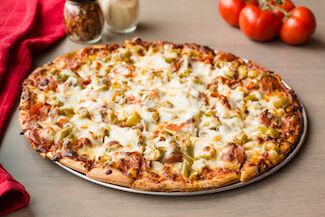 "Franchising is a beautiful business model, but back in the day, we didn't have the systems, processes or technology in place," Daniels said, so when he hopped onboard, he immediately began updating the brand by implementing a new point-of-sale system, a customer loyalty program and creating better food processes.
"We just hired a new director of operations with an extensive background in the breakfast space and franchising really large units," Daniels added. "In our offering for franchisees, we want our menu and operations to be super simple so they can focus on the guest experience and having awesome interactions." 
Nearly half of Red's Savoy restaurants have dining rooms, which were shuttered during COVID-19 due to state restrictions. Although a franchise push for a restaurant concept during a pandemic seems unwise at first, pizza franchises have seen a surge in sales during COVID-19, from the massive Domino's to more regional brands such as Red's Savoy Pizza.
The brand saw a big jump since April 1 in takeout and delivery sales, which increased by more than 20 percent. Red's Savoy's catering business, however, did not fair as well. "We made up for it by some stores with significant numbers, so we performed well all things considered," Daniels said.
The plan is to open two to five restaurants in 2021 in Minnesota, creating a "hub," then move on to the surrounding six states: Michigan, Indiana, Wisconsin, Nebraska, North Dakota and Iowa. They have many leads for franchisees in the pipeline, Daniels added, but their top priority is making sure it's the best fit for both parties.
"We're looking for the right people, and we're not just taking anybody who wants to write a check," Daniels said. "We need people who really understand our brand purpose in the world…to create memories and authentic connections." 
The investment to open a Red's Savoy Pizza franchise ranges from $190,000 to $450,000.