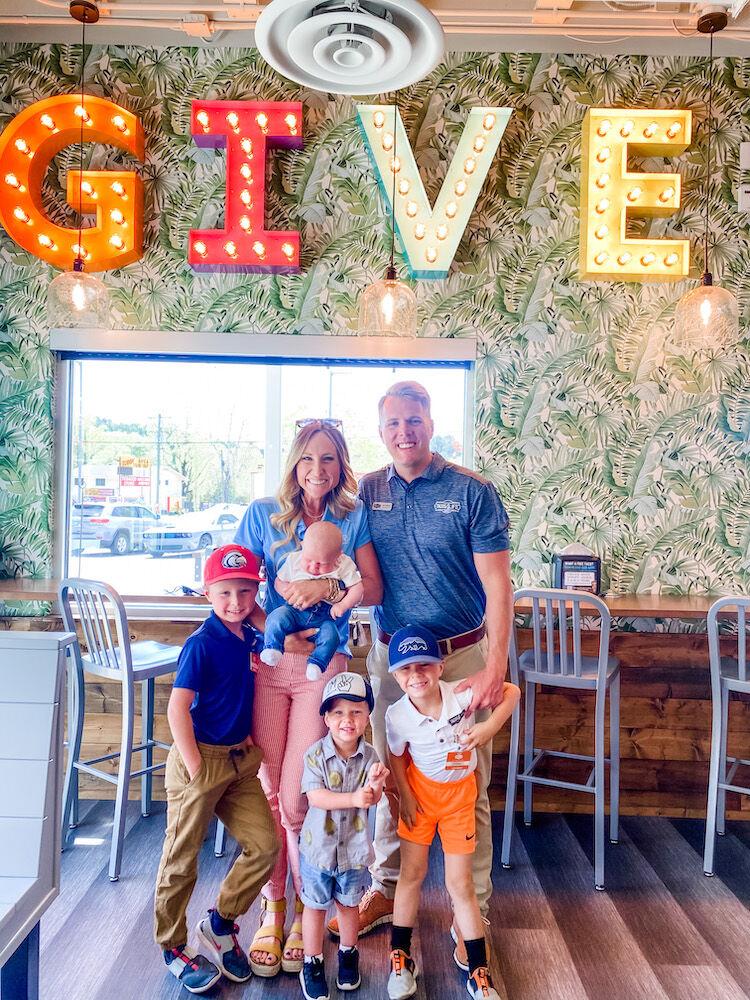 Sitting in a Los Angeles church one day in 2009, Austin and Ashton Samuelson heard World Vision U.S. former president Rich Stearns speak about how more than 18,000 children die worldwide each day due to hunger-related causes. Now, that number is 25,000 per day, according to the United Nations. Overwhelmed with this information, the two began asking what they could do to help change that.
Stearns "said something interesting and motivating—that hunger was the single most solvable problem facing the world at the time," Ashton said. "It was motivating because this is reversible, he shared, it's just a distribution problem. We have enough food, an overabundance, where everyone can have more than 2,000 calories per day with the food we're producing. An overwhelming passion grew in our hearts."
Austin and Ashton's story is part of a Franchise Times digital series this month featuring founder success stories.
The Samuelsons, who grew up in Arkansas, met in high school and got married after college, saw people experiencing hunger and homelessness daily on the corner of their street. Inspired by the one-for-one model at Toms Shoes, Austin and Ashton wondered if the idea could work for a restaurant, so they started Pitza 42 in September 2011 after moving back to Conway, Arkansas. They used pita dough in an effort to create a healthier pizza, which they played into when creating the name.
"We ended up raising money from family, because banks didn't want to loan a young couple who had never worked in the restaurant before, which would be less profitable by us giving money away right off the top line," Austin said. "…It was not a profitable business. We were well-loved in the community, but we called it our giant experiment. We changed things every week."
The pair crowdfunded their startup money from about 350 people for their next concept, Tacos 4 Life, which they opened in Conway on June 9, 2014. They "upped the ante on this one" with a truly one-for-one model—for every taco, salad, quesadilla, rice bowl or nachos sold, 24 cents is donated to Feed My Starving Children, which is the equivalent of one meal.
From the beginning, Tacos 4 Life decided to partner with the Minnesota-based Christian nonprofit that provides meals developed by food science and nutrition professionals to reduce problems with malnutrition, and coordinates the packaging and distributes food to more than 70 countries. Founded in 1987, the organization reports that 86 percent of total donations go directly to feeding kids—a key reason the Samuelsons chose it.
They landed on the brand name Tacos 4 Life because they "really wanted to draw back to the mission and point to the mission in the name, and make sure that stayed front of focus and never slipped below the radar," Austin said. Since opening, Tacos 4 Life restaurants have collectively donated more than 19 million meals.
"The first day we opened, we'll never forget it. It was the hardest day of both of our lives," Austin recalled. "There was a torrential downpour rain, it was summertime, and we had a line out the door the entire day. We thought, this is incredible, but it never stopped, and we were so unprepared. Our pizza restaurant had very low volume and we had never experienced that kind of business before."
Franchising, hitting pause, focusing on balance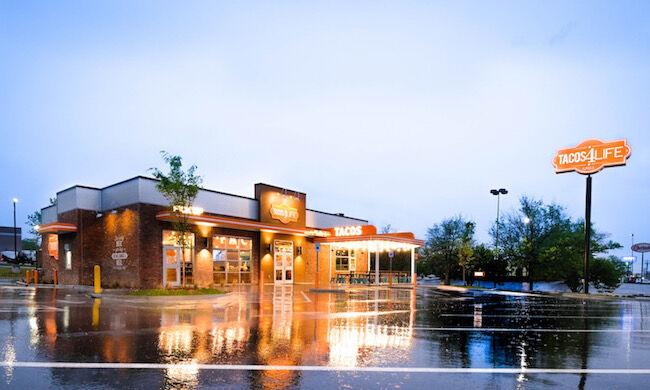 The couple converted their Pitza 42 restaurant into Tacos 4 Life and grew to three corporate locations in Arkansas before they started franchising in 2017. Tired of driving nearly three hours to one of their locations, the Samuelsons liked the idea of finding a local operator who lived in that community. But it didn't quite go as planned. Austin and Ashton ended up buying back three franchisee-owned locations at the beginning of 2019, and just three of the original franchisees they signed are still on the team.
"We really learned by trial by fire, what's the right method? What does the right franchisee profile look like?" Austin said. They put franchising "on pause for a while, then last year about this time, we said, OK, the pandemic is going on, we feel like we're in a place as an organization to know the profile of the franchisee, the kind that we'll work well with, and our process and systems are built out and we're able to offer something that's full."
"It was a little too soon for us. We learned a lot from that, and we have no regrets because some great restaurants came out of that," he added.
There are 19 Tacos 4 Life restaurants open, five of which are franchised, in Arkansas, Texas, North Carolina, Oklahoma and Tennessee. The brand's 20th location is slated to open in the greater St. Louis area this fall, the first in the state owned by franchisees Matt and Jacy Rose.
"We feel an extra burden with our mission to make sure it never got diluted as we franchised," Austin said. "…If the mission becomes more important than the business, that's a nonprofit. If it's all about the numbers, the mission can take a great hit and become something that's perceived by guests as more of a gimmick or a marketing ploy, so it's very important that both of those elements stay in total balance."
"It's a hard thing to do," he added. "It definitely provided extra complexity as we launched into franchising, but it really differentiates us. The franchisees we attract are very unique, and different from your typical fast-casual franchisee profile, which I think is very fun."
Another 10 locations are in the building stage, plus another eight in the pipeline. The Samuelsons are selling either single units or packs of three, but they don't issue master franchise rights for entire areas. It costs $813,000 up to $3.2 million for a Tacos 4 Life franchise, depending on build-out and if a drive-thru is included. Most standalone units are between 3,000 and 4,000 square feet.