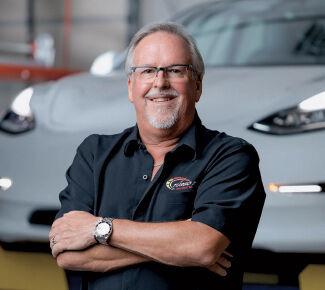 After 25 years as a franchisee for Moran Family of Brands, Greg Goodman wanted to develop a new concept of his own rather than sign another contract for his auto accessories store.
"I decided that my idea was so different than what Alta Mere was doing, I could not continue what I wanted to do under the Alta Mere name," he said of the automotive aftermarket installer. "Of course they freaked out when I told them I wasn't going to renew."
The result is a rarity if not a unicorn in the franchise world. The franchisor and franchisee partnered on a year-long beta test of Goodman's concept, including splitting 50/50 the costs of remodeling, about $60,000, new signage and a new online ordering system.
Goodman now operates the first Turbo Tint store, in Oklahoma City, and plans a second store opening in March 2022, in Tulsa. He also signed an area development agreement with Moran, for three or four stores in Oklahoma City and two or three in Tulsa. He will open some himself and sell others to franchisees.
Goodman had looked at businesses like Carvana and Chick-fil-A, "that gets a sandwich out in three minutes." As for Carvana, "If you can buy a car online, why not a tinting package?" he said.
"We drew up an NDA and Pete and Barb signed it, and I shared my idea," Goodman said, referring to President Pete Baldine and CEO and Co-founder Barb Moran. "They loved it, they said let's work together, so we put together a deal where I could stay with Moran. I love those guys.
"We decided to do a proof of concept under the Alta Mere name, for a year. I took my concept that I've been working on for a couple of years," and without changing the name or the advertising, "we just changed to the new concept, and we increased our business drastically. It grew almost 30 percent. If you're a mature business, if you get a 4, 5 percent increase you're happy with that," Goodman said.
Moran officially launched its new Turbo Tint brand in January 2021, and by March had already sold 11 units, almost as many as in the Alta Mere chain, 13. Moran's two biggest chains are Mr. Transmission and Milex Complete Auto Care, most co-branded, with 130 units; the Moran Family of Brands is more than 60 years old.
Cost of a Turbo Tint franchise ranges from $212,000 to $282,000; it takes about 3,000 to 4,000 square feet and offers well-appointed waiting areas, online scheduling and paying, and a one-hour guarantee for service—what Goodman calls a first in the window-tinting business. Instead of one person working on one car at a time, he puts three people on each car to pump up the volume.
Average unit volumes at an Alta Mere store are about $350,000 to $400,000. "With this store we're doing well over that, over $800,000," said Baldine, who hailed the partnership.
"It's very exciting to do it with a franchisee that's been in our system for a long time, and to have that level of trust and level of cooperation, for him to change his plans and say 'Yeah, that makes sense. It makes sense to do it with you guys instead of on my own,'" said Baldine, who added the test year was a home run.
"We said wow, this worked really better than expected. We really need to run with this."
Baldine's focus now is investing in a new website, new marketing materials, trademark work and operating manuals, "the tools to make this not just a one-store operation but a franchise operation. We had to go back and re-invent. So it wasn't just a matter of copying the Alta Mere manuals and re-branding them, they all had to be rewritten," part of the job he doesn't love. "And that's a long, tedious, very boring project. I have read these manuals so many times, I don't know if I ever want to read them again."