Upstart company HHO Carbon Clean Systems was founded and started franchising in 2020 with a unique concept: A mobile, eco-friendly solution to cleaning carbon buildup on engines with the goal to get ahead of U.S. carbon emissions regulations.
Jared English, founder and president of HHO, graduated from college with an automotive and diesel technology degree and has worked in the automotive repair industry ever since. In 2004, he set up his own auto repair shop in southern Illinois at 23 years old, and throughout his career observed how carbon buildup issues have always plagued the industry. (As engines burn fuel, soot or carbon is produced and can build up, leading to poor acceleration, smoke in the exhaust and a decrease in fuel mileage efficiency.)
"The old way of doing carbon cleaning was using harsh chemicals, stuff that burns your hands and is bad for the environment," English said. "So my main goal during the pandemic when I had down time was to think about an eco-friendly way to handle this problem, which led me down the road of hydrogen cleaning systems."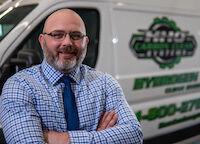 After researching countries with stricter carbon emission regulations such as Australia and the United Kingdom, English discovered a clean energy solution that uses hydrogen to release carbon deposits through the exhaust system.
"It's a pretty common practice (in other countries) but nobody in the U.S. was doing it, so I had a really hard time finding equipment and building it because no one in the U.S. built or sold the equipment," English said.
He partnered with a company overseas which shipped him equipment to start out, and English spent the next three months testing and fine tuning the process to make sure it worked. From there, he started doing free demo tests for his customers on their trucks and tractors for farmers, "and the results were just fantastic, so the business just grew rapidly from there." 
In a third-party study with fleet operators near Metropolis, Illinois, where English is based, customers who had the hydrogen carbon cleaning service experienced a 9 percent fuel economy gain according to Cord Koch, director of marketing and franchise development at HHO Carbon Clean Systems.
"We're not only managing to do a service in an eco-friendly way that's not harmful in the process itself, but if we can average a 9 percent fuel economy gain, that's 9 percent less fuel being burnt, so in and of itself, we're lowering the overall carbon footprint and emissions," Koch said. This not only helps save the environment, but also saves customers money on fuel.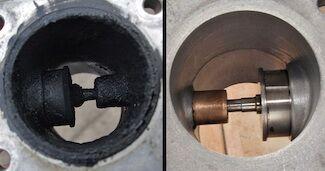 English knew he wanted to expand the business, so he began talking with franchisors of various mobile concepts on the best way to move forward. 
"The last thing we wanted to do was hire a bunch of people and send them out in vans. We wanted people with skin in the game who wanted to be a business owner and grow, which is why we decided on franchising," English said.
Timing was another factor—should they operate as a company for two years, or franchise right away? From talks with lawyers and other franchisors who wished they would have franchised earlier, English decided to go for it, especially given that the niche concept has virtually no competition in the U.S.
After research and due diligence, English launched HHO Carbon Clean Systems as a mobile van franchise in 2020 and signed his first franchisee before the new year. However, English isn't looking to rapidly expand, instead taking a slower, more sustainable approach by aiming for 10 franchises only in his area by 2022.
The emerging brand is also concentrating on finding the right people who are no more than two hours away from the home office to make sure those franchisees have training and support from corporate starting out, especially as English builds his executive team and fine tunes the process. 
Koch, who came on board September 2020, touted English as quite the avid outdoorsman, hunter and environmentalist. "He has a real sense of purpose, that we do not need to continue to trash the environment and we do need healthy ecosystems and all these things people take for granted," Koch added. "It's about preserving that for kids and grandkids and the human species, which is at the core of the ideals behind this. He wouldn't brag on himself that way, but that's the truth of it—there's a deeper sense of responsibility behind the mission." 
"When I'm meeting with fleet owners, they're a lot of private individuals who don't think of, 'hey, I can do this process, have lower emissions, get better fuel mileage and help the environment.' It's all about going into these places and teaching people how it works and what we can do," English said. "(Eco-friendly) is not a trend for the sake of profit. Some of us actually care to alleviate the strain on the environment." 
The initial investment for an HHO Carbon Clean Systems franchise ranges from $80,700 to $131,600. 
Before investing in a startup, make sure you know how to properly evaluate an emerging franchise with advice from Franchise Times.