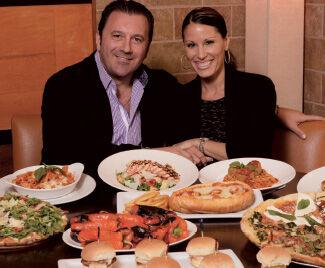 Born in Naples, Italy, Gennaro DiMeo immigrated to New Haven, Connecticut when he was 15 years old. After visiting his father's friends and their Italian restaurant, he started working for them and "fell in love with the business." Little did he know he would someday launch his own Italian restaurant franchise and fall in love with his future business partner.
Gennaro opened his first restaurant, a small pizza shop in Annapolis, Maryland, at age 18. Then in 1998, Squisito Pizza and Pasta was born, serving scratch-made pizza, full pasta entrées, salads, subs and appetizers. The Italian word "Squisito" translates loosely to "exquisite."
Then Gennaro met Michele Goldstein Sokoloff in 2007, who joined Squisito's parent company, Monte Restaurant Group, as the chief operating officer and director of stores. Tasked with streamlining and assisting Gennaro with franchising the concept in spring 2008, Michele quickly took the lead (as she did in the interview) and became principal of franchise operations.
"I am the doer, that's the reason why I don't talk a lot," Gennaro admitted. "We get along really well and love each other, that's the main thing."
Now with 10 locations in Maryland and Virginia and five franchisees, the brand plans to open seven restaurants in the upcoming months and is expanding to New York, Tennessee and Washington, D.C.
Michele thought she'd eventually return to her previous employer, The Siegfried Group, but the opportunity to grow with Squisito and work with Gennaro changed those plans. The two married in 2010 and today are in the process of expanding Squisito in new ways.
"It turned into a full-service position, working on all these projects together, and grew into what we have today," Michele said. "We're still working together, still married and still friends. We get along and work together every day."
Two models emerged under Squisito Franchise Enterprises: Squisito New York Pizza with a full kitchen, large menu and counter service, and Squisito Too, a build-your-own fresh Italian kitchen as a fast-casual hybrid option. The expansive menu model requires a larger kitchen and back-of-house staff that can follow recipes and execute dishes consistently. The Squisito Too model doesn't utilize a freezer and everything is made fresh, plus customers can customize their orders and expect their entrees to be ready in about five minutes. It's aimed at drawing franchisees who may not have a lot of restaurant experience.
The couple believes these options, which franchisees can choose from with approval from corporate, helps differentiate themselves from other franchised pizza concepts.
"We're nothing like Pizza Hut and Domino's. Squisito is really a fast-casual Italian restaurant," Michele said. "It's a hybrid between a pizza shop and traditional Italian restaurant, and there's really nothing in that space on a national concept level except for mom-and-pop shops in New York, New Jersey and Philadelphia, but nothing in the franchising space with that hybrid."
The DiMeos are also preparing to launch a third model at the end of 2020, a casual dining option with servers and an abbreviated bar, called Squisito Ristorante. Most of their restaurants range in size from 1,800 to 3,000 square feet, versus some of the 7,000-square-foot "fancy" restaurants, Michele said.
"The space that's being hit hardest" by COVID-19 "is more of the higher end, fine-dining experience, big restaurants in cities that rely on a lot of staff, servers, bartenders and traffic," Michele added. Monte Restaurant Group also opened various full-service dining concepts throughout the years, including Carpaccio Tuscan Kitchen and Wine Bar in downtown Annapolis, so she's seen that impact.
"If we stay true to our brand, it's really more of that casual dining experience…you can put us in any environment and appeal to the mass public. It's a cool concept because it doesn't streamline one type of customer."
The initial investment for a Squisito franchise is between $296,600 and $596,900, and the DiMeos are not in a rush for exponential growth.
"The biggest mistake new restaurateurs can make is to sell 1,000 stores with one corporate store," Michele said. "Years later, how many are really open and not in development, or successful and haven't closed? We're focused on, what can we really sustain and support? It's better to have lower numbers and have quality and success."