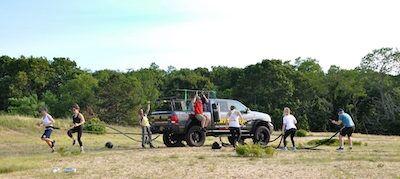 Richard Decker touts 35 years of experience in the fitness industry, having previously owned The American Fitness Factory and Studio 89. From big box gyms to boutique fitness studios, Decker always played in the brick and mortar space, until now. In September 2018, he decided to step away because he was "done with landlords and staffing obligations," and started training customers in nature, anchoring off trees for workouts and running on trails, which sparked another business idea.
In January 2019, Decker took his $75,000 monster truck to a metal manufacturer and fabricated the first version of the AWATfit (All Weather All Terrain) mobile gym, based in the Hamptons of Long Island, New York. A rack extends four feet on each side of the truck that resistance bands and gorilla bows attach to, and weighted workout ropes are used in high intensity interval training (HIIT). With no dumbbells or kettlebells to haul around, everything packs up neatly in the bed of the truck and unloads in two and a half minutes.
"It's the new Uber of the fitness world…It's really unique. Every gym I've ever owned, there's a key demographic you market to, either age or gender," Decker said. "There's no demographic for AWATfit. It's all age-friendly, physical ability-friendly, capability-friendly…You and I could do the same workout."
The concept differs from GymGuyz, an in-home personal training mobile service, because AWATfit was allowed to work during COVID-19 while GymGuyz had to shut down, since they enter customer's homes to train them. AWATfit, meanwhile, only hosts workouts outdoors, an idea which seems born out of the COVID era but was actually just very lucky timing on Decker's part.
"GymGuyz key market is seniors who don't wanna go to the gym," Decker said. "(GymGuyz) was considered non-essential during COVID, where everything AWATfit does is external with 25 workout stations outside."
Decker began the franchise process in October 2019, and hired his first franchisee last month, Geoffrey Psillos. A young 22-year-old bodybuilder and former engineer, Psillos won the 2018 National Physique Committee East Coast Championship and met Decker when he became a personal trainer for him.
"When I met with him, I loved the concept (of AWATfit)—the vehicle, the exercise routines you can do on the vehicle, but I wanted a bigger piece of the pie, so I asked if there was more I could do than be a personal trainer," Psillos said. "(Decker) offered me a franchise group, and once I saw the lifestyle you can produce for individuals in the community while training them, it doesn't even feel like a job at this point. It's so much fun to do and a true passion."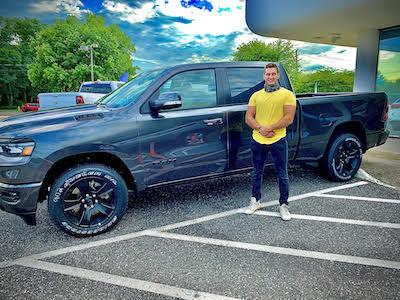 Psillos officially signed the paperwork at the beginning of September and was already up and running as of three weeks ago. "The process takes about 30 days for your franchise to be open, which is astronomical and unheard of," Psillos said. Fresh out of college, the biggest challenge for Psillos was finding financial backing. He sold his personal vehicle and borrowed some money from family members to invest in AWATfit, and he's confident and hopeful it will be worth it.
"I'm a bodybuilder, and I get a better workout on this vehicle than in the gym," Psillos said. "Everyone is always staring at the vehicle, and anytime I explain the entire concept to someone, their mind is blown and they think it's one of the most ingenious things created."
Psillos's favorite group to workout with is families, and has trained grandparents, aunts, parents and grandchildren at the same time while being COVID-conscious. Everyone has room to space out the obligatory six feet, and customers are also required to sanitize before and after their workout. Temperatures are recorded with touchless infrared thermometers, and everyone is required to sign both health and liability waivers.
"So far, I've been getting a lot of public interest from local athletes. Personal trainers are super intrigued by it and wanna get their hands on everything," Psillos said. "Being the first franchisee, that's what I'm most excited about…I think this will be the biggest fitness revolution there is. We had CrossFit, and I think this is next in line."
The initial investment for an AWATfit franchise ranges from $90,000 to $140,000, Decker said. With two corporate trucks and now two franchise trucks, Decker just put in an order for 10 more corporate trucks and hopes to get up to 200 total by next year.
"These trucks are running at a 92 percent return because of no overhead, utilities or landlords," Decker added. "It's low gross but a high net compared to other businesses, and the money is yours."