Ask any franchise operator how things are going, and they'll likely tell you they can't find anyone to work. Even as unemployment remains elevated compared to pre-pandemic levels, employers are struggling to find help.
This is, of course, nothing new for franchisees. Labor was the No. 1 issue prior to COVID-19, and after a brief interlude where delivery and customer engagement moved to the front burner, the franchise industry is back to labor struggles. Overall, the economy is still missing about 4 million workers it had before and the labor participation rate remains just shy of 2 percent below pre-COVID levels. The restaurant industry now employs about 10 million people, 2 million short pre-pandemic levels.
Many employers say the additional $300 a week in unemployment benefits is the main factor. On top of states' unemployment payments, the additional $15,600 annually, they say, means people can earn more staying home. Altogether, the additional annual benefits add up to between $27,716 in Mississippi, where the amount is $213 on average, and $44,460 in Massachusetts, where benefits average $555. Median pay last year for foodservice workers was $24,000 and $56,000 for managers.
Looking around at the political cartoons and talking heads, the refrain is, "nobody wants to work." In a report from the U.S. Chamber of Commerce, data shows 25 percent of unemployed people make more not working. The organization called for the end of $300 benefit bonuses.
Maybe there are some workers who are happy to sit at home playing Xbox and watching Netflix, but it's not the full story. A Yale study early in the pandemic actually showed that even the $600 bonus did not keep people from seeking new work. The study found just the opposite: the unemployment boost accelerated the return to work, especially those returning to their old jobs.
Worker advocates, meanwhile, have modified the refrain, saying, "nobody wants to work for you." They cite low wages, poor working conditions and volatile schedules as key reasons it's so hard to hire right now. They've doubled down on calls for better employment practices, saying this is comeuppance for treating "essential" workers as disposable cogs.
Between those two ends of the spectrum is a confluence of many, many factors—too many to address here. There are, however, a few major reasons it's so hard to hire right now.
Mothers, for one, have been especially slow to return to work as schools remain in flux. In states such as New Mexico and Nevada, which report women as heads of household at high rates—28 and 23 percent, respectively—that effect is even more pronounced. The states both have higher than 8 percent unemployment. The same effect has been seen across the country: Men have gone back to work much faster whereas women overall are still losing jobs, as seen in the April jobs report from the Bureau of Labor Statistics.
There is also a lot of competition for talent, more than ever. In March, the BLS reported a historic 8 million job openings. Nearly 1 million more than March 2019. Many of those jobs come with perks—McDonald's is famously offering a $400 signing bonus. Independents such as the New York-based Dirt Candy restaurant is offering up to $27 an hour starting wages with healthcare benefits. The most successful franchise brands are ratcheting up wages, too. Many companies are staging big hiring events, and making grand efforts to hire hundreds or thousands of workers.
In discussions with several operators, the difficulties remain similar despite all those efforts: fewer people apply to job postings regardless of elevated pay or additional benefits.
Keith Miller, a Subway franchisee and franchisee advocate, said he sees pretty typical turnover, but there's nobody lining up behind workers as they leave. He sees higher pay down the road at Chick-fil-A and other QSR brands that have pushed efficiency and have cashflow to spend, though they aren't attracting many workers either.
"Our local Chick-fil-A by one of our stores is advertising $18 an hour," said Miller. "You drive by these fast-food places now, where the windows used to be promoting products and now are only promoting hiring."
He said he's paying $14 as a starting wage but he and his wife are putting in a lot of hours in the stores to make up for the labor shortage and keep his key people from burning out, another factor pushing the labor churn.
That's something Jeanniey Walden, chief innovation and marketing officer at payment processor DailyPay, saw in a recent survey of employees and clients.
"If a company can't hire enough people, they're asking employees to work more and that leads to burnout," said Walden.
She said almost 70 percent of respondents to that survey would be seeking a new job, but they were sticking with their current job until the job market was fully open.
Walden said perks like the ability to take wages out at any time help keep people around, likely better than the staff meals, free subs or discounts. Other perks like child care, better health care and more stable schedules are also drawing and keeping talent. Looking through the job boards, regular schedules have become a commonplace perk for companies that can't simply pay dramatically higher wages than they could pre-pandemic.
There's one more big reason it's hard to find people: A lot of those laid-off workers already found jobs. The "V-shaped recovery" that everyone was watching for when COVID-19 hit already happened starting in June 2020. Grocery stores (which fall under retail trade in BLS numbers), for one, were able to hire the scores of unemployed people and keep them. Gig jobs were able to keep up with the surge in demand with a parallel surge in hiring, and other delivery and logistics firms grabbed some as well. Restaurants saw a second round of layoffs after a brief uptick in late summer of 2020.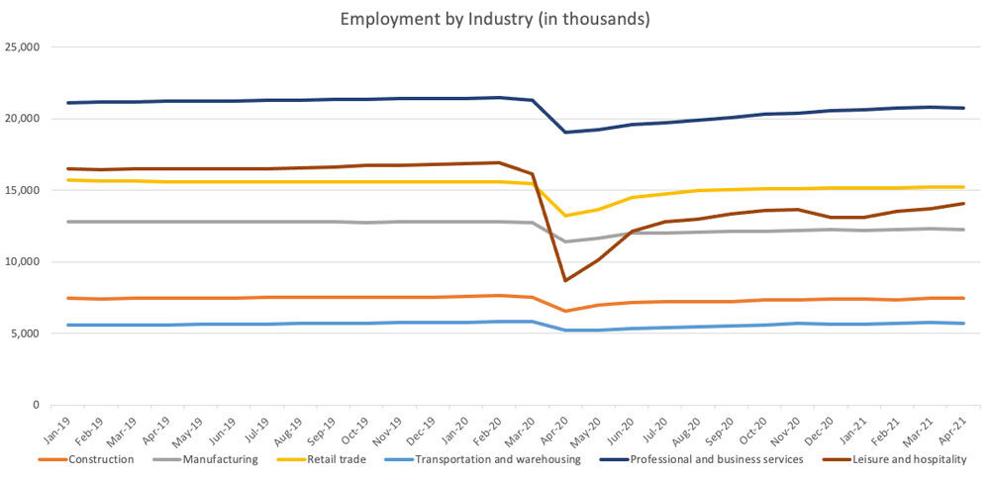 There is a lot going on at the labor line as summer hiring hits full swing and businesses seek to rebound as state COVID-19 regulations roll back. Unfortunately, there isn't much for a silver lining. The one good thing: business is surging at a breakneck pace, and those that can find and retain talent stand to benefit.